Quinnipiac and Yale are five miles apart along the Merritt Parkway in central Connecticut. Both have had Division I hockey programs, and yet have never met.
Yet, the anticipation of a rivalry is there, and might just be so because their next meeting will be their first.
"Our [athletic director], Jack McDonald, told me that because we haven't played them, the rivalry might just be bigger than we think," said Quinnipiac head coach Rand Pecknold. "Yale kids will still have Yale-Harvard, but when we play them, if we have success, we'll be the new target."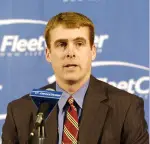 Success is not something foreign to the Bobcats of Quinnipiac University. The 'Cats enter this season, their debut in the ECACHL, as one of six Division I teams with at least seven consecutive winning seasons (Michigan, Michigan State, Maine, New Hampshire and Northern Michigan are the others).
With the help of a red-hot power play and a budding superstar defenseman in Reid Cashman (a Hobey Baker finalist last year), the Bobcats won 15 of their last 18 games last season to finish their swan song in Atlantic Hockey at 21-12-3. They were regular-season champs, and lost to Mercyhurst in OT in the tournament title game.
Now they take a big step up, to the ECACHL, which had three teams in the NCAA tournament last season. It is a step that has been perceived in a variety of ways on campus.
"We have had excellent support. However, we probably have varying levels of understanding as to what is going on regarding the step we took," joked Pecknold. "The ECACHL could have five teams in the top 20 at any time. They realize the tradition and the academic integrity of being in a conference with Harvard, Yale, Cornell, and the other high-level academic schools in the ECACHL."
Pecknold took over the program from his position as the assistant coach of Connecticut College, his alma mater. A standout forward for three seasons, he switched to defense his senior season and recorded 17 goals and 47 total points, both school records. No stranger to scoring, he led his team in goals his sophomore and junior years.
Pecknold walked into a Division III program that was always competitive, but was far from the one that exists now. When he arrived, the thought of going D-I in a school that was otherwise entirely D-III was not in the plans. However, two fingers of fate intervened to get the ball rolling.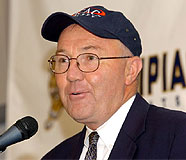 McDonald, a Boston College alumnus (who also had been the AD at Denver), took all school sports D-I eight years ago. The fact that he had been at two schools where hockey was huge, combined with Pecknold's ability to build winning teams, made the idea to be a big-time D-I program a reality.
"We talked about building a rink when I first got here, but certainly not on the scale of the one we are building right now," said Pecknold, whose team will move into its spacious state-of-the-art building in January of 2007. "Jack and I had talked about wanting to compete at the D-I level.
"When we announced that we were going ahead with it, we were in the midst of an undefeated season at Christmas, and lost only three games that year. He realized we could be successful with limited resources, and realized that if the school gave us some more resources what we could do."
That step forced a step up in another area: recruiting. To compete with the big boys, they had to go and get some of the players that were on the radar screens of the Harvards, Michigans, Minnesotas, and BUs. When the first joined the MAAC Hockey League (now the Atlantic Hockey Association), they went about recruiting older junior kids who could make an immediate impact.
Those kids were bigger, stronger, faster, and had a quicker learning curve. The Bobcats had a lot of success with that first wave. As the program improved, they were able to sell a great campus, location, and hockey program to a new wave of younger recruits who have been the poster boys of the new era of Quinnipiac hockey.
One of those players currently on the roster is Hobey Baker finalist Cashman.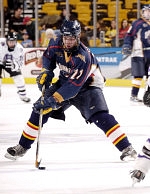 Cashman burst onto the scene fresh off an Eastern Division-winning team with Waterloo of the USHL. A high-scoring backliner who had a slow start in the USHL found his way to Quinnipiac because he flew under the radar of some of the bigger names in the league who came flying out of the gate.
"Cashman was a big-time player in the USHL, and a big-time 'get' for us. He came out to see the school and fell in love with it. He really liked the campus and the atmosphere," said Pecknold. "He had some friends who went to big schools, and were in and out of the lineup, and he didn't want that. He wanted to play, and he did from his first game here."
Cashman, like most Minnesota kids, grew up wanting to be a Golden Gopher.
"He realized he had a great situation here, and was humble and smart enough to commit to us and come in with the goal that he was going to be a big reason that this program, would improve," said Pecknold.
Other current stars like Ben Nelson from Washington state (who grew up wanting to be a Michigan Wolverine) and Matt Sorterberg from Minnesota have proven the Quinnipiac can attract players from great distances, not just the Northeast. Their philosophy in terms of getting players from many different regions has helped to create a pipeline to central Connecticut for top players who don't get a serious commitment from bigger-name schools
"I talked with Minnesota-based schools, but got a lot of maybes, a lot of recommendations to play a year or two in the USHL," said Sorterberg, a Tri-Cities draftee, who racked up 23 points from the backline as a true freshman last season. "Then Quinnipiac talked to me. I saw the roster, saw all the Minnesota kids like Cashman on the roster, and made the decision to go there and make my mark in Atlantic Hockey."
This is where Quinnipiac will be successful, in recruiting. The Bobcats can offer a brand-new rink, the ECACHL, and academics on par with the Ivies. That's why they have been able to attract players from all over North America.
"At one time, we had 11 kids on the team from the British Columbia Junior League. We always struck out in Ontario, now we have three or four from there. Minnesota has been great for us. We've attracted kids from the USHL, and the Eastern Junior Hockey League (based in New England) has been very good for us."
The Bobcats invade Yost Arena in Ann Arbor for their second such weekend series with Michigan (Friday, CSTV, 8 p.m.). Two seasons ago, they scratched and clawed their way to two one-goal losses. The 'Cats will play eight other non-league games until they start their debut ECACHL season against Harvard, November 4 at the Hartford Civic Center.
Quinnipiac can thank Yale's Tim Taylor for a big boost in getting into the ECACHL. He mentioned to fellow league members that Quinnipiac had a winning tradition, was solid academically, was building a new rink, and would be a good addition.
And those at Quinnipiac are thrilled at the chance to skate with the traditional powerhouses in the ECACHL.
"This is a big step for Quinnipiac hockey, but an even bigger step for Quinnipiac University," said Pecknold.
That step starts Friday night.
Dave Starman is national columnist for USCHO.com, and the analyst for CSTV's broadcasts of college hockey. Previously, he coached in both the minor leagues and in junior hockey for 15 years. He is currently the associate coach for the EJHL's New York Apple Core, as well as the Northeast scout for the USHL's Waterloo Black Hawks.