Mike Eaves' fourth Wisconsin team is getting its share of attention because of what it didn't lose rather than what it did.
The Badgers return 98 percent of their scoring from last season and are primed to make their name as a scoring team rather than a defensive one if they can get their offensive potential to come through.
Yes, they lost star goaltender Bernd Brückler — the team's focal point the last two seasons — to graduation, but there's still a sense of excitement because of what this year's team could be and because of where it could go.
"But you know what? That really means a hill of beans because you still have to go through a process," Eaves said. "You have to become that team. Last year, we forged ourselves into a good team but we didn't take that next step and become a great team. I think we had to go through some of the fires and experiences of being a young team."
That's not the case this season. Half of the players on Wisconsin's 26-man roster are juniors or seniors. Add an eight-member sophomore class and there's a group with solid experience to build on.
It also has painful memories to serve as a motivator. Wisconsin players have spoken of their frustration with how the 2004-05 season ended. The Badgers were ranked third in the nation at one point in the second half but stumbled to a 4-8-3 record after the start of February.
They had to sweat out the final days before the NCAA selection show just to see if they'd make the 16-team field, and their 4-1 regional loss to Michigan didn't answer critics who said they shouldn't have been invited at all.
The Badgers' offense failed them down the stretch, with the team unable to get an extra goal when it desperately needed it.
"You take a look at, did we work too hard? Did we overtrain?" Eaves said. "I thought our kids played hard, they had jump, they created scoring chances. We just didn't score."
That could change this season if the Badgers can get consistent scoring from a handful of sources. Joe Pavelski had a strong rookie season, while Robbie Earl was one of nine WCHA players to reach 20 goals.
Senior Ryan MacMurchy will be one of Wisconsin's top scoring threats if he can maintain a high level. He had a four-goal game at St. Cloud State last season, but only seven goals in 39 other games.
The perception may or may not be correct, but Wisconsin has been known as a defensive team the last two seasons, likely because of Brückler. The Badgers' depth at forward with the addition of talented rookies Jack Skille, Tom Gorowsky and Ben Street, figures to make that group better.
But will it be good enough to break out of the defensive shadow?
"We have more scoring power, if you will," Eaves said. "So we can open things up. Guys are going to score more."
An even bigger question for the Badgers is in goal. Junior Brian Elliott is slated to take over for Brückler if he can get past an offseason foot injury that has limited his preseason practice.
Elliott made eight starts last season and came on in relief of Brückler in the Badgers' come-from-behind victory over Alaska-Anchorage in Game 1 of the WCHA playoffs. He has been mostly solid in his appearances but the one knock has been that sometimes he overprepares.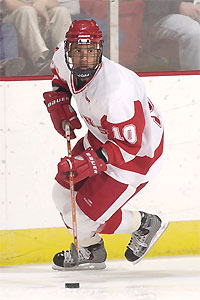 "I think he's got to go back to his days when he was a full-time starter, which was in his junior days, playing junior hockey back in Toronto," Eaves said. "Part of his preparation because he only played once in a while, he did — there's no question about it — overprepare. Now he's got to go back and take every game as it comes along and find that balance."
The young defensemen (Wisconsin played at least three freshmen every night a year ago) need to continue their improvement if the Badgers are going to be near the top of the WCHA. Wisconsin is the only league team with its entire defensive corps returning intact, bringing back the group that led the conference and was seventh nationally in team defense.
Senior Tom Gilbert is a proven leader and a rock on defense, but the play of the five sophomores will be watched closely. "Every young man has something they need to show us, show their teammates that they made that step," Eaves said.
If the Badgers can make steps, they probably won't have to step far in the playoffs. Although they're not hosting so they're not guaranteed a spot there if they make the field, the NCAA Midwest Regional is in Green Bay, Wis. And college hockey's big weekend, the Frozen Four, is just down the road in Milwaukee.
All the more reason to make that step to great now.
"Last year we had this theme from the year before of going from good to great," Eaves said. "But you know, that happens every year. If I learned one thing from last year's experiences, it's that every year you go through that process. You try to become a good team and sometime during that process when you become a good team, hopefully you can take that next step and become a great team.
"Every year is going to be that way, so we have that process to go through again this year. We come back, we have experience, we have to forge ourselves into a good team and see if we can take that leap and become a great team."