Questions, Questions and More Questions
This year in Hockey East answers are hard to come by and questions abound. It may be the toughest season to handicap in the decade of USCHO's existence.
The predictions would have been considerably easier had not three late-summer defections to the NHL occurred. Boston College was the clear favorite until Player of the Year Patrick Eaves signed with Ottawa. Massachusetts-Lowell looked to be potentially a number two or three team until Ben Walter left for the Boston Bruins. And Maine had NCAA threat written all over it until former All-American Jimmy Howard opted to move between the Detroit Red Wings' pipes. That hat trick of losses drastically altered the league's landscape.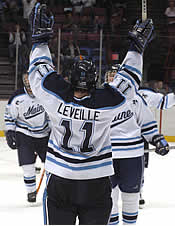 Not that the landscape wasn't changing anyway with the arrival of the Vermont Catamounts. Long one of the ECAC's top programs, UVM was moving into Hockey East, ridding the league of its odd number of teams and the attendant scheduling problems. No weak sister, the Catamounts finished last year with a 21-14-4 record and a 13-6-3 mark within the ECAC, just barely on the outside looking in at NCAA tournament selection time.
Then toss in a hat trick of coaching changes: Tim Army at Providence, Greg Cronin at Northeastern and Mark Dennehy at Merrimack. Would those programs be energized by the new blood or would they take one step backward before taking two steps forward?
And, of course, there are always the questions about whose recruiting class is going to make an immediate impact.
So bearing all those questions in mind, here are thumbnail views of each team's outlook.
Click on any team's name at the top of the sections below for its individual season preview.
The Favorites
Loaded with offensive talent and solid in the defensive end. If sophomore goaltender Kevin Regan continues to emerge, a trip to Milwaukee for the Frozen Four could be in the offing.
Yes, the Eagles suffered major losses and have gaping holes to fill on defense. But there are plenty of strengths and, besides, when is the last time a BC recruiting class failed to fill the void?
The River Hawks took a broadside with the departure of Walter. Until that point, they were bringing back almost their entire team. Now, a top three or four finish isn't the near-lock it was in July. Still, playoff home ice looks probable.
The Contenders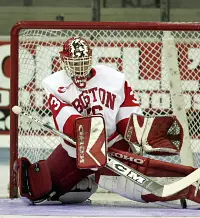 There are no weaknesses on this squad and strengths that begin in the defensive zone with goaltender John [nl]Curry. It wouldn't be a surprise to see the Terriers seriously challenge for the Hockey East title and make another trip to the NCAA tournament.
5. Maine
If not for Jimmy Howard turning pro, the Black Bears would have suffered minimal losses and been a major threat both within the league and on the national stage. Other than that, Mrs. Lincoln, how did you like the play?
6. Vermont
With a terrific goaltender, a strong group of defensemen and good forwards, the Catamounts look like more than a sixth-place team. It almost feels like Hockey East provincialism to deny them a berth in the top five. The only problem is, who would they dislodge?
Who Knows?
Steven Werner, Matt Anderson, Marvin Degon and Gabe Winer provide an impressive veteran core. The key, however, will be how well the 16 freshmen and sophomores fare.
8. Providence
New coach Tim Army is promising an up-tempo game with more offense. Will the freshman offensive defensemen he's counting on produce right out of the gate? Or will there be growing pains?
Sorry, But Not This Year
9. Northeastern
With gaping holes to fill at all three positions, this looks like a clear rebuilding year for the Huskies.
10. Merrimack
Not to kick a team when it's down, but someone's got to be picked for the cellar. The Warriors will be better than their 1-22-1 league mark last year, but it still looks like a two-team race for 10th.