For Massachusetts, last season was without question a tale of two years. In 2004, the Minutemen posted a 10-10-1 record. In 2005, however, the wheels came off and they plummeted to 3-13-1. Coming on the heels of the breakthrough 2003-04 season in which they finished third in Hockey East, the freefall was disheartening.
On the positive side, however, UMass brings back almost its entire roster and should also have key contributor Matt Anderson available for the entire slate of games. The team's demise and Anderson's season-ending injury on Dec. 9 line up almost perfectly, both in terms of timing and also in logic. Anderson led the team in points per game with a 7-13–20 mark in 18 contests.
"We really like the fact that we've been able to hang onto our upperclassmen," coach Don Cahoon says. "We like the leadership we have with that group. We think in each position we have a star-level player within the league format: Gabe Winer in goal, Marvin Degon on defense and Stephen Werner as a forward. So we're really pleased about the leadership we're going to get in each one of those areas.
"Now the question will be how well do the young kids adjust to the college level of play. We have 16 freshmen and sophomores. How much do the sophomores and juniors elevate their game to become more of a factor within Hockey East?
"Stay tuned, because I don't have the answers to those questions right now. But I think that they're the key to how high we can finish and how well we'll do in the course of the season."
Up front, Werner (14-13–27) and Anderson will be the senior mainstays. Werner scored 38 points as a freshman so he could easily finish his collegiate career with a big-number season. Sophomore P.J. Fenton (13-12–25), a member of the Hockey East All-Rookie Team, and junior Kevin Jarman (7-14–21) are the other primary scoring threats along with Matt Burto (7-6–13).
"We think that we have a little bit more depth with the incoming players," Cahoon says. "P.J. Fenton has emerged. Matty Burto has emerged. We have guys like Kevin Jarman, who we think are on the cusp of being real good players in this league going into their junior year. So some of those people have to come to the forefront to give us a little bit more offensive ability.
"I'm happy with the forward group. I think it will be the deepest we've had since I've been here."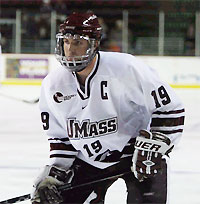 On defense, Degon (10-8-18) is a major offensive threat, especially on the power play. Junior Mark Matheson and sophomores David Leaderer and Michael Kostka are the other returning blueliners. This group will be supplemented by freshmen Topher Bevis, Jesse Downey and John Wessbecker.
"With Degon, Matheson, Kostka and Leaderer, we've got four guys with substantial experience that we know can play," Cahoon says. "They've all proven to be capable defenders.
"Then add the three freshmen. It's a matter of how much time they can handle in the early going. How much time can they put in and make a difference? That will be a pivotal part of our team's development."
Senior Gabe Winer (3.09 GAA, .889 Sv%) has been a fixture in the UMass nets, averaging over 31 games over his first three years. He'll be pushed by highly-regarded freshman Jon Quick.
"Gabe certainly came back in better shape than he's ever been in," Cahoon says. "He's 35 pounds lighter and a whole lot more fit. I'm sure that's a result of knowing there's a lot more competition in that position and the fact that he's a senior and he wants to play afterwards.
"Quick is a notable recruit and deservedly so. He's going to be utilized. He's a very talented player.
"Right now Gabe has the edge of all that experience. We can go a little bit slower [with Quick] if Gabe's on top of his game.
"I like our depth in the goal."
The strengths at UMass are pronounced, but the questions also abound. This season could regain some of the momentum lost last year. Or it could be one of treading water.
"I think we're overall a better program this year," Cahoon says. "It's just a matter of how mature we can be with so many young players."