No team suffered a bigger early-signing loss to the pros than Maine. Chris Bourque left Boston University in the spring. Then, after the new NHL collective bargaining agreement went into effect, Lowell lost Ben Walter, Boston College lost Patrick Eaves and Maine lost Jimmy Howard.
BC fans might argue that the departure of Eaves, the reigning Player of the Year and an All-American, was the worst defection to recover from. River Hawk fans might argue that their team's depth, in comparison to perennial powerhouses like BU, BC and Maine, made the Walter signing a bigger blow.
They would be wrong.
Jimmy Howard is a goaltender. End of story.
No player can dominate games like the guy between the pipes. Exhibits A, B, and C might be Howard's performances two years ago in Maine's run to the national championship game. He carried the Black Bears on his shoulders, finishing the season with an astounding 1.19 goals against average and a .956 save percentage. Exhibit D could also be last year's NCAA game against Minnesota in which Howard stopped the first 37 Gopher shots to force overtime.
Although he suffered physical ailments last year that got him off to a slow start, one could still argue that no team depended more on a single player over his last two years.
It's not as though his departure sends the season down the drain, but it does amount to a near polar shift.
"Obviously, we're disappointed," Maine coach Tim Whitehead says. "Not just as a player. Obviously that's big. But he was a great leader for us, too. He was picked as a captain, one of those rare goalies who has a letter on his shirt.
"We're going to miss him a lot. We're very proud of him and excited for him. But we're very determined to make this a special season and that's our challenge now, no different than if you lost your quarterback a week before the season.
"You don't pack it in. We feel we have a very strong team and it's going to be exciting to see what we can do. It's going to be a process and it may take some time, but we're determined to make it a special season."
The polar shift will manifest itself in a reliance on the forwards as difference-makers instead of Howard. The top six scorers and 10 of the 11 who finished with at least 15 points all return. Leading that group are Derek Damon (14-13–27), Jon Jankus (8-17–25) and Michel Léveillé (12-12–24). It wouldn't be a surprise to see Léveillé bounce back to the 40-point form he displayed two years ago.
"Oddly enough, I think our forwards will be our strength this year," Whitehead says. "They were probably our weakness last year simply because they were young. Our power play was mostly freshmen and sophomores and that was fine. We knew we weren't going to produce a lot of goals last year.
"This year, though, we're going to produce more offensively. And we need to. We were middle of the pack offensively last year and we need to put up more goals and we will. I'm not worried about it.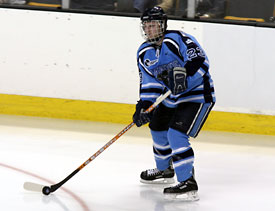 "What I'm worried about is our defense and goalies. And in the end that's typically your formula for victories: your defense and goalies. That's going to be a work in progress."
The blueliners are led by Steve Mullin in the defensive zone and Bret Tyler on the attack. Three freshmen — Chris Hahn, Bryan Plaszcz and Matt Duffy — will have opportunities to add a new dimension to the group.
"I like all the three newcomers," Whitehead says. "They're all 6'2" or above and that was an area we thought we needed to address. And they're all offensive defensemen and we were near the bottom of the league in defenseman contributions offensively. So that's going to help us.
"I do like the guys we have coming back. Steve Mullin, I believe, is as good as any defensive defenseman in the league. He's fabulous. He'll be our leader on defense. And than we have Travis Wight, another senior who had a great freshman year. He's had a couple of down years, but I think he's going to surprise a lot of people.
"We have Mike Lundin, who is a real solid two-way defenseman and Bret Tyler, who was our top-scoring defenseman as a freshman last year. He's a heck of a player. Travis Ramsey was our most improved player last year as voted by the players."
Assuming Howard's mantle will be sophomore Matt Lundin, who appeared in only one full game and bits and pieces of eight others, along with freshman Ben Bishop. Lundin was actually projected to play elsewhere and return next year until Howard signed. If either netminder seizes the opportunity, Maine's strengths could make for another very successful season. If both struggle, however, the result in the wins and losses column will likely be another reminder that teams with goaltending problems go nowhere.
"We're going to play them both," Whitehead says. "Had [Lundin] gotten more ice time last year, more of an opportunity to gain experience, I think we'd be more comfortable putting him into [a clear number one] position, but I don't think that's fair to him. No different, it's not fair to throw Bishop as a freshman into an every-game situation, a number one position.
"We really do need to commit to playing both these guys for quite a while if not the entire season. If we do that, hopefully they will both gradually emerge as number one guys. That's our hope and that's what we're going to focus on right now."
Is that hope whistling past the graveyard or realistic optimism? Much depends on the answer.