As the season beckoned and the sports highlights showed Ben Walter scoring goals in Bruins training camp, River Hawk fans had to feel both a sense of pride that one of their guys was making an impact at the next level and also a sense of disappointment at what might have been. With the 26-goal scorer still on the roster, Lowell would have returned virtually its entire lineup intact from last year.
"Generally speaking, the BUs and BCs of the world and UNH and Maine, are better equipped to lose a player early simply because of their quality and quantity of depth," Lowell coach Blaise MacDonald says. "We perhaps don't have that luxury of having so many game-breakers in our lineup. It hurts us more.
"But with every loss is another tremendous opportunity. We have a lot of very talented players who are poised for breakout types of seasons."
The ranks of the forwards include many of those players. The top returning guns are Elias Godoy (12-27–39), Andrew Martin (12-20–32), Danny O'Brien (11-18–29) and Jason Tejchma (11-15–26). But equally impressive is the depth befitting a group that returned all but Walter of its top dozen scorers.
"That clearly is the strength of our team, in our forwards," MacDonald says. "We have a lot of talent and depth. We're just waiting to see who evolves into the clutch player that Ben was, scoring the first goal of a game and scoring the goal to break a tie. I can see Elias Godoy and Martin and O'Brien being able to fill those situations. Tejchma, too.
"We have a lot of good players. Brad King and Bobby Robbins have had good careers and they could really bust out this year."
The defense also is loaded with eight of the nine blueliners who played in double-digit games last year returning. Unlike the forwards, however, the big gun, Cleve Kinley (8-21–29), is back.
"Cleve Kinley is one of the premier defensemen in Hockey East and all of the country," MacDonald says. "He's underrated in my opinion. A big time player. Matty Collar complements him very well; he's a stay-at-home, warrior-type defenseman with great experience who just competes like heck.
"We were young last year back on defense. We played a lot of freshman and sophomores. Hopefully that experience will play dividends this year. A guy like Kim Brandvold has had a great summer of training and looks good. Kelly Sullivan and Grant Farrell have a year under their belts and should make a big jump. Redshirt junior Bobby McCabe looks really solid.
"Then we have J.R. Bria, a transfer [from Colgate], who is a guy who has just transformed his body, losing a ton of weight and a ton of body fat, and looks outstanding. I would be shocked if he's not one of our top five defensemen."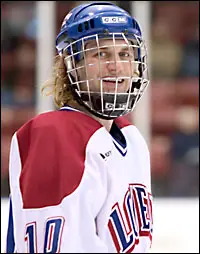 Goaltender Peter Vetri (2.52 GAA, .912 Sv%) earned Hockey East Rookie of the Year honors for his work between the Lowell pipes last year and will clearly be the go-to guy with the departures of Chris Davidson and John Yaros. Freshman Vinnie Monaco will be the backup.
"Peter Vetri clearly is our guy," MacDonald says. "He was going to play as much as he wanted to play and Yaros was going to complement him [before Yaros left]. Vetri thrives on a lot of work.
"He's got to — and I believe he will — build on his successes last year. He got off to a slow start with a lot of injuries, but he's another guy who has made a major commitment [to conditioning]. Our team feels confident with him between the pipes.
"And I've been impressed with Vinnie Monaco. He works like an absolute animal in the weight room and on the ice. That's a great characteristic for a goaltender to have."
Put it all together and, even with the loss of Walter, this is a team that could do some serious damage.
"What I expect is more consistency," MacDonald says. "Last year, we got off to a slow start in league play and then got on a real good run, but then struggled in a few games late at Maine. I want us to be consistent.
"If we could get at least two points in every one of our league series, that would be terrific. If we look at it that way and break it down into small segments, I think we'll have success. We just want to put ourselves in the position in February where we're battling for home ice."