Not to be negative, but new coach Greg Cronin has his work cut out for him.
Northeastern finished sixth last year after two straight seasons in the cellar, which certainly amounted to an important step forward. However, the Huskies then graduated two First Team All-Hockey East stars in goaltender Keni Gibson and forward Jason Guerriero, along with four other key contributors: forward Jared Mudryk and defensemen Tim Judy, Jon Awe and Donny Grover.
Last year's veteran-dominated team thus becomes this year's youth brigade. That means major question marks on defense and in goal, not to mention holes up front.
Still, for many Husky players, Cronin's arrival offers a new opportunity to make a good first impression.
"I told the guys when I came in that it was a clean slate and they could reinvent themselves," Cronin says. "'Do what you gotta do and at some point I'll find out what you represent and make a decision.'
"I watch videotape and I see what some of the players look like. But I would never make a read on a player's abilities from a videotape. So, when we start, I'll start to do an inventory of what each player represents, strengths and weaknesses."
There's no question what the team's number one strength is. It's forward Mike Morris (19-20–39). Teamed with Jason Guerriero and Jimmy Russo, Morris earned second-team All-Hockey East honors. The other top returning scorers are Brian Swiniarski (10-6–16) and Ray Ortiz (5-8–13).
"The headliner is Mike Morris," Cronin says. "I don't think anybody that's familiar with college hockey, particularly in the East, doesn't know who he is. He's a guy that represents stability, creativity and automatic point production. I'm going to lean on him a lot.
"I've experimented with moving him to the middle. Like most coaches, I lean toward having strength through the middle of the ice. If he's our best forward, then I'd just as soon put him in the middle where he can get the puck without having to wait for the faceoff to sort itself out.
"After that, there's Swiniarski, Ortiz, Russo, [Yale] Lewis and a host of other characters. There are a lot of veterans here, but I don't know yet what they represent. I know the names, but I don't know how it's going to play out."
A position of even more uncertainty is defense, where three key members must be replaced. The returning veterans include juniors Brian Deeth and Steve Birnstill, along with senior Chuck Tomes. Freshmen Denis Chisholm, Louis Liotti and Steve McClellan were recruited to replace the three departed blueliners.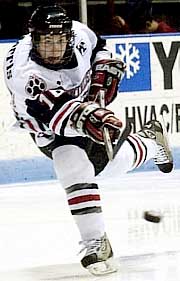 "We're going to need some big-time help from the freshmen," Cronin says. "They have no choice; they're going to play. We don't have the luxury of easing them into the lineup. It's going to be baptism by fire.
"Right away when I got on board, I realized that there was a lack of depth back there so we recruited walk-ons Jacques Perreault and Andrew Linard. Both those guys are 6'3″ and I personally like bigger defensemen who have some mobility to them. So we have a little depth back there."
In goal, Gibson played virtually every game as a junior and senior and the vast majority of them as a freshman and sophomore. As a result, there's no real track record for junior Adam Geragosian and senior Tim Heneroty, both of whom got only a sprinkling of action in their tenure. Doug Jewer is a vitally important recruit while Jake Thaler is a walk-on.
Cronin says, "I always tell the kids, 'You leave a fingerprint behind wherever you are. You have a reputation and that's your fingerprint.' Geragosian has a reputation of working really hard and he's a good guy. What that translates to, we'll find out.
"Heneroty was a scholarship goalie a couple years ago and he's very anxious to revisit the goaltending scene with a clean slate. Apparently, he didn't get a lot of cracks at it.
"Doug Jewer is a scholarship recipient. Bruce Racine, who was an All-American goalie here, identified him as a goalie that could make a difference to our program. Without putting any undue pressure on him, he has some large skates to fill. I'm optimistic that he's going to be able to fill those skates.
"We also have Jake Thaler walking on. He played in the same league as Doug Jewer and actually had very attractive statistics. What does that translate to? Who knows?
"We'll find out about them in the coming weeks, but if you don't have a [solid] goalie you're in big trouble."
Cronin has never been one to sugarcoat the harsh realities.
"If we have a lot of weaknesses at the blue line and we have a lot of weaknesses at the net, then it's going to be a long year," he says.
Which is this writer's fear. The chances of considerable growing pains are high.