When new Providence coach Tim Army was a senior, the Friars won the Hockey East championship in the legendary 1985 title game, a double-overtime 2-1 win over Boston College. Getting PC back into the Hockey East title picture is Army's goal.
"Our challenge is great," Army says. "We are in a great conference and the talent level in the conference has great depth. But we're excited about meeting those challenges."
Look for some significant stylistic changes, especially compared to the perception of Friar hockey as being defense-first. Up-tempo will be the new name of the game.
"We want to create an attacking mentality," Army says. "We've got some good hockey players here that have potential offensively. We'll look to maximize their strengths."
That begins up front. Other than top scorer Chris Chaput, the core returns, but only Jamie Carroll (11-11–22) totaled more than 20 points.
"Our leading scorer has to have more than 30 points and that's what Chris Chaput had last year," Army says. "That's not good enough in this league. We've got to get more out of our team offensively.
"I think we've got some guys who can produce more than they have. A little bit of a switch in our approach to our team game may tap some of those offensive strengths. A couple guys that we really will rely on to drive our engine and dictate the tempo of our team offensively are Jon Rheault, Colin McDonald and Chase Watson
"We've also added three freshmen who I believe can provide good offensive production: Brad Cooper, who led the North American league in scoring last year, Nick Mazzolini and Pierce Norton. They'll upgrade our offensive game.
"Then we've got guys in Jamie Carroll, Bryan Horan and Torry Gajda who have the capability of providing good two-way play, but can offer more in the offensive end. We'll push this group to also prepare themselves to be more active and creative to provide more offense."
The defense will also be a key factor in generating more offense, much of that coming from new faces.
"We needed to upgrade the offensive capabilities of our defense and I think we've done that," Army says. "We've added a very intelligent, puck-moving defenseman in Matt Taormina. He really handles the puck well and has the ability to quarterback the power play so he's a really great addition. We've also added Cody Wild, who gives you an all-around game, but has the knack of jumping in the rush. We've also added another young defenseman in Austin Miller, who is a very complete defenseman.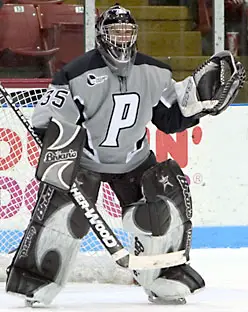 "So we've added those three freshmen who will really help the depth of our team and add an ingredient that's been missing since the graduation of Stephen Wood a couple years ago, that offensive element at the back end.
"Then you look at our [returning] group. We've got some stability and guys who play a real steady game, guys like Dinos Stamoulis and James Pemberton. Trevor Ludwig is going to have a big year for us. So we have the experience that is a perfect complement to the freshmen."
In goal, Tyler Sims (2.80 GAA, .914 Sv%) impressed as a freshman and should get the bulk of the work following the graduation of David Cacciola. Stephen Ritter will be the primary backup along with Chris Mannix.
"Tyler is our guy," Army says. "He really progressed quite well last year. He's the type of goalie that I like because not only does he play well with a consistent style and he works hard, but he's also very much a team personality. He's not a goaltender who is off into his own thing.
"His personality along with his athletic ability, his goaltending ability and his work ethic make him a guy that we expect to successfully backbone our team."
It may take some time for Army to achieve his long-term goals for the program, but he isn't writing off this year as merely a rebuilding one.
"We've got a good enough mixture of talent that our expectation is that we can get ourselves going in the direction that we want to go right now."