New Hampshire's talent ranks among the best in the league.
When have we heard that before?
UNH graduated two of the top forwards in the league, but still appears loaded up front with plenty of candidates to pick up the slack.
When have we heard that before?
The Wildcats should have a stellar power play that could be the deciding factor in tight games with other contenders.
When have we heard that before?
It's the same old story at UNH this year, one that should put smiles on the faces of Whittemore Center fans as the Wildcats seek to end a two-year absence from the Hockey East throne.
The Wildcats graduated two 50-plus point scorers in Sean Collins and Preston Callander, but that's no cause for alarm. What remains includes Jacob Micflikier (20-24–44), Brett Hemingway (22-20–42) and Daniel Winnik (18-22–40). Those three just happen to be the top returning scorers in Hockey East.
Add to them Brian Yandle, an All-American defenseman who scored 35 points to lead Hockey East blueliners, and 20-point producers Josh Ciocco, Matt Fornataro and Mike Radja. The result? Whittemore Center fans may suffer shoulder injuries due to overuse after celebrating UNH goals.
"I hope so," UNH coach Richard Umile says. "That's what we're hoping for. We like to move the puck; we like to score goals. We think we have some guys who can score goals so hopefully we can do that.
"We've got to replace 50 goals from two guys, Collins and Callander. That will be our challenge. But I think we've got some players who can equal those numbers. It might take three or four of them, but that's okay. We've got three or four of them that can do it."
There are holes left behind on the defense following the graduation of Tyson Teplitsky and Robbie Barker. The quarterback role on the power play, handled by forward Justin Aikins, also must be filled.
Yandle remains the big-time scorer on the blue line and the shooter on the power play. He's joined by four other veterans — juniors Chris Murray and Michael Hutchins as well as sophomores Craig Switzer and Brad Flaishans — and three freshmen.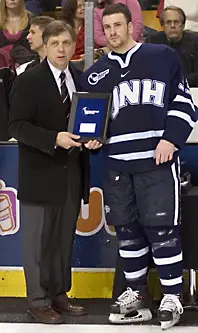 "Defensively, we're going to be fine," Umile says. "Brian Yandle is the guy who can score for us on the power play. We have Switzer, who played very well. We think he'll be someone to add [on the power play] and Brad Flaishans is another sophomore that we think will add something there. We feel our power play will be strong.
"We think we're going to have four solid defensemen. Hutchins, who wasn't healthy at the end of the season, is going to come back. Then we have the three freshman defensemen. It will be interesting to see who can jump in there. There's going to be one spot open just through attrition, so one of them has to come in there and help us out."
No such openings exist between the pipes, where sophomore Kevin Regan (2.35 GAA, .928 Sv%) and senior Jeff Pietrasiak (2.91, .904) return. UNH fans, spoiled by the likes of All-Americans Mike Ayers and Ty Conklin, felt some angst at the beginning of last year with only question marks in the net. Those feelings subsided, particularly with Regan's play down the stretch and in the league playoffs and NCAA tournament.
"We were happy with both goaltenders," Umile says. "There's some experience there. They both played a lot last year and played some big games, which is a good thing for us this season.
"Kevin Regan was disappointed with the way he played last year and I thought he played great. So that's exciting if he thinks he didn't play great. Jeff is in the best shape he's been in. He feels real good.
"We're real comfortable with our goaltending. We think they're going to be able to compete every single night."
Last year, the Wildcats advanced to the Hockey East championship game where they lost to Boston College and then in the NCAA tournament fell to eventual national champion Denver in the Northeast Regional Final. It wouldn't be surprising to see comparable success or even greater this year.
"We want to go another step further," Umile says. "I like the way we played at the end of the season. we became a good team, played well in the playoffs and played well in the regionals. If we can take it one more step, that would be real exciting because it means we'd get to the Frozen Four."