The Western Collegiate Hockey Association is not necessarily the strongest conference in women's hockey, but it is definitely the most successful. The first six years of the league's existence have resulted in six national championships, three apiece for members Minnesota-Duluth and Minnesota.
Beginning its seventh season and second as an eight-team conference, the WCHA has shown surprising stability, with the only change in the lineup being the addition of North Dakota last year. All of the head coaches have at least three years of experience with their current institution, with the average tenure being four and a half years.

For the first time last season, the WCHA earned three invitations to the NCAA tournament, which expanded from four to eight teams. Minnesota-Duluth and Wisconsin fell in close quarterfinal matchups. Minnesota earned its second consecutive NCAA title, after repeating as the league's regular season and tournament champion.
Minnesota-Duluth, Wisconsin and Minnesota have claimed the top three spots in the WCHA standings each year, and they remain the favorites. The talent advantage they have enjoyed over the competition shrinks this season, because they have been hit the hardest by personnel losses due to graduation and the Olympic games. Among the missing stars are the Bulldogs' Caroline Ouellette, Carla MacLeod and Molly Engstrom of the Badgers, and the Gophers' Natalie Darwitz, Kelly Stephens, and Patty Kazmaier Award recipient Krissy Wendell. Bolstered by strong recruiting classes and the experience gained by their returning players, Ohio State, Minnesota State-Mankato, St. Cloud State, North Dakota, and Bemidji State look to shake up the conference standings in 2005-2006. But the 53-2-1 mark that the big three posted in conference play against the rest of the league demonstrates that it is a wide gap to bridge.
The WCHA tweaks the format for the conference tournament again in 2006. The new arrangement is similar to postseason play in the ECAC, with best-of-three quarterfinal series being hosted by the top four seeds. The semifinals and finals are to be played the following weekend at Ridder Arena in Minneapolis.
1. Wisconsin
2004-05 Record: (28-9-1, 20-7-1 WCHA)
Head Coach: Mark Johnson (75-23-9, 4th season), a former assistant and player with the Badger men's team, led Wisconsin to a school record win total last season. His distinguished playing career included winning an NCAA title, an Olympic gold medal in 1980, and 11 years in the NHL.
2004-05 Stat Summary: When you think of Wisconsin, you think of a team where the top priority of every player on the ice is to stop the opposition from scoring, and the Badgers were 3rd nationally, averaging 1.55 goals allowed. Surprisingly, they boasted the 2nd most prolific offense (4.47) and scoring margin (2.92) in D-I.
Key Departures: The Badger blue line takes a major hit with the graduation of Carla MacLeod (6-20-26) and Molly Engstrom (13-19-32), now skating for Team Canada and Team USA respectively, plus former U.S. national selection Nicole Uliasz (4-14-18). The graduation of Jackie Friesen (17-7-24) and departure of junior Lindsay Macy (19-24-43) cost Wisconsin some of the size in their deep forward lines.
Key Returnees: Junior Sara Bauer (26-29-55), WCHA Rookie of the Year two seasons ago, and seniors Sharon Cole (11-27-38) and Nikki Burish (14-21-35) lead the forwards, while Bobbi Jo Slusar carries the torch on defense. Senior Meghan Horras was 4th nationally in goals against average (1.75).
Key Newcomers: Canadian U-22 defenseman Alycia Matthews will help reinforce the defensive corps. Recruits Erika Lawler, Tia Hanson, Kayla Hagen, and Angie Keseley provide additional firepower.
Outlook: If this was golf, Wisconsin would be the "Best Player to Never Win a Major." In fact, the Badgers have never won a title of any sort. Expect that to change in 2006.
2. Minnesota
2004-05 Record: (36-2-2, 25-1-2 WCHA)
Head Coach: Laura Halldorson (226-44-20, 9th season at Minnesota; 285-119-29, 16th career season) was recognized as AHCA National Coach of the Year in 2004, 2002, and 1998. She has led her team to 3 national titles, 7 national semi-final appearances, 4 WCHA regular season conference crowns, and 3 WCHA tournament championships.
2004-05 Stat Highlights: The Gophers led the nation in offense (4.92), power play (31%), scoring margin (3.58), winning percentage (.925), and were second in defense (1.35).
Key Departures: Minnesota graduates the two goalies who have shared the team's last 147 games, Brenda Reinen and Jody Horak, who posted 83 wins in her career. The 5-member senior class also included forward Kelly Stephens, whose 218 career points rank 4th in program history. Lost to the US national team are two All-Americans who top that list, Krissy Wendell (237 career points, 104 last season) and Natalie Darwitz (246, 114 season – equaling A.J. Mleczko's all-time mark). Team USA also claimed last season's top-scoring defenseman in the nation, Lyndsay Wall (14-34-48).
Key Returnees: Defense figures to be the strength of this year's team, anchored by seniors Ashley Albrecht, Chelsey Brodt, and Allie Sanchez. Among the 13 returning letter-winners, the top scorers were WCHA Rookie of the Year Bobbi Ross (15-18-33), Erica McKenzie (12-9-21), and captain Andrea Nichols (10-8-18).
Key Newcomers: The addition of Canadian U-22 goalie Brittony Chartier figures to turn a potential problem position into a strength. A second freshman and a senior transfer round out the goaltending corps. Two freshmen, including Melanie Gagnon, another veteran of Canada's U-22 team, bolster an already strong blue line. Ms. Hockey in Minnesota Gigi Marvin heads the list of three arrivals up front.
Outlook: Minnesota's roster compares well with that of any team in the country. However, gone are the players who produced 351 of the teams 507 points, including 294 from one line. In 2001, the Gophers hosted the Frozen Four but watched from the stands, the only time they haven't participated in the national tournament. To avoid a repeat in Mariucci Arena next March, they must continue to be stingy on defense and compensate for the lack of a dominant offensive force with contributions from numerous sources.
3. Minnesota-Duluth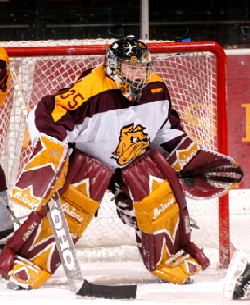 2004-05 Record: (26-6-2, 22-4-2 WCHA)
Head Coach: Shannon Miller (154-37-17, 7th season), former coach of the Canadian Olympic team, led UMD to the national tournament in 5 of 6 seasons. Her teams claimed the first three championships sponsored by the NCAA.
2004-05 Stat Summary: The Bulldogs had the top penalty kill in the country (92.2%), and their team defense ranked 4th. UMD was 5th in both offense and power play efficiency.
Key Departures: UMD lost both backup goaltenders, defensive stalwart Julianne Vasichek, and Nora Tallus, she of the OT NCAA title-winning goal vs. Harvard in 2003. But the hardest to replace is forward Caroline Ouellette, who finished in the top three in the Kazmaier voting, was 4th nationally with 80 points, and tied for second with nine game-winning goals.
Key Returnees: Junior goalie Riitta Schaublin was an All-WCHA First Team selection and led the country in save percentage (.942). Forwards Noemie Marin (30-26-56), Jessica Koizumi (24-17-41), and Allison Lehrke (10-13-23) top the returning scorers list. Senior Krista McArthur and sophomore Rachel Drazan, a WCHA All-Rookie team selection last year, will anchor the defense.
Key Newcomers: The Bulldogs add 11 freshmen, including forwards Michaela Lanzl, a member of the German national team since 1996, and Mari Pehkonen, who has Finnish national team experience. Quebec Under-22 Team veteran Myriam Trepanier will be expected to step in on defense.
Outlook: UMD's team defense was vastly improved last year. Ouellette carried the offense at times, but if the 24 skaters on the team's 27-player roster can fill the hole left by her graduation, the 'Dogs figure to be in the hunt for a national title once more.
4. Ohio State
2004-05 Record: (17-17-3, 12-15-1 WCHA)
Head Coach: Jackie Barto (89-112-19, 7th season at Ohio State; 159-165-29, 12th career season) became Ohio State's first and only head coach after five seasons coaching Providence College. She currently serves on the NCAA Women's Ice Hockey Championship Committee.
2004-05 Stat Summary: OSU's statistical ranking closely parallels their position in the standings – 4th in the conference in offense and power play, 5th in defense and penalty kill.
Key Departures: The Buckeyes graduated five seniors, including forwards Jeni Creary (29-16-45) and Meaghan Mulvaney (12-14-26), and goaltender Melissa Glaser, who had 37 wins in her career. Standout defenseman Tessa Bonhomme (7-20-27) takes a red-shirt season, while she trains with the Canadian national team.
Key Returnees: Junior Erika Vanderveer (15-11-3 record in her career) should get the majority of the minutes in goal. Senior Jana Harrigan (16-38-54) will be asked to carry much of the scoring load. Junior Amber Bowman (6-17-23) leads the defensive corps.
Key Newcomers: Seven freshmen join the OSU roster. Liana Bonanno of the Berskshire School and the Sound Shore Warriors provides depth in goal. Kelly Cahill of Honeybaked and Hayley Klassen of the College of Notre Dame bring skill to the roster, while Megan Hostasek, leads a trio of recruits who stand 5'9.
Outlook: Ohio State won once in 14 games against Minnesota, UMD, and Wisconsin last year; they went 12-4-1 versus the remainder of the conference. Unless there is a shift in either of those results, the Buckeyes will be locked into fourth place.
5. Minnesota State-Mankato
2004-05 Record: (9-20-6, 8-17-3 WCHA)
Head Coach: Jeff Vizenor (39-81-15, 5th season at Minnesota State; 73-94-20, 7th career season) brought steady improvement to the Mavericks by emphasizing team defense. Prior to MSU, he served as an assistant at Wisconsin and head coach at St. Mary's University.
2004-05 Stat Summary: Mankato's scoring offense tied for last in the conference last season, averaging less than one even strength goal per game. They did better on the other end of the ice, ranking 4th in both scoring defense and penalty kill. That defense came at a price, however, as the Mavericks were penalized the most of any team in the country.
Key Departures: A team starved for offense loses one of its top point-getters in Melanie Salatino (9-10-19). They also lost an impact player when Canadian U-22 Team member Kerri Wallace (2-11-13) transferred to St. Lawrence.
Key Returnees: MSU-Mankato has a pair of solid goalies in junior Laura Brennan (.914 save pct.) and sophomore Brit Kehler (.910). The top forwards are sophomores Amanda Stohr (10-9-19) and Kristina Bunker (4-15-19). Seven defenders return with experience, so the defense should remain solid.
Key Newcomers: Maggie Fisher, Felicia Nelson, and Ashley Young skated as a high school line last season, and each topped 100 points. The trio helped South St. Paul, Minn. win three state championships in four years. Jenna Hewitt and Andrea Herold, another pair out of Minnesota high school players, join them up front.
Outlook: On paper, this is the most talented offensive team MSU has ever had. Much of that talent resides in the lower classes, and how well it performs under the rigors of college hockey will determine whether the Mavericks make a move up or down in the standings.
6. St. Cloud State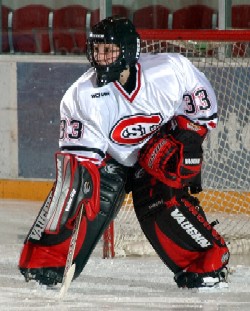 2004-05 Record: (9-22-4, 7-18-3 WCHA)
Head Coach: Jason Lesteberg (27-69-5, 4th season at St. Cloud State; 52-95-14, 6th career season) coached at Bemidji St. and Wisconsin-Stevens Point before joining the Huskies.
2004-05 Stat Summary: SCSU ranked 6th or 7th in most conference statistics.
Key Departures: St. Cloud graduates forward Carrie Holldorf (6-10-16) and defenseman Tina Ciraulo (6-8-14).
Key Returnees: The top scorers coming back are senior Kristy Oonincx (14-9-23), senior Ashley Stewart (10-13-23), and junior Hailey Clarkson (5-17-22). Seniors Kelly Stewart and Randie Jelinsky provide leadership on the blue line. Junior Lauri St. Jacques tends the goal in most games.
Key Newcomers: St. Cloud adds five freshmen, including forwards Sammy Nixon and Megan McCarthy, and Brita Schroeder on defense.
Outlook: The Huskies were encouraged by their strong play over the final third of the season. A team that nobody wanted to face down the stretch, as evidenced by an upset of UMD and pushing Wisconsin to the limit in the WCHA tournament, St. Cloud seems to have the pieces in place to improve their results this season.
7. North Dakota
2004-05 Record: (9-23-3, 6-21-1 WCHA)
Head Coach: Shantel Rivard (35-51-7, 4th season), a former Maine assistant, was hired to build a women's hockey program at North Dakota in January of 2002.
2004-05 Stat Summary: The Fighting Sioux ranked last in the conference in scoring defense, due in part to possessing the lowest ranked penalty kill, combined with being the second-most penalized team. Scoring offense finished a more respectable 5th.
Key Departures: Forward Marissa Hangsleben (5-6-11) and defender Meaghan Nelson.
Key Returnees: Sophomore forwards Cara Wooster (15-13-28), Cami Wooster (14-10-24), and Melissa Dianoski (10-9-19) spark the offense. Senior Liz Funk (30-31-61) leads in career points. Classmate Jessica Kovacevich provides muscle on the blue line. Senior goalie Amber Hasbargen played the majority of the minutes in net.
Key Newcomers: Forwards Samantha Bowers and Randi Motsko bring depth to the forward ranks, while Christy Carlson adds size to the defense.
Outlook: In only the fourth year of the program and without a full complement of scholarships, the Fighting Sioux are unlikely to make a major move in the conference standings. An improvement in their overall record is possible. With the team's first recruiting class poised to end their careers in March, they'll try to spring the upset that barely eluded them in the 2005 WCHA quarterfinals.
8. Bemidji State
2004-05 Record: (9-24-2, 5-22-1 WCHA)
Head Coach: Bruce Olson (23-68-11, 4th season) coached high school boys teams in Roseau, MN and Minot, ND before his hiring at Bemidji. Olson received recognition as the state's coach of the year while at each location. He took his teams to the state championship game, with Roseau winning the Minnesota title in 1999.
2004-05 Stat Summary: Bemidji ranked 6th or 7th in the conference in most categories. They were the least penalized team in the league by a wide margin, at 9.9 minutes per game – perhaps a young team played too passively.
Key Departures: Defenseman Jenny Schnickel played in 135 games while at BSU, scoring 12 goals and adding 17 assists. Ashley Medori and Nicky Kluck also completed their eligibility.
Key Returnees: The team returns its top six scorers and all but one of the top 14. Leading the way are juniors Kelly Hart (8-21-29) and Nikki Eckebrecht (10-11-21), and sophomore Tara Hiscock (9-12-21). All three goalies are back, with senior Jill Luebke and last season's WCHA All-Rookie goaltender Emily Brookshaw getting the lion's share of the minutes.
Key Newcomers: Bemidji St. adds eight frosh, split between forward and defense, notably Team Manitoba veteran Lisa Kissick and Brooke Collins of Shattuck-St. Mary's.
Outlook: Having taken their lumps over the past two seasons with very young teams, look for the Beavers to escape the WCHA cellar in 2006. At a minimum, they should have a good chance in every game, which wasn't always the case last year.