Players from teams in the preseason USCHO Division III poll dominate the list of all-stars on the 2005 Preseason All-USCHO Team.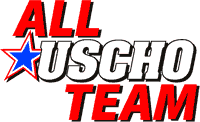 Preseason No. 1 Middlebury placed two players on the East team, while second-ranked St. Norbert and No. 5 St. John's dominated the West, placing four and three players, respectively. Sixth-ranked Trinity has two players on the East First Team.
The All-USCHO teams are selected by the USCHO staff. Complete All-USCHO teams appear below.
East First Team:
Forward — Cameron Finch, Sr., Trinity
Forward — Gus Katsuras, Sr., Hamilton
Forward — Ryan McCarty, Jr., Potsdam
Defense — Tom Sullivan, Sr., Babson
Defense — Brendan Timmins, Sr., Trinity
Goal — George Papachristopolous, Sr., Bowdoin
East Second Team:
Forward — Mike Carmody, So., New England College
Forward — Eric Frank, Sr., Mass.-Dartmouth
Forward — Mikey Gilchrist, So., Middlebury
Defense — Jason Murfitt, So., Manhattanville
Defense — Arthur Fritch, So., Colby
Goal — Ross Cherry. Middlebury
Honorable Mention: Bret Adams (Curry), Adam Dekker (Utica), Jocelyn Dubord (Oswego), Matt English (Geneseo), Mike Gooch (Neumann), Josh Hector (St. Anselm), Ryan Scott (Oswego), Matt Zeman (Fredonia)
West First Team:
Forward — Spencer Carbery, Sr., St. Norbert
Forward — Jay Dardis, Sr., Wisconsin-Superior
Forward — Brandon Wilcox, Sr., St. Thomas
Defense — Andrew Derton, Jr., St. Norbert
Defense — Keith Detlefsen, Sr., Gustavus Adolphus
Goal — Adam Hanna, Sr., St. John's
West Second Team:
Forward — Scott Bjorkland, Sr., St. John's
Forward — Tyler Canal, Jr., Lake Forest
Forward — Connor Hughes, Sr., St. Norbert
Defense — Mike Kautz, Sr., Wisconsin-Stout
Defense — Darryl Smoleroff, Sr., St. John's
Goal — Kyle Jones, So., St. Norbert
Honorable Mention: Ryan Adams (Bethel), Mathieu Bonnelly (Wisconson-Superior), Matt Burzon (MSOE), Tyler Dahl (Wisconsin-River Falls), Chris Gehrke (Wisconsin-Stevens Point), Critter Nagurski (Augsburg)