First Impressions
One new team and three new coaches. Look at their results and you've got four really good first impressions.
Vermont, Hockey East's new member, is now the only undefeated team in the league and has shot to 11th in the USCHO.com/CSTV poll.
Last weekend, Providence, led by new coach Tim Army, stunned Massachusetts-Lowell, a preseason favorite, by not only sweeping the River Hawks, but also shutting them out both times. The two league wins put the Friars atop the Hockey East standings.
Then there was Northeastern, already decimated by injuries, grabbing a point from eighth-ranked Boston College in coach Greg Cronin's inaugural home game.
And don't forget that new Merrimack coach Mike Dennehy won his first game at the Warrior helm two weeks ago, knocking off a favored Bowling Green squad on the road.
As first impressions go, that's four-for-four.
Vermont: The Undefeated Catamounts
The Catamounts won't begin their league schedule until next weekend, but you've got to be impressed with what they've done so far. Two weeks ago, they traveled to Alaska and returned as the Nye Frontier Classic champions. Last weekend, they swept Minnesota-Duluth.
The resulting 4-0 record has caught the attention of fans and pollsters alike.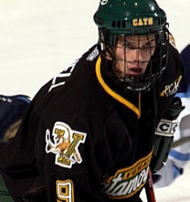 "It feels good," UVM coach Kevin Sneddon says. "I'm pleased for our players right now. They put a lot of work into preparing for the season with our strength coach. A lot of them stayed here this summer to commit to getting better in the offseason. It's nice for their confidence to start out strong."
Which is not to say that fat heads and inflated egos are about to run amuck in Burlington.
"No one in our locker room is looking at the polls and thinking that we're a perfect team right now," Sneddon says. "We certainly know that we have a long way to go. We haven't started league play yet. So there's no time to rest on those early rankings."
Still, Vermont has impressed and a lot of that has been thanks to the go-to guys delivering. Goaltender Joe Fallon (1.25 GAA, .935 Sv%) has picked up where he left off last season when he earned ECACHL Rookie of the Year honors. And Brady Leisenring (3-5–8) and Torrey Mitchell (1-8–9) have lived up to the high expectations set for them to be top offensive weapons.
"They definitely have responded in big roles," Sneddon says. "Obviously, that's not new to them. Torrey Mitchell played a big role as a freshman for us last year and Brady Leisenring, two years ago before his injury, led the ECACHL in scoring. They certainly are capable of doing it and have responded to the challenge right off the bat.
"It's going to get more difficult for those guys as time goes on because they are receiving accolades and teams are going to focus on them a little more. But they're certainly ready for that challenge as well.
"Joe Fallon has been very good for us and we've played very well in front of him, whether it's blocking shots or killing penalties well. But he's made some big saves in each of those first four games to either keep us in games or to turn the momentum around."
Boding well for both this and future years has been the quick emergence of freshmen Peter Lenes (4-1–5) and Dean Strong (2-2–4), who rank third and fourth in team scoring.
"We never like to put offensive pressure on first-year players," Sneddon says. "You never know how long it takes them to gain their confidence and adjust to the college game.
"But really all three freshman forwards have adjusted incredibly well. Peter Lenes had a breakout weekend with four goals. That was certainly a nice thing to happen for us. Dean Strong has been outstanding at both ends of the rink. And Corey Carlson may not have put up the same numbers as the other two, but has been extremely solid for us. We're getting great contributions from those three right off the bat."
Despite the strong start, Sneddon won't be letting the Catamounts rest on their laurels. There's plenty to like so far, but there are areas to improve on as well.
"From a passion and energy standpoint, we want to maintain that," he says. "We've really skated well for a full 60 minutes in each of our five games, if you count the exhibition game. We've just had a very high level of energy and we want to maintain that.
"But in each of the four games, we certainly made some mistakes that are evidence of early hockey and we've got to improve on those aspects each weekend, knowing that as we get into Hockey East play things are going to get more and more difficult. There are always things to work on."
Providence: The First Place Friars
On the surface, it looks like Providence has had an awful weekend and a great one. After getting swept in the North Country — losing 5-2 to Clarkson and 5-3 to St. Lawrence — PC rebounded with a 3-0 and 4-0 sweep of Lowell. The awful weekend was a result of the Friars adjusting to Army's up-tempo style with some predictable defensive lapses and then the great weekend was where they put it all together.
Right?
"Quite frankly, I thought we played real well the weekend before," Army says. "I look beyond just what the end result is. That sometimes doesn't tell you where your team is at. This is a process for us. We're trying to change our identity and our culture as a hockey team.
"I thought we played very well [that previous weekend] with some of the changes that we're making. We went into Clarkson and outshot them, 43-25. Unfortunately, we didn't capitalize on some chances when we had an opportunity to control the game. And they did.
"Then the next night at St. Lawrence they outshot us 50-36, but they had 15 power plays and we had three and we still had 36 shots on goal. I thought we generated a lot of good opportunities and speed in both of those games. The areas that were of concern were our penalty killing and our lack of discipline.
"Aside from that, I thought our power play was solid, I thought we pursued real well and we generated a lot of chances. So although I'm disappointed that we lost both games, I thought there were many more positives than not."
All of which left penalty-killing and discipline as the top two objectives for the Lowell series. In particular, the Friars could not repeat their 20 penalties for 78 minutes at St. Lawrence nor the four power-play goals allowed at Clarkson.
"Our penalty-killing has improved tremendously," Army says. "We exposed ourselves in a couple situations at Clarkson and they took advantage of it. We were much better at St. Lawrence. They had three power play goals, but two of them were scored on five-on-threes and they were lengthy five-on-threes. So our penalty-killing improved at St. Lawrence.
"This weekend our penalty-killing was better than what it had been and certainly our discipline was quite a bit better. We had some guys who were a little undisciplined in the North Country and they didn't play this past weekend. We put guys in there who gave us a more disciplined look."
While the North Country trip was no where near as bad as it appeared, the sweep of Lowell was also not an indication of a finished product.
"For me, it's always, 'Never too high; never too low,'" Army says. "Whether you win or lose, you look at the meat of the game. What happened during the course of the game? What are the things you're doing well? What are the things you need to get better at?
"We certainly feel better about the outcome last weekend than we did the weekend before. But we were in a couple very tight games [into the third period]. We were fortunate enough to get the lead in both games, but they had opportunities as well.
"Certainly there were moments in both games where we broke down. Whether Tyler Sims made the stop or they missed the chance, we escaped and we were able to live on and work toward getting that first goal.
"So even though we won both games, there are certainly things that we need to continue to become more efficient at. But overall, with the things that we're trying to do as a group, we continue to make progress."
And that progress won't necessarily be measured by short-term wins and losses, in the same way that Army felt no pressure to record this past week's wins to establish credibility.
"It's always important to win, but for me, I'm not going to panic no matter what the situation is," Army says. "From my standpoint, there's no such thing as a magic wand. It's not that simple. It doesn't happen sometimes the way you draw it up. Every situation is a little different; every team is a little different.
"But for me, it's about whether we're going in the direction that I want to bring the program. That's most important to me. I have to look beyond the wins and losses and what public opinion might be. I have to focus on what we're trying to do as a group and whether we're getting better.
"Sometimes, you may not be rewarded for that initially, but if you stay with it and you're consistent and you keep working toward that end, ultimately you will be rewarded for that. That's what you have to stay focused on."
Northeastern: Toe To Toe With The Titans
Although Northeastern opened the season with a 6-0 loss at North Dakota, the Huskies came back one night later to give the Sioux a run for their money before losing, 2-1. They followed that effort with a 1-1 tie back at home against Boston college.
Those performances came despite having several top players sidelined. All-Hockey East selection Mike Morris could be gone for the season with concussion problems that were exacerbated by an offseason car accident. Ray Ortiz, Joe Santilli and Yale Lewis are additional top-three-lines forwards who have yet to see action.
None of which leaves coach Greg Cronin completely satisfied with the tie.
"I thought that the last two games — the [second] North Dakota and the BC game — were great tests for our team and great evaluations for us as coaches to see who can play and who can't play," Cronin says. "I said to them after the game, 'Hey, you worked hard. Whoop-de-do. You're supposed to work hard. But we didn't get the win.'
"That's what has happened here in the past, people have glad-handed each other because they tied a hockey game. Well, [goaltender Adam] Geragosian weathered the storm when the power plays were 8-2 or 7-2 [against us] and clearly kept us in it when we had a steady stream to the penalty box. When you do that, you should win the game. I thought we had some great chances at the end and we should have won it."
The team's seventh man at Matthews Arena, however, is an entirely different story.
"The rink was magical," Cronin says. "Honest to God, in the last 10 minutes of the third period and in overtime, I didn't do much coaching. I just absorbed the crowd. It was so electric."
It brought back memories of Cronin's days behind NHL benches.
"I mean, Islanders-Rangers games are just incredibly savage games," he says. "It's incredibly loud in both buildings. Both buildings are old, the oldest buildings in the NHL, so they still have that intimacy with the fans. But they don't compare to Northeastern, where that balcony looks like a guy can reach down and grab your nose.
"To have that crowd like that, I had flashbacks to Islander-Rangers games. The difference was there weren't a dozen fights going on in the crowd. That's what goes on in those games.
"You talk about stirring your soul? That crowd stirred my soul. I couldn't believe it. We had 5400 people. They turned away 200 fans on a raw, ugly, rainy night when the Bruins were playing. What a reflection of the potential that we have here!"
Which is not to say the tie with BC had benefits solely in exciting and building the fan base.
"It's an element in evaluating players," Cronin says. "Who stumbles in that atmosphere and who thrives? Clearly, Ryan Ginard, Joe Vitale and Jacques Perreault were really good. These young freshmen were really physical and that's what you need."
Cronin's penchant for physical play prompted forward Carter Lee to say after the game, "[There were] a lot of little fights, which is not something you see in a lot of college hockey games. That's the game [Cronin] loves. He loves it. I think the kids that don't play like that are going to start to real quick. He likes that kind of game. He likes the grit, the hustle and the hard work. I think everybody on this team is prepared to do that."
With 33 penalties for 101 minutes in the last two games, the Huskies are certainly showing grit and feistiness.
"Every team takes on the personality of its coaching staff," Cronin says. "One of the things that's not a reflection of talent is the team's ability to compete. It's not being dirty either. It's a competing response.
"Play away from the puck is so critical at all levels. It's been a real void here, the attention to detail away from the puck. It puts people in competitive positions to regain possession and has been absent in the first couple weeks here.
"We're trying to get guys to be more respectful of where they are in relationship to the battles on the ice. That is more of what [Lee] was talking about rather than this savage warrior stuff.
"Hey, the game is physical. If you don't want to play physical, then play ping pong or tennis. It's a physical game.
"Some kids come to a game with intentions to hit and some kids come to the game with the intention to make plays. There's nothing wrong with that. The key thing as a coaching staff is to get the players to buy into a system where there's accountability away from the puck because that's how you get it back.
"That's what we're trying to do. That creates tight gaps and physical games and that's what the fans saw on Saturday.
"In North Dakota they were bitching that we were dirty. Hey, I teach maybe a little bit of a different style, but we're not dirty. We took stupid penalties, but those weren't a reflection of a team being dirty. They were a reflection of selfish play. Slashing penalties? Give me a break. Hit from behind? That's just stupid. It's not productive and it's not a reflection of the structure we're trying to create on the ice."
Goaltender Adam Geragosian has been exceptional, compiling a 1.44 goals-against average and a .956 save percentage.
"[His continued excellence is] the most important component of our team this year," Cronin says. "We're going to get better because Yale Lewis, Santilli and Ortiz will come back. Morris is out and he's probably out for the year. We probably won't see him. There's a slight window of opportunity in the spring, but we won't see him until after Christmas if he does come back at all.
"Those four guys are top nine forwards on this team so their absences really puts a lot of stress on our goaltending and our defense. Geragosian was terrific both games and he's going to have to be able to sustain that quality of play the rest of the year.
"It's pressure and it's a challenge for the goalie, but that's what it's all about. You should relish those opportunities. I'm hopeful that he can continue to play in that zone that he's played in because then you can steal games and you can stay in games. In the last five minutes of a tied game or a one-goal game, anything can happen."
Even when Lewis, Santilli and Ortiz return, the Huskies will still need to win games 2-1 and 3-2, not 5-4.
"Stats don't lie so I did an inventory of what the [forwards'] statistics have represented over the last three or four years of their careers," Cronin says. "We just don't have a lot of dynamic scorers. Mike Morris scored 19 goals in this league on a line with an All-American centerman who was a heck of a player in Jason Guerriero. Those two guys are gone and that's a huge hole.
"Carter Lee scored a little bit in prep school, but nobody else has been a real dynamic scoring threat in their careers. Some guys have done it in juniors and you'd like to think that would translate to the next level, but it hasn't at Northeastern for these kids.
"So you just have to develop a defensive philosophy where you keep the score down. And our special teams have to step up. Our power play probably should have scored at least one goal the other night and we only had two cracks at it. That's something we've got to build on because that's a place where you can score goals."
Merrimack: .500 Going Into League Play
Settling for a split with Connecticut last weekend was a disappointment, but Merrimack fans can still feel happy about the split out West to open the season. Lots of teams lose at Michigan and the win at Bowling Green got the year off on the right foot.
"We're a work in progress," coach Mark Dennehy says. "At this stage of the game, we're trying to see what we have, not only in terms of personnel, but also mental makeup and everything else. There are times where we're excited about what's going on, about a player or two, and then there are times when you feel like there was a step backward.
"All in all, I'm pretty encouraged. I've said before that this group has worked as hard in the preseason as any group that I've been around. So I'm happy for them that they've had a little bit of success. Our expectations of ourselves and our team are a lot higher than everyone else's."
Even when prompted with references to goaltender Jim Healey, Dennehy sidesteps questions about standouts in the early going.
"Jimmy has played well and we got a good effort out of Pat Watson the other night," Dennehy says. "But we're really just trying to focus on the team.
"Bryan Schmidt is someone who not only our own locker room recognizes as a good player, but the rest of the country recognizes it as well. He jumps right off the page at you. But if he were enough for this team to have success, then they would have had success before.
"The best part of our sport is that it is a blue-collar, working man's sport still. If we're going to have success, it's going to be as a team. We've done some positive things this year as a team; we've been resilient. But we've also had some troubles with adversity as a team. I've seen both sides of it. It's a matter of getting a little more consistent."
The games ratchet up in importance on Friday when the Warriors play their first league game, hosting Providence.
"A league game is like part of your own family," Dennehy says. "You know them better than you know anyone else. With the exception of Vermont, which is new to the league, and even though there are new coaches, there are enough familiar faces and these guys have played against each other enough, that these are big games. You only get so many of them.
"Even though you look at your overall record, it's the league games that mean the most and [provide] the best opportunity. Our goal in the long term is to secure a playoff spot and every time you play a league game you have the opportunity to earn some points. So we're looking forward to facing Providence. We're going to have our hands full."
A Weekend To Forget
Other than the "first impression" schools noted above and Maine, last weekend was a tough one for Hockey East.
The teams of which the most was expected delivered little.
Massachusetts-Lowell not only got swept by Providence, but was shut out in both games. This came on the heels of a 3-1 defeat at the hands of Boston University. Combined, the losses put the River Hawks at 0-3 in league play and have more than a few fans ready to jump into the canal.
Boston University followed up its impressive win over Lowell with a loss to Rensselaer. Boston College could muster only a 1-1 tie against the injury-plagued, rebuilding Northeastern Huskies. New Hampshire had to rally to salvage a single point in a weekend series at home with North Dakota.
And Hockey East teams lost not one but two games to teams from the emerging conferences, Massachusetts to Holy Cross and Merrimack getting only a split with UConn.
If not for Maine and Vermont, both of which just keep rolling, and the resurgent Providence Friars, it would have been a lost weekend for Hockey East.
Trivia Contest
Okay, okay. Here's the first trivia contest of the season. We'll start slow and then pick up the pace as the year moves along.
Name one goaltender who entered last weekend and another who exited the weekend with two shutouts. The two netminders either played for or against a Hockey East team.
With Scott Weighart filling in next week, email him with your answers. The winner will be notified by Tuesday; if you haven't heard by then you either had the wrong answer or someone else beat you to it.
And Finally, Not That It Has Anything To Do With Anything, But…
It's a lose-lose situation to talk about issues like race, but yours truly is a confirmed loser so here we go.
• Have we reached the point of absurd political correctness when Air Force football coach Fisher DeBerry is called to task — with some circles suggesting that he resign — for saying that his primarily white team faces speed disadvantages against its opponents? DeBerry subsequently had to apologize for saying, "Afro-American kids can run very well. That doesn't mean that Caucasian kids and other descents can't run, but it's very obvious to me that they run extremely well."
Now there certainly is a Forrest Gump quality to the phrasing of "Afro-American kids can run very well," but what is the news here?
At the summer Olympics, what is the percentage of whites on Team USA in the sprinting events? In the NFL, what is the percentage of whites at the speed positions of cornerback and wide receiver? Have DeBerry's critics ever seen an NBA game?
If collegiate football team A is comprised of almost exclusively white players and collegiate football team B is comprised of almost exclusively African-American players, which team, all other factors being equal, do you think is going to have the better speed?
Even Hollywood, that bastion of political correctness where African-American actors legitimately complain that they are routinely excluded from roles as villains, has given us "White Men Can't Jump."
Has our guilt over racism of the past and present — and the devastating toll it has taken on individuals and our society as a whole — forced us to thrust our heads ostrich-like into the sand and ignore the obvious realities in sports?
• Then we have the other end of the spectrum. A sickening end.
I'm no Pollyanna with my head in the sand when it comes to evil. White supremacist groups and their message of hatred is not news to me.
But I found the story of Lamb and Lynx Gaede to be particularly disturbing. The messengers of hatred, in this case, aren't stereotypical Neanderthal skinheads. They're photogenic 13-year old twin girls with blonde hair and braces, who sing songs like "Sacrifice," a tribute to Nazi Rudolf Hess, Hitler's deputy Fuhrer. The lyrics, according to the ABCNews.com story, praise Hess as a "man of peace who wouldn't give up."
Pardon me while I throw up.
On the violence scale of one (wimp) to 10 (sociopath), I'm probably about 1.1, but this is enough to make you want to beat the snot out of the two Nazi-loving parents who foisted these vile ideas on their children. One can only hope that when these girls mature into adults they will look back in horror at what was flushed into their brains.
And realize that places like Auschwitz, Buchenwald, Bergen-Belsen and Dachau were places of immeasurable sacrifice, not on the part of monsters like Hess, but by their victims.
---
Thanks to Jack Weiland and Scott Weighart.