First things first:
• Welcome to the ranks of college hockey goal-scorers, Phil Kessel. And how's a penalty shot for a way to score your first collegiate goal?
• After some starts and stops over the last few years, instant replay is scheduled to be active at all five arenas that are hosting WCHA series this weekend. League officials say the wait time during a review is short, so the only effects on the game should be positive. We hope so, because this is an important move forward for college hockey.
• Would this weekend's Denver-North Dakota series be as anticipated as it is without the Geoff Paukovich-Robbie Bina incident and the national championship matchup last season? Seems it would just be a series between two really good teams, and we hope it stays that way.
Don't Shootout the Messenger
A waitress at a Twin Cities-area restaurant asked a patron how her school's team did the night before. When told St. Cloud State managed a 2-2 tie with Wisconsin in a game that was somewhat uninteresting, she became animated.
I just can't understand how they can play without having a winner.
Upon hearing the suggestion that there should be shootouts, another waitress at a nearby table chimed in, saying you can't disrupt the integrity of the game that way.
Play until there's a winner, the first reiterated. At this point, there was a mention of four overtimes and Boston University-St. Lawrence. End of discussion.
A few hours later, a valet for a St. Cloud hotel talked with scorn about ending without a winner. Something about how you can't be satisfied with a tie. Another good point.
Two thoughts on this: First, only in Minnesota. Second, this discussion will happen a lot more now that the NHL has turned to shootouts to decide games.
The popular thinking is that the fans want to see a winner. Don't count on it happening any time soon in college.
At least that's the way it sounds when you hear from Denver coach George Gwozdecky, who also serves as the president of the American Hockey Coaches Association. Gwozdecky wasn't speaking for the organization, but he offered a negative view of the shootout system because of the limited number of games played in college.
"Nobody can make a strong enough argument for it to convince me that it's worth it," Gwozdecky said. "I think it's great in the NHL because of all the games they play. [Eighty-two] games, and if you lose a shootout in the 13th game or the 43rd game, you're going to make it up somewhere, or in the 65th game or in the 72nd game. We play 28 games in our conference.
"And the shootout changes the game so dramatically," he continued. "For the first 65 minutes, you have teams playing against teams. You have strategies being used to score goals and defend. It is a team game. And then when you get to the shootout, all of a sudden all that stuff gets thrown out the window and now it just becomes who's got the most talented player? Who's got the best goalscorer?"
There are other issues to deal with. Wisconsin coach Mike Eaves pointed out it would have to be determined how to weight shootout victories and losses in the Ratings Percentage Index.
"People go home knowing you've got a winner and a loser, and I think from a fan's standpoint, that'll be a good thing," Eaves said. "But until they can figure that [the numbers game] out, I don't think in our system we can get that done."
It is a subject that has come up at the national coaches convention, so it's on the page somewhere, just in really small type.
The shootout has always been perceived as fan-friendly, but a poll by The Hockey News showed only 40 percent were in favor of it. So a tie it is.
"I agree that you hate ties and the shootouts are really exciting, but I don't think that's a strong enough argument," Gwozdecky said.
Trivial Matters
Which was the only WCHA team not to be shut out last season? Answer below.
Starting Over
Denver would have liked to pick up where it left off last season …
"But it's impossible," Gwozdecky said.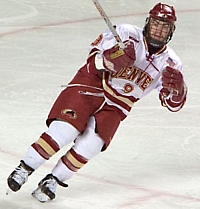 The Pioneers got back to .500 last weekend after dropping their first two games of the season at Maine, and now they open their WCHA campaign with a series at North Dakota that is intriguing because those two teams squared off for the national title in April.
And it's a series between teams that don't quite look the same as they did in Columbus. For Denver, that means there's a lot of searching going on.
"We turned over almost half our team, so we're a completely different group of guys who are trying to understand not only how to play as a team but what kind of identity we're going to play by and who's going to be our strengths and what combinations work together," Gwozdecky said. "So it's been a work in progress. We weren't very pleased at all by our performance in our first series out in Maine. I think this past weekend you started to see glimpses of the kind of team we could be."
One of those glimpses was of Brock Trotter, an 18-year-old freshman forward who shares the team lead with three goals through four games.
He has seen time on the Pioneers' power play right away and has done a good job adjusting to the speed of the game, Gwozdecky said. Trotter has played left wing on a line that includes Gabe Gauthier and J.D. Corbin, giving him plenty of skill to work next to.
"I think he'll have a lot more of those opportunities as the season goes along because he's got terrific skill, he loves the game, he's a real strong competitor," he said. "When you put those types of characteristics into a player and you surround him with the talent we have, I think good things happen."
More Goals than Tending
When you have three straight 5-1 losses, the evidence starts to mount. For Minnesota-Duluth's goaltenders, that evidence is damning.
Senior Isaac Reichmuth, junior Josh Johnson and sophomore transfer Nate Ziegelmann have all seen time early this season but none has been able to fashion a save percentage over .900, the standard cutoff line for some measure of success.
Reichmuth is at .862, while Ziegelmann is at .781 and Johnson is at .727. The Bulldogs are allowing an average of just over 25 shots on goal per game through four games.
UMD coach Scott Sandelin specifically pointed to goaltending in listing the biggest keys for his team this season, and now the issue is at the forefront. With the Bulldogs' youth, the offense will take some time to develop, but goaltending is an experienced position that needs to come through with some clutch performances.
Change in Direction
A coaching change inevitably brings a new feel to the program. Just ask St. Cloud State captain Casey Borer.
Speaking before last weekend's WCHA-opening series against Wisconsin, the Huskies defenseman said it's a 180-degree difference under new coach Bob Motzko as opposed to Craig Dahl, who retired at the end of August.
"The attitude is different, the morale of the team. Everything is just a lot different," Borer said. "The whole perspective on things, the whole philosophy — everything, really — it's a lot better. It seems more effective for the guys. It's a better atmosphere and guys are more excited to come to practice.
"They're excited just to get better. It seems almost like, individually, he wants to evolve you as well as the team. So he brings out the best of both worlds in the players. He's getting more out of the players than before."
Luck on His Side
You've got to love the end of Phil Kessel's explanation of his first goal for Minnesota, which came on a penalty shot against Minnesota State last Friday:
"I got lucky," the freshman told reporters after the game.
We're inclined to think there may have been some skill involved, too.
In Other Words
• League players of the week were Colorado College's Marty Sertich on offense, North Dakota goaltender Jordan Parise on defense and Denver's Trotter as the top rookie.
• The WCHA will be collecting donations for a hurricane relief fund at Saturday's games league-wide, including women's games. League teams also will donate jerseys for fundraising.
• Dahl was honored for his 18 years as St. Cloud State's head coach in the first intermission of last Saturday's game at the National Hockey Center. A photo slide show was displayed on the scoreboard and Dahl received a framed picture and a leather jacket.
• Minnesota has lost two valuable parts of its lineup in the last week. The first was forward Tyler Hirsch, who has elected to apply for a medical hardship waiver for this season for personal reasons. Plus, defenseman Nate Hagemo is out indefinitely with a left shoulder injury, according to the St. Paul Pioneer Press.
• The last time Minnesota State opened with four losses in four games was the 2000-01 season, when it rebounded to finish 19-18-1.
• Michigan Tech's Chris Conner moved into first place on the Huskies' all-time list with his 12th career shorthanded goal last Friday.
• Colorado College defenseman Brian Salcido picked up six assists last weekend, four of them against Air Force.
• Wisconsin goaltender Brian Elliott has allowed just six goals in his last five WCHA games.
• Minnesota's victory over Minnesota State last Friday was No. 1,500 in program history.
• Trivia answer: Minnesota State.
Final Word
Can we assume Paukovich won't get the honor of being in the starting lineup for Denver at North Dakota this weekend?