Having a player come home to play college hockey is becoming commonplace in the game these days, and it's on display twice as much in Detroit as Adam and Matt Krug are teammates on Wayne State.
Adam, a sophomore forward, and Matt, a freshman defenseman, haven't been teammates since the 1999-2000 school year when both played for Livonia (Mich.) Churchill High School in suburban Detroit. But now, both are back home after going far from the Motor City for their junior hockey.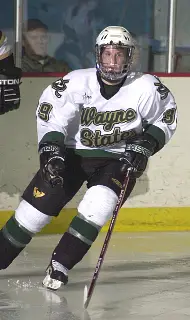 Matt played for the two-time North American Hockey League national champion Texas Tornado the past two years while Adam was with the Sioux City Musketeers in the United States Hockey League. The USHL has widely been mentioned as the superior of the two leagues, but the younger Krug is the one with bragging rights.
"Adam may have been in the better league," Matt, 20, said smirking. "But I'm the one with two rings."
The brothers are just two years apart, but are the best of friends and each other's biggest fans.
"It's so cool having us both here at Wayne State," 22-year-old Adam noted. "It seems one of us is always out on the ice and it's awesome seeing your last name out there."
Both brothers were recruited by schools other than WSU with Adam being scouted by Connecticut, Miami, Robert Morris and even Michigan State where he would have been a recruited walk-on. Matt heard from his share as well, but ironically enough, Wayne State went after him before Adam.
Three years ago, Matt caught on with the Motor City Chiefs Junior B team in the Central States League for 10 games before going to the Sarnia Blast Junior B team in Ontario. He played football, baseball and hockey at Churchill, but left the school colors for Canada and it eventually paid off. It was across the Blue Water Bridge that the Warriors first took notice.
"Matt came down for a visit and (Wayne State) invited me, too," remembered Adam. "Then the next year, they came out a little bit more to see me in Sioux City and now we're both here, so it's pretty nice.
"It was very hard to tell Robert Morris no and to tell that to (RMU head coach Derek) Schooley, who I respect immensely as a coach and as a person. They came after me hard and it was rough telling him I was going to Wayne State. I didn't want to be part of a beginning program that they had, but now they're playing better than us, so it's kind of ironic I guess."
Family also came into play when both had their choices of Division I institutions.
"Our grandfather passed away and he always said that he wanted us both to play college hockey," Matt added. "I also wanted our dad to see us play, too. And before in Texas, if we wanted to come home, our parents had to get a plane ticket. It's definitely comforting knowing I can go home whenever I want for a home-cooked meal and do some laundry."
Growing up and being on different teams, Kyle Krug, their dad, rarely saw both Adam and Matt play. If he would see one son play, his wife, Cheryl, would be with the other one at a different rink.
"It was hard on them and it was kind of rough on us, too," said Matt. "Sometimes one of us would have to get a ride with another kid, but after a while, we got used to it. That's one of the main reasons I came here and that was so our parents could see us both play."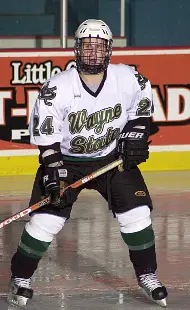 On the family topic, Adam said while it's an excellent situation being close to home while at Wayne State to see his parents and other brothers, Torey and Zak, it's another young boy that he makes time for to go see.
"Not many people know this, but I have a son, Skylar, who's 3 1/2," admitted Adam proudly. "It was hard not seeing him when I was out in Sioux City, but now that I'm back home, I try and make time between school and hockey to see him. His mother got married last month, but I want Skylar to know that I'm always here and for him to know who his father is and to know me."
Kyle Krug coached Adam growing up in the Little Caesars AAA organization and then helped out at Churchill as a volunteer coach. Both brothers said their dad is their No. 1 supporter even if it means an extra earful after a subpar game.
"Back in juniors, if I had a bad game, I had a bad game and that was that," Adam said. "Now, I have to hear it from the old man. He'll always be my coach and I hope one day I can be a coach just like him. I can't believe how much he's taught me. But having Matt here also helps as we try to help out each other."
"I try to help Adam," laughed Matt. "But he's my older brother, so I don't know if he listens. Actually, he's a bit on the small side (5-foot-11, 170 pounds) and I'm bigger (6-foot, 220 pounds), so he's my small big brother."
Both said there has never been sibling rivalry, but the not uncommon competition between the two.
"We had our fair share of roller hockey games in the street and because he's always been bigger, Matt's always seemed to have the upper hand," chuckled Adam. "Yeah, I played in the USHL and he was in the NAHL, but he was in Lincoln (Stars) and that didn't work and Texas scooped him up quickly and look where it got him. But those are two totally different leagues. Now that we're here, we need to start getting some W's on the board."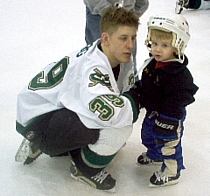 The two also noted that younger brother Torey, currently on the Belle Tire 1991 team coached by Kyle, is already getting looks from scouts and will more than likely end up at a school bigger than WSU.
"Torey is a combination of Adam and I from him watching us all these years," Matt said. "He's a defenseman, but he's an offensive defenseman. I can see him going to a top-notch school."
"He's a little guy and he's got those short legs," added Adam. "Once he gets to maybe 5-foot-8, watch out."
But for now, all eyes in the Krug family are on their two collegians honing their skills in Motown.
Chargers Surprise Buckeyes In Win, Tie
Ohio State was picked to finish first in the CCHA's preseason poll and at one point this season held down a No. 4 national ranking.
Alabama-Huntsville obviously didn't see that memo because the Chargers went to Ohio State last weekend and literally stole three of four points from the Buckeyes.
Friday night, Steve Canter scored with 44 seconds left for a 4-3 win and then Saturday, it was Canter again with the game-tying goal just as regulation time expired.
"Steve is a clutch player for us," Huntsville head coach Doug Ross said. "I'm just proud of the way our guys played this weekend against a good CCHA hockey team."
UAH goalie Scott Munroe stopped 52 shots Friday and 49 on Saturday.
"The goaltending from Scotty was consistent," added Ross. "We got outshot (both nights), but were able to play a different type of game because when he's on, he's on."
Wayne State Makes It Interesting vs. Falcons
Heading into last weekend's two-game tilt in Colorado Springs, Wayne State's much-publicized winless streak was on the line.
The Warriors eked out a 4-3 win Friday night on the strength of senior goalie Matt Kelly's 30 saves, including 13 in a scoreless third period.
Saturday, WSU was down 7-2 heading into the third period and scored four unanswered goals to make it 7-6. Wayne State couldn't come up with the equalizer, however, and Air Force earned the win.
Kelly started for Wayne State and played 33 minutes, making 21 saves and allowing five goals. Will Hooper played the final 27 minutes and made 16 saves while allowing two goals, including the game-winner by Josh Schaffer. Ian Harper won for Air Force with a 22-save outing.
"We kept everyone in the stands all night tonight," Falcons head coach Frank Serratore said. "A win is a win is a win. We are a struggling hockey team right now, so we will take it. We came a little unglued and over-reacted a little at the end, but we found a way to win. Yeah, we gave up four goals in the third, but we scored seven in the game.
"The style points will come later."
Niagara-Bemidji Series Does The Splits
There's a reason Bemidji State has been ranked all year in the nation's top 20 and the talent that keeps them there was on display in an 8-1 win over Niagara Saturday night.
Friday night was a tale of two different teams as NU took out the Beavers with a 4-3 win.
"Finally, we persevered in a close game and got it done," said NU head coach Dave Burkholder. "We had a tough weekend last weekend with two games tied in the third and nothing to show for it. Tonight was a game where there was a lot of momentum swings. I thought it was a very physical game and a playoff-type game for early December. It was something to be a part of that's for sure."
Then the floodgates opened Saturday and BSU had it basically on cruise control.
Luke Erickson scored four goals for the Beavers with three coming with the man-advantage. Tyler Scofield assisted on all four of Erickson's tallies.
"We had great play from Erickson, Scofield and Matt Pope," BSU head coach Tom Serratore said. "Our guys were fueled after (Friday's) loss and came out with a little something to prove. Luke got a lot of rebounds and happened to be in the right place at the right time.
"Niagara is one of the least-penalized teams in the league and is very disciplined. We were able to take advantage of their mistakes and give it to them on the power play."
Bemidji State improved to 10-13-4 all-time against Niagara, 7-4-3 in games played in Bemidji. The win also snapped Niagara's two-game winning streak in Bemidji.