When January is drawing to a close, a good barometer for the standings in the ECACHL could include a quick look at the results from New Hampshire. Currently the No. 12 team in the nation, the Wildcats will face four ECACHL teams before January ends and the failure or success of some of the league's best to match up against a very talented team like UNH may well serve as rough indicator of where those teams sit in the standings in relation to one another.
Over the past week, UNH has faced two of the league's top teams; last Saturday, the Wildcats traveled to No. 14 St. Lawrence and pulled out a late 4-3 win over St. Lawrence. And last night, the Wildcats were stunned in front of their fans here in Durham by a 1-0 shutout pitched by goaltender John Daigneau and the No. 15 Harvard Crimson.
In mid-January, UNH will again face two ECACHL teams in less than a week. Yale will host the Wildcats on a Wednesday night in New Haven, and the following Saturday UNH will battle for Granite State bragging rights with Dartmouth at the Verizon Wireless Center in Manchester.
---
St. Lawrence, which had jumped out to a 2-0 lead after one and then allowed three straight UNH goals in the second before re-tying the game early in the third, lost a close 4-3 decision on a controversial goal call with under three minutes left.
The goal in question came about as a result of the puck deflecting off the crossbar, bouncing forward and hitting St. Lawrence netminder Justin Pesony in the back, and then trickling into the net. St. Lawrence thought that Joe Charlebois hit the puck with a high-stick, but referee Alex Dell disagreed and that score was the game-winner.
"UNH is a real good team," said St. Lawrence coach Joe Marsh. "We lost a tough one to them in the last few minutes, but it was a great hockey game-well-played and high energy."
"It was a great game for the fans to watched," he added.
---
Marsh had the luxury of facing UNH on his team's home ice; Harvard, however, had to travel up to Durham to face the Wildcats at the Whittemore Center, which is home to the largest ice sheet in the East at 200×100.
The 6,500 cheering fans aside, that large ice surface represents the team's biggest home ice edge because it takes advantage of the type of team that UNH coach Dick Umile assembles-fast and offensively talented.
"That first line of UNH is tremendous," said Marsh after Saturday's loss.
"They're good, they're especially good at home," he later added. "They really know how to use the ice sheet to their advantage."
The line Marsh referred to is the Wildcats top forward line, and it accounts for a sizeable chunk of their goal production. Manned by three juniors-Daniel Winnik, Jacob Micflikier, and Brett Hemingway-the first line has accounted for 66 points in the team's first 17 games.
All of this was well known to Crimson coach Ted Donato prior to the drop of the puck last night. Asked what he expected out of UNH after this team's win on Tuesday over Quinnipiac, Donato replied:
"I expect we're playing the most offensively gifted team we're going to see all year. And that's the best first line in the East. Offensively, they're a team that can really come at you."
The size of the ice sheet and the advantage that it and the home crowd provide to UNH were also on Donato's mind.
"At home in Durham, they've been tough to beat," he said. "It's a little different game on the big ice sheet up there. It's a great challenge to go up to UNH and play them.
"But I love our team's speed and our ability to move the puck," he added.
---
Given the emphasis that both Marsh and Donato placed on New Hampshire's fast-skating forwards and their overall offensive ability, it came as a shock to some-including approximately 6,043 people at the Whittemore Center-that Thursday night's game between the No. 12 and No. 15 teams in the nation ended with UNH having been shut out 1-0.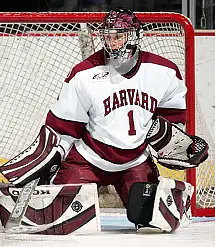 "This was a big disappointment," Umile said simply after the game.
His team outshot the Crimson 32 to 20, including 16 to 7 in the first period, but an early Harvard goal by Brian McCafferty and solid play in net by Daigneau helped Harvard retain a 1-0 lead throughout.
"I told the guys you can forget the shots, it's where the shots are coming from," said Umile. "We had some opportunities early, but we're not just getting into the spots where we need to to generate good scoring opportunities."
"I thought we played okay, but we need to find a way to get in the hole there, out in the crease area, get some shots and rebounds, those types of goals," he said. "In the second and third periods, I don't think we had many grade A scoring chances."
What chances they did have were stifled by Daigneau, in easily the strongest performance of his career, he saved 32 shots and helped kill off five Wildcat power plays. Possibly reacting to having been replaced in net for three games by junior Justin Tobe, Daigneau controlled his rebounds and gloved a handful of hard shots from the perimeter that came of the sticks of UNH sharpshooters.
Daigneau was particularly challenged on a handful of shots that came about as a result of the approximately five turnovers committed by his defensemen in the Harvard zone near the face-off circles. With little or no time to react to the quick shots, Daigneau did an excellent job positioning himself and cutting down angles.
"There were a couple of turnovers," he admitted afterwards. "I just tried to get out, get square, take up as much of the net as I could because [the turnovers] happened so quickly."
"Lucky they didn't pick any corners on their shots," he added. "Just one of those nights I guess; things went our way."
Donato was not as modest as his goaltender, saying: "I thought Johnny was obviously very, very good tonight. He made a couple of incredible saves early."
"I talked to the guys after the game and said I'd like to us play with a little more confidence with the lead and to be able to attack a little more often and a little bit more effectively," he said. "However, I think it's a good sign that we get to play with so many leads. And it was only two games ago [against Yale] where we had to come back from a 4-1 game, and I'd rather be protecting a lead, definitely.
"I was proud of the way the guys battled," Donato said. "I really think we're a team that can play with anybody."
Traveling to the Buckeye State
Three of the league's teams are on long road trips this weekend, and all three will end up in Ohio. Clarkson and St. Lawrence are traveling to face Miami and Bowling Green, while Union is headed into Columbus to play a pair against Ohio State.
While facing Bowling Green on the road may present a challenge for the Saints and the Golden Knights, it is Miami that looms large in the minds of the coaches.
The RedHawks are currently 11-2-1 and ranked No. 2 in the country; they enter Friday night's game against St. Lawrence with a five-game winning streak and are undefeated at home this season. They are also coming off two impressive home ice wins over No. 7 Michigan.
"Miami is a real good team," said St. Lawrence coach Joe Marsh. "Enrico [Blasi] has done a great job with them."
"When you look at some of the big wins they have, they have to be considered a legitimate candidate to win it all," he continued. "Obviously sweeping Michigan is a big accomplishment; how many people ever do that?"
Marsh knows that his team will have to adapt to playing on the road after enjoying an extended home stand that began all the way back in mid-November. Over that stretch, St. Lawrence went 4-2-0 in Appleton Arena, but lost 4-3 to both of the ranked opponents they faced-Harvard and New Hampshire.
"We had a pretty good homestand," Marsh said. "But now we have to shift our focus and be a good smart road team. We need to be smarter, spend less time in the box, be more resilient."
"And we need to tighten up our defense," he added. "We certainly don't want to be getting into high-scoring shootouts on the road."
---
For his part, Union coach Nate Leaman sees his team's sojourn into Columbus to face Ohio State as an accurate barometer for how much the Dutchmen have developed as a team.
"When you talk to people around the country, the say Ohio State has one of the most talented rosters," said Leaman. "They were predicted to win the CCHA"
"I think playing them in their rink will be a great test for us," he continued. "It took our guys a bit of time to adjust at RIT on Friday. We want to go into [Columbus] and play against a talented team in a difficult venue. And that's why we scheduled the games against Ohio State."
And Hosting This Weekend …
The best contest this weekend at an ECACHL arena is the game in Hanover between Dartmouth and Boston University. The Terriers, despite a sub-.500 record of 5-7-2 and despite having scored two fewer goals than they've allowed, are ranked No. 18 in the country.
That 5-7-2 record, though, is indicative both of BU's early season struggles and its obviously high potential. While the 7 losses include setbacks against Providence, UMass-Lowell, and Rensselaer, the five victories include wins over No. 3 Vermont, No. 6 Boston College, No. 10 Maine, and No. 11 Denver.
"I have tremendous respect for Coach Parker and the program he's built there," said Dartmouth coach Bob Gaudet said.
"I admire their program a lot," he continued. "It will be great to have them in our building; it's going to be fun and a great test for us."
---
After suffering a 4-3 overtime loss to Sacred Heart (the game-winning goal was scored by Sacred Heart's talented freshman forward Bear Trapp!) on Friday night at Houston Field House, the Engineers will have had more than a week to think on their defeat before they play host to RIT in the final game before break.
Engineer coach Dan Fridgen says his team needs to approach each and every game, even against a sub-.500 team like RIT, as a challenge.
"We need look at it as a challenge," he said. "RIT is going to be a challenge for us as well; they're a team that works hard."
The best example of that hard work, effort, and overall blue collar style of play is the Tigers' upset win over St. Lawrence earlier this year.
"There are very few teams in the country that are heads and shoulders above any other team," said Fridgen.
---
Fridgen's statement might be echoing in Columbus, Ohio after last weekend when the CHA's Alabama-Huntsville Chargers skated into Ohio State and took three of four points away from the Buckeyes.
As a result of that surprising upset and Saturday's tie, Princeton coach Guy Gadowsky shouldn't need to take too much time reinforcing to his team how dangerous Alabama-Huntsville can be.
"They took three points at Ohio State, so they must be doing something right," said Gadowsky. "They're playing very well right now, and their goaltender [senior Scott Munroe] is very good."
"I think we're playing very well right now; we're moving the puck around and getting opportunities, but we're having trouble putting the puck in the back of the net ," Gadowsky said. "If you're in that position, the last thing you want to run into is a hot goaltender."
"If we can be successful against a team that took three of four points on the road at Ohio State, you can feel pretty good about that," he added.
Big Hearts Around the Holidays
In the charitable spirit of the holiday season, both the Big Red and Big Green hockey teams will be doing their part to help the less fortunate this weekend.
In Ithaca, Friday night is the annual Skate with the Big Red program that will benefit Loaves and Fishes, a local food bank. The program is free of charge, but all donations will go to the food bank to help meet the needs to the poor in the Ithaca community.
In addition to signing autographs and meeting their fans, the Big Red players will match up against one another in a skills competition (similar to the one at the NHL All-Star game weekend) that includes contests for the hardest and most accurate shots, and for the fastest skater.
---
The next evening in Hanover, the Big Green will play host to the Boston University Terriers but will also host their ninth annual Men's Hockey Holiday Toy Drive. The drive for new, unopened toys is organized, publicized, and administered by the hockey team and it benefits the patients at Children's Hospital at Dartmouth.
"The Toy Drive is run completely by our players; they publicize it and handle all the details," said Dartmouth coach Bob Gaudet. "They always collect quite a bundle of toys."
"The guys pick up all the donated toys after the game, sort them and wrap them up and give them to kids that are stuck in the hospital at Dartmouth for the holidays," he continued.
"They're trying to help kids whose spirits are down and give them a happier holiday. It's a great thing for our community."
ECACHL Honor Roll
The ECACHL's Honor Roll presents an interesting juxtaposition this week; a pair of Yale players-freshman Alec Richards was named the Goaltender of the Week (GOTW) and forward Michael Karowski was named the Rookie of the Week-was honored for the first time in recent memory, while Colgate's Tyler Burton was named Player of the Week (POTW) for the second time this season and the fifth occasion overall for the Raiders this season.
Player of the Week
Tyler Burton, the sophomore forward for Colgate, was selected as the ECACHL's Player of the Week on the basis of his team's home sweep and the prominence his four points had in helping the team to that sweep.
With only eight games played, Burton leads the league in goals (10 goals) and points (16). During Friday night's 4-3 win over Quinnipiac, he scored a second period goal to temporarily give his team the lead. The next night against Princeton, though, was where Burton really shined; he assisted on the first two Colgate scores, and then scored the game-winning goal in the third period.
A telling quote about Burton's performance came in response to my question to Princeton coach Guy Gadowsky about this team's play against Cornell and Colgate. "If it wasn't for Tyler Burton …" was how Gadowsky began.
"We played on of our best games of the season on Saturday against Colgate," he said. "If it wasn't for Tyler Burton, we might have come away with a win."
"He was amazing, just great," Gadowsky continued. "He scored an unbelievable goal, and he was in on every one of their scores.
"But even if he hadn't scored a single point he still would have been great. He won faceoffs, he forechecked so well, he did everything."
---
Burton has not been the only Colgate player honored this season; junior forward Marc Fulton was named the league's Player of the Week for the first week of the season. Since that point, Burton has been named POTW twice, and senior forwards Kyle Wilson and Jon Smyth have both been honored as well. On the other end of the ice, sophomore Mark Dekanich has twice been named GOTW.
When asked how he could explain his team's ubiquity on the listing of Weekly Honors, Colgate coach Don Vaughan had to pause for a moment.
"Well, we've obviously had some great individual efforts," he began. "Tyler Burton, Mark Dekanich, Jon Smyth … they're our go-to-guys, and they are also some of our name players," Vaughan said. "Our marquee players-the guys with name recognition-they've been the ones to step up."
"And their numbers don't lie," he continued. "Tyler stepped up for us this week, he scored two huge goals. And last weekend Jon Smyth had that overtime breakaway goal."
Goaltender of the Week
Though his numbers have not been impressive, freshman goaltender Alec Richards achieved two uncommon and noteworthy accomplishments last weekend while in net for Yale.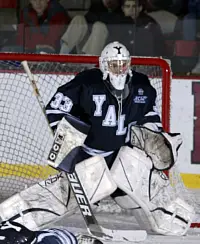 Firstly, his performance in wins at Brown and over Harvard earned him the nod as this week's Goaltender of the Week. And secondly, he helped guide Yale to a weekend sweep over two of its closest league rivals.
"It's the first time in a long while that we've gotten any ECAC awards," said Yale coach Tim Taylor. "No one has been named this year, and none of our players were selected last year."
"I think it's terrific; I think it's well-deserved," he said. "In Alec Richards' case, for a freshman to backbone two ECACHL wins in a weekend is a great accomplishment, especially given the scarcity of league wins for us the past few years."
Richards' performance against Brown and particularly against Harvard was the critical factors in elevating Yale to its second and third wins of the season. Against the Bears he stopped 31 of 33 shots and helped to hold Brown's power play to only one conversion in nine chances. Against the Crimson Richards was even better, stopping 37 of 40 shots, including 16 in the final frame, and holding Harvard to 1-for-7 on the man-advantage.
In Richards' performance again Harvard, he outdueled last week's winner of the GOTW, Justin Tobe, and avenged the Bulldogs 4-3 overtime loss to Harvard from mid-November.
Rookie of the Week
Yale freshman forward Michael Karowski was named Rookie of the Week after a three-point weekend that included his first two goals of the season. Even more impressive, Karowski's goals came on his only shot of each night. His final line for the weekend: two goals on two shots, and one assist.
"Mike K is a clever offensive player," said Taylor after Sunday night's win over Harvard. "He's going to generate lots of scoring chances and offensive excitement over the next four years. I expect him to have a very productive collegiate career."
Record Versus Non-Conference Foes
Over the past two weekends, ECACHL teams continued to play well against opponents from Hockey East, the CHA, and Atlantic Hockey. Teams from the CCHA and the WCHA have given ECACHL teams difficulties throughout the season.
The state of Ohio road trip that Clarkson, St. Lawrence and Union will undertake this weekend represents the league's best shot at evening up things with the CCHA as the trip will represent six ECACHL versus CCHA games.
The next opportunity ECACHL teams will have to test themselves against opponents from the WCHA won't come until late December when Harvard will travel out to Grand Forks to play a pair against North Dakota and Yale will play one game against both Minnesota State-Mankato and the University of Nebraska-Omaha. The holiday tournaments will also present WCHA opponents, with Princeton slated to play Denver in the opening round of its tournament and Union facing Minnesota in the opener of the Dodge Holiday Classic. And the possibility also exists the Cornell could face Minnesota-Duluth in the second night of the Florida College Classic.
vs. AH 9-2-1 (Bentley, Sacred Heart, Connecticut, Army, American Int'l., Mercyhurst)
vs. CCHA 3-5-2 (Michigan, Lake Superior, Michigan State, Notre Dame)
vs. CHA 8-2-1 (Niagara, Air Force, Wayne State, Robert Morris)
vs. Hockey East 11-6-1 (UMass-Lowell, Providence, Massachusetts, BU, BC)
vs. WCHA 2-6-1 (Wisconsin, Michigan Tech, Colorado College, Alaska-Anchorage)
vs. Independent 4-1-0 (RIT)
Overall 37-22-6
Commissioner's Cup Update
The ECACHL won the inaugural Commissioner's Cup Series a year ago, and through December 8th the league is still atop the Cup Standings. The league has only had one game count towards the Cup Standings since the middle of October, and that was Brown's 4-1 loss to St. Cloud State on the day after Thanksgiving. Through seven games played, the ECACHL is 5-2-0 and tied with Atlantic Hockey for first place with 10 points despite having played three fewer games.
The league's next Commissioner's Cup Series games are scheduled for this weekend; Princeton will host Alabama-Huntsville on December 10th in a CHA-ECACHL showdown, and Dartmouth will travel down to UMass-Lowell the next night for an ECACHL-HEA clash. Following those two contests, the next occasion for the ECACHL to gain ground in the Cup standings is on December 30th, when Harvard plays at North Dakota.
USCHO.com/CSTV Division I Men's Poll
Top 20 Poll from December 5th
No. 9 Cornell-A pair of solid home wins over Princeton and Quinnipiac bumped the Big Red's up two spots in this week's poll. Cornell is back in the top 10 after a two-week hiatus, but won't take the ice again until December 27th as part of the Florida College Classic holiday tournament.
No. 13 Colgate-Like their travel partners from Cornell, the Colgate Raiders posted two solid home ice wins over Quinnipiac and Princeton. But due to the results of teams above and below them-UNH dropping from No. 10 to No. 12 and Denver jumping up four spots to No. 11-the Raiders held steady at No. 13 in this week's poll. Like Cornell, Colgate will be inactive until a pre-Christmas performance in the Providence Holiday Tournament.
No. 14 St. Lawrence-St. Lawrence beat a strong but underperforming team in Massachusetts-Lowell on Friday night at Appleton Arena, then lost a close game against UNH in the last three minutes on Saturday. Voters dropped the Saints two spots as a result.
No. 15 Harvard-The Crimson played once last week, losing in flat fashion 4-3 at Yale. Though Harvard outshot the Bulldogs, the Crimson was nowhere to be seen for the game's first two periods and spotted Yale a 4-1 lead that it could not overcome. Why voters only dropped Harvard down one spot in this week's poll despite that very poor showing is anyone's guess.
No. 16 Clarkson-Despite being inactive last weekend, the Golden Knights hopped up two spots to No. 16. The teams at No. 16 and No. 19 in last week's poll-Alaska-Fairbanks and Ferris State-were both bounced from the Top 20 after being swept on the road and Clarkson's on-loss weekend helped voters justify slotting the Golden Knights ahead of No. 17 Bemidji State, which split with Niagara at home.
Dropped
Once again, no ECACHL teams fell out of the Top 20 this week.