In the short two-year span Robert Morris has had a Division I team, the Colonials have recorded just 12 wins. But one thing all those dozen wins have in common is goaltender Christian Boucher.
Boucher, a 22-year-old sophomore from Orleans, Ont., has been in net for each win in RMU's history. He came in as the team's No. 1 goalie and continues in that role this year.
Last season, Boucher single-handedly won games, and of RMU's eight victories, four came against CHA foes: two against Niagara and two more (one each) against Wayne State and Air Force. Nine times Robert Morris went to overtime with just two wins coming in those contests.
Entering the 2005-2006 year, Boucher knew what to expect right out of the gate, from himself as well as from the team as a whole.
"I expect there to be pressure on me to repeat after what I did last year," said Boucher. "I also think the coaches expect it from me, but I don't think that I'll have to do it as often this year."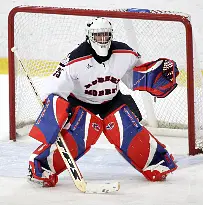 Boucher played in 29 games a year ago and posted an 8-17-4 record with a very respectable .916 save percentage and above-average 2.86 goals-against average on a team dominated by freshmen.
"Boucher held us in a lot of games that we probably had no business being in," said Robert Morris head coach Derek Schooley. "He stole games for us and kept the shots down and gave us a chance. He is a legitimate Division I goalie and is all-league caliber."
In his one-plus season with RMU, Boucher has seen action in 44 games. His two backups, Joe Tuset and Jamie Flury last year, have combined for 14 games and no wins.
But this season, Boucher feels his Colonials are a step ahead of where they were at this time last year.
"For the team, I think it's that we have four lines that can play," Boucher said. "We're not as big as a lot of teams, but all of our guys are quick and skate. We use that to our advantage and have teams chase us around the rink.
"For myself, my strength is playing positional goaltending. I have to use my quickness rather than my size since I'm not as big as a lot of the other goaltenders in the league."
Boucher will have to be quick this weekend as CHA-leading Bemidji State comes to Island Sports Center looking to use RMU (4-11-1) as a way to end its winless skid; the Colonials have lost seven straight.
Matt Ryan First CHA Alum to The Show
If Matt Ryan's New Year's resolution from 2005 was to play in the NHL, he did it on the last possible day.
Last Saturday night prior to their road game with Dallas, the Los Angeles Kings called up the 22-year-old forward from their AHL affiliate in Manchester.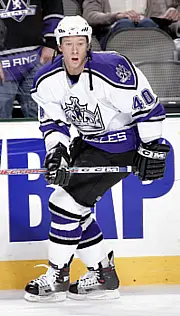 In doing so, Ryan became the first former CHA player to suit up for an NHL contest.
He saw just 3:14 of ice in his NHL debut, but in his second game this past Monday, also against the Stars, Ryan had 10:18 of ice time in 16 shifts and two shots on goal in L.A. at the Staples Center. He also won nine of 15 faceoffs.
Several CHA players have inked NHL deals over the years, including NU goalie Greg Gardner with Columbus in 2000, but have done nothing more than toil in the minors.
Ryan played almost a year and a half at Niagara (2001-02) before bolting for the Guelph Storm of the OHL and winning a Robertson Cup in 2004 and a Memorial Cup berth. He signed as a free agent with L.A. after initially committing to Saint Mary's in the Canadian University league.
Last year, Ryan notched 24 points (9-15-24) in 77 contests and then managed 11 points (4-7–11) in 32 games this season before getting the call to Los Angeles.
Niagara Upsets UNH on the Road
Niagara has a history with New Hampshire and luckily for the Purple Eagles, it's all positive.
There's the familiar 2000 NCAA Tournament win and a victory over the then-No. 1 Wildcats in 2003, but Niagara's success has continued this season as NU took a 5-2 win last weekend at UNH.
Goalie Jeff Van Nynatten made 49 saves, including stopping all 20 shots in the third period, to match his career high he set earlier in the year against Clarkson on Oct. 7.
"It was going to take superhuman goaltending and we got that," NU head coach Dave Burkholder said. "We needed a goalie to steal it and he did. And every break went our way. Every bad bounce went Niagara's way."
But it doesn't get any easier as Niagara travels to No. 3 Minnesota this weekend.
Lamoreux to Fly with Air Force
Air Force has reportedly received a verbal commitment from Grand Forks native Jacques Lamoreux.
The 19-year-old Lamoreux, 6-foot-1 and 185 pounds, leads the Bismarck Bobcats in scoring with a 21-25–46 line through the team's first 32 games and is third overall in NAHL scoring. Of his 21 goals, 17 have been scored at even strength.
Higgins Back on Roll with WSU
Nate Higgins led Wayne State in points in 2003-04 as a freshman on a freshman-dominated squad with eight goals among 23 points. Last year, he tailed off a bit in the assist category, but still put up 11 goals, good for third on the team with two other skaters.
In his last junior season with the USHL's Green Bay Gamblers, Higgins led the team in scoring with 39 points.
This season, Higgins seems to be hitting his stride and last weekend, scored three goals in WSU's two games, a win and a loss, at the Badger Showdown and was subsequently named to the all-tournament team and as the CHA's Offensive Player of the Week. He now has eight goals to lead the Warriors in what has become a struggling season for the 4-10-2 squad.
Higgins, the lone Albertan on the roster (Calgary), was WSU's co-Rookie of the Year two seasons ago with Jason Baclig. Should he keep up his current pace, another team award could be in store at season's end for Higgins, an engineering major.
Chargers Hit Rough Stretch
Alabama-Huntsville struggled against Minnesota State on Saturday night and came out a 6-2 loser.
Perhaps the lone highlight was Matt Sweazey's first collegiate goal early in the third period. But the Mavericks applied pressure and UAH couldn't recover.
"Just bad mistakes on our part, and they capitalized on them," UAH head coach Doug Ross told USCHO. "They played a good game and got a lot of good opportunities. We didn't play our best game tonight."
The Chargers are now on a mini-skid after an 8-5 loss last Thursday to Nebraska-Omaha. UAH allowed three power-play goals and two shorthanded goals in the game, but freshman Kevin Galerno notched his first NCAA goal.
Staying out of the penalty box is something the Chargers have had trouble doing this year as UAH has surrendered 20 power-play chances over its past two games.
Ross said that he's had enough of those shenanigans.
"Anybody from our team that does anything stupid out there will end up on the bench,'" Ross said in the Huntsville Times. "It may cost us here and there, but at least we'll be playing disciplined hockey by CHA tournament time."
Bemidji State on 0-3-1 Skid
Three weeks ago Friday, Bemidji State played in front of their largest crowd ever (2,413) at the John S. Glas Fieldhouse against North Dakota and though they earned an early 1-0 lead, the Sioux rallied for a 2-1 win.
"We played a hard game," BSU head coach Tom Serratore said. "I thought our kids played a full 60 minutes and that's really all you can ask for. We made too many mistakes and if we want to win we've got to minimize that. We had chances in the second period but we couldn't get the puck to bounce the right way."
North Dakota then won, 5-1, the next night, in a one-sided affair.
"We shot ourselves in the foot with the penalties in the second period, and you could tell we didn't have our legs," Serratore said. "When you don't have your legs against a team like this, they're going to take you apart."
Once nationally ranked, the Beavers went on to play to a tie with Clarkson and an overtime loss to Dartmouth last weekend at the Sheraton/TD Banknorth Catamount Cup.
BSU is currently 9-7-2 overall with a 2-6-2 mark in its last 10 games, but fortunes look to change this weekend as Bemidji plays Robert Morris on the road.