There were two rivalry games on the schedule last weekend, one nearly ancient and the other in its infancy, but both were highly anticipated. And while both games were entertaining, only one was a tight and tense affair. Surprisingly to some — including myself — the nailbiter came from New Haven, while the North Country rivals that faced off north of the border turned into something of a blowout.
Clarkson was ranked No. 18 in the nation entering the game, and had struggled in its holiday tournament in Burlington. St. Lawrence entered the game in Ottawa's Corel Centre as the No. 11 team in the country and was coming off an impressive road win over Vermont, one of the best teams in the country.
Unfortunately for the Saints, the win over Vermont came about three weeks before their game against Clarkson and a bit of rink rust had set in. Goaltender Kevin Ackley allowed five goals on only 17 shots in about 30 minutes of playing time, and the Saints found themselves facing a 6-0 deficit after two periods despite outshooting Clarkson. Though the Saints scored twice in the final frame, the outcome was never really in doubt after the midway point in the second period.
For its part, Clarkson produced probably its biggest win of the season: it beat the No. 11 team in the country, it put on an impressive showing in front of a large audience in a nontraditional setting that might well have made a strong impression on potential recruits, and, of course, it defeated its archrival.
"With the losses we've had to Miami and Vermont, we need to come away with a win against a ranked opponent," said Clarkson coach George Roll. "Obviously we wanted to come out of there with that win."
"You don't want to read too much into the game — they'd been off for more than three weeks," he continued. "You don't want to get too excited about one win against a quality opponent. … But I thought it was the best performance during my time here."
That win sets up Clarkson with solid momentum entering possibly the toughest stretch of their schedule: four road games in a row against Union, Rensselaer, Colgate and Cornell. Following a brief stop at home for another game against St. Lawrence, the Golden Knights will then play three more on the road.
"It's a tough stretch for us," Roll admitted. "We're not looking at the four games in a row-we're just looking at it as one road game at a time."
"Though our record isn't that great, we've played some good games on the road. We have confidence going into these games that we can have success."
---
The weekend's other rivalry game was a matinee matchup between Yale and Quinnipiac at Yale's Ingalls Rink (the site of some of Quinnipiac's home games until its new arena is finished, likely in the fall).
Like Clarkson and St. Lawrence, the competitiveness between the two schools is, in part, born out of geography. Just as Potsdam and Canton are about 10 miles apart in upstate New York, so too are New Haven and Hamden neighbors in Connecticut.
Though Quinnipiac-Yale doesn't have the history of a Clarkson-St. Lawrence, the atmosphere at Ingalls Rink seemed to suggest good things for a future rivalry. The game drew a crowd of 3,118, which was the second-highest attendance figure behind the Bobcats' ECACHL opener against Harvard at the Hartford Civic Center. The fans were excited and energetic throughout and the game, which was broadcast throughout New England on NESN, was a back-and-forth affair that stayed competitive throughout.
"It was a great event for the fans and the two universities and the local community," said Quinnipiac coach Rand Pecknold. "The game was played with a lot of intensity on both sides and though I would have preferred to come away with a win, you have to tip your hat to Yale."
Yale coach Tim Taylor credited his defense and goaltending for preserving the win against Quinnipiac, preserving a rare "road" sweep for the Bulldogs.
"Obviously anytime you get a sweep — and a road sweep at that — it's very satisfying," said Taylor. "To beat Princeton at Princeton is no easy task, and Quinnipiac gave us a real challenge on Sunday."
Part of the challenge for Yale was the Bobcat offense, which was firing on all cylinders all afternoon. Over the course of three periods, Quinnipiac put 40 pucks on net, outshooting Yale by 18 over the game and by a 19-3 margin in the third period. The two factors that won the game for Yale: special teams goals (Yale finished the day 3-for-4 with the man-advantage) and strong defensive-zone play.
"I thought our guys did a great job defensively both nights," said Taylor. "We parlayed the great goaltending we got from Alec Richards into a pair of wins."
---
After its weekend success, Yale faced a tough challenge on Wednesday night when New Hampshire skated into Ingalls Rink. Though his team played well against the Wildcats, Yale was outgunned by the Wildcats' talented forwards and stoned on most of its best chances by UNH netminder Jeff Pietrasiak.
"UNH is obviously a great program and they have a very good team," said Taylor. "They are one of the better skating teams in the country; they've built their team around the rink up there in Durham and its big ice surface.
The major challenge of playing a UNH, said Taylor, is the skating ability of its players.
"They throw four lines at you and six defensemen, all of whom can skate very well. And then, well, they get great goaltending, too."
Taylor identified the most basic task of facing UNH as the necessity of shutting down the team's top line of Daniel Winnik, Jacob Micflikier, and Brett Hemingway. Through 22 games, that line, a trio that Harvard coach Ted Donato called "the best top line in the East," has accounted for 73 points, but against Yale they didn't have a single point.
Unfortunately for Yale, UNH goes more than three deep. Thomas Fortney tallied the Wildcats' first goal, a shorthanded score ten minutes into the first, and sophomore forward Matt Fornataro scored less than two minutes later to give UNH a 2-0 lead. The team's fourth leading scorer after Winnik, Micflikier, and Hemingway added goals in the second and third periods.
But Pietrasiak, more than any other player, was the reason for Yale's defeat. Despite outshooting UNH 21-12 in the first period and 46-33 over the course of the game, Yale still came away short because Pietrasiak held his position all night, controlled his rebounds, and had a clear view of most of the pucks sent his way.
---
Yale's challenge from Wednesday night is same challenge that Dartmouth will face on Saturday, as the two teams from the Granite State square off in a highly anticipated contest at the Verizon Wireless Centre in Manchester.
Though both talented squads, the two teams have followed different paths this season. UNH has been, as always, a fixture in the national polls. Dartmouth, on the other hand, has struggled to maintain consistently high play this season. The Big Green has looked fantastic on some nights (see a 6-1 win over Cornell in Hanover or an even more convincing 5-1 drubbing of Harvard) and at other times has looked lost on the ice, losing 3-0 at Princeton and 7-5 at Quinnipiac early this season.
With that said, the rival between the two schools has produced some classic encounters over the past few seasons. Dartmouth won a holiday tournament game over UNH during the 2000-2001 season, and then UNH took a 6-3 decision from Dartmouth at the Verizon Wireless Center the following year. The 2002-03 game in Manchester produced a 1-1 tie, but UNH bludgeoned the Big Green 5-0 in 2003-04.
Last year's game was the wildest affair, with Dartmouth eventually winning a 9-8 decision in front of nearly 10,000 fans. The Big Green scored four unanswered goals in the third period to pull out the win.
ECACHL Honor Roll
A weekend sweep for Yale, an uncommon occurrence over the past few seasons, provided solid grounds for awarding two players — forward Bill LeClerc and goaltender Alec Richards — with weekly honors. LeClerc was named the Player of the Week, while Richards was named the Rookie of the Week for the second week in a row.
Joining them was Dartmouth's sophomore netminder Mike Devine, who was named the league's Goaltender of the Week after helping the Big Green take 3-of-4 points on the trip through the Capital Region.
Player of the Week
LeClerc, a junior defenseman for the Bulldogs, scored the game-winning goal in Sunday's matinee clash against Quinnipiac and was just as instrumental in Yale's win on Friday night at Princeton, where he assisted on his team's first and last goals of the game and added his own score in the third.
Through sixteen games, LeClerc has nine points on five goals and four assists from his spot along the Yale blue line. Halfway through the current campaign that already represents his best statistical season, a slight up tick from last year's eight point season.
"Bill LeClerc, he's played extremely well over the last three weekends, well, dating back to the series against Brown and Harvard in early December," said Yale coach Tim Taylor.
"His confidence is at a career high," Taylor continued. "He's confident with the puck and working well on the offensive end, and without the puck he's a feisty player."
"This is the best hockey he's played during his team here at Yale," Taylor added.
Goaltender of the Week
Before last weekend, seven of the league's 12 teams had a goaltender that had been recognized as the Goaltender of the Week by the ECACHL. St. Lawrence's Justin Pesony was named GOTW twice, as were Union's Kris Mayotte and Colgate's Mark Dekanich. Harvard has twice this season had a GOTW, once for Justin Tobe and another time for John Daigneau.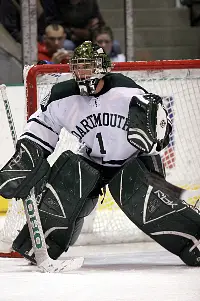 Five teams had not had a player selected as the GOTW-Brown, Clarkson, Dartmouth, Princeton, and Quinnipiac. As of Monday, though, when the ECACHL Weekly Honors were announced, Dartmouth can officially be crossed off that list.
Thanks to the play between the pipes of sophomore Devine, Dartmouth went on the road and posted an impressive win over Rensselaer and then a solid tie the next night at Union. At RPI, Devine stopped 33 of 34 shots, tying a career high for saves. In a tighter game against Union, he stopped 19 of 21 shots to help Dartmouth preserve a 2-2 tie.
After playing in only one game in his freshman season, Devine has stepped up as a sophomore and claimed the top goaltender spot from junior Sean Samuel and freshman Dan Goulding. In 13 games this season Devine has a 6-4-1 record with a 2.22 goals against average and a .918 save percentage.
Rookie of the Week
After being named the ECACHL's Goaltender of the Week in early December following wins over Brown and Harvard, Richards picked up a nod as Rookie of the Week last Monday and then continued his success this weekend against Princeton and Quinnipiac.
In Yale's 6-1 win at Princeton on Friday, Richards made saves on 29 of the 30 shots he faced. During NESN's broadcast of Sunday afternoon's Yale-Quinnipiac game, Richards faced 40 shots. He allowed three goals, but two of those came on the power play.
"We parlayed the great goaltending we got from Alec Richards into a pair of wins," said Taylor.
When asked to explain his goaltender's growth over the course of the season, Taylor recalled that the first two times Richards saw the ice this season was in a relief role in games against Colgate and St. Lawrence.
"It's just been a matter of him getting the opportunity and seizing it," Taylor said. "Since he's gotten the starts in net, he's settled down and become more confident."
"He keeps the job of being a goaltender pretty simple-he centers on the puck pretty well, positions himself in net, controls his rebounds," Taylor continued. "We've also as a team gotten injured players back and are playing much better defense in front of him."
Record Versus Non-Conference Foes
The WCHA continued to cause the ECACHL fits, as Colgate played host to the Huskies from St. Cloud State and came away with only one point. By the same token, life against Atlantic Hockey continues to be sweet for ECACHL teams as Brown beat Connecticut 4-1 to run the league's record to 11-4-1 against Atlantic Hockey foes.
The Division I independent Tigers of RIT continued as an easy foil for the league; through eight games, the Tigers' early-season upset of St. Lawrence remains their only win against ECACHL schools.
Yale's loss to New Hampshire on Wednesday night in New Haven evened up the season series between the ECACHL and Hockey East. The ledger currently reads 13-13-1, and Providence, UNH, and Vermont have each accounted for a pair of those wins. Dartmouth will have a chance to break the deadlock between the two leagues on Saturday night in a game at the Verizon Wireless Center in Manchester.
vs. AH 11-4-1
vs. CCHA 4-12-3
vs. CHA 10-3-2
vs. Hockey East 13-13-1
vs. WCHA 4-9-4
vs. Independent 7-1-0 (RIT)
Overall 49-42-11
USCHO.com/CSTV Division I Men's Poll (Jan. 9)
No. 7 Cornell-It was a relatively easy weekend for the Big Red, with only one game on the schedule against RIT. And Cornell dispatched the Tigers easily in front of the crowd at Lynah. Michigan's home split with Alaska-Fairbanks, though, although Cornell to move up one spot in this week's poll.
No. 13 St. Lawrence-The Saints slipped two slots from last's weeks poll, thanks to a convincing defeat in Ottawa against archrival Clarkson. Strong weekends by both UNH and Providence allowed both teams to climb over the Saints, but voters still kept St. Lawrence from following below Clarkson.
No. 14 Clarkson-The Golden Knights jumped four slots in this week's poll, tied for the biggest gain of any team. After a solid home showing over RIT, Clarkson's win against St. Lawrence — and the soundness of the Saints' defeat — impressed a number of voters. If Clarkson can come through a four game road trip with a strong showing, it may have a chance to move up into the Top 10.
No. 16 Colgate-The Raiders have struggled against non-conference foes this year, and it came back to haunt them last week with loss at Bowling Green and a loss and a tie at home against St. Cloud State. Colgate needs to put together some solid wins in league play down the stretch to convince voters it truly belongs in the Top 20.
No. 17 Harvard-Coming off a strong performance in North Dakota that saw the Crimson nearly take two games from the Fighting Sioux on their home ice, Harvard put forth a poor showing against Union and Rensselaer last weekend. Though Harvard is still atop the ECACHL standings, the loss and tie gave it a supremely unimpressive conference record of 7-6-1. And given its three week Exam Period break, voters may push the Crimson further down the poll before the team next takes to the ice.
Dropped
Once again, no ECACHL teams fell out of the Top 20 this week.