First things first:
• Will 4:08 p.m. on Wednesday, Jan. 18, 2006, be the time when Wisconsin's hold on the top spot in the country started sliding away? That's when goalie Brian Elliott was injured in practice. The junior had to be helped off the ice with a left leg injury and will be out for the next three to four weeks, Badgers coach Mike Eaves said. Freshman Shane Connelly will slide into the starting job.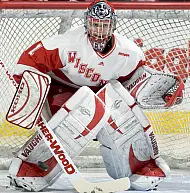 • We'll see how Colorado College responds from a major embarrassment in its building last weekend. And it doesn't get any easier with a trip to Minnesota this weekend.
• Alaska-Anchorage is in the middle of its annual two-weekend trip to the Lower 48, staying in Minneapolis between a series at Minnesota State and another at Michigan Tech. Trips like that tend to get nasty when you get run out of the first place you visit, as the Seawolves were by the Mavericks in a 7-2 loss last Saturday.
Major Trouble
Major penalties get your team in trouble. That's obvious. Even if you manage to hold the opposition from scoring in those five minutes, that's five minutes where the opposition generally has control of the game.
A goal allowed just makes it that much worse. Multiple goals allowed are killers. And then there's what Wisconsin did to Colorado College last Saturday.
Presented with a five-minute advantage after CC defenseman Brian Salcido was sent off for checking from behind, the Badgers went on a power-play rampage, scoring four times on their first seven shots while playing a man up.
It was a remarkable series of events at the World Arena, putting the Tigers out of the game before they even had a chance to get in it. Wisconsin scored two more times before the end of the period for a stunning 6-0 lead after 20 minutes.
"We just couldn't do anything wrong, and it knocked the wind out of them right away," UW center Joe Pavelski said. "And we added to it right away, which was the next biggest thing for us."
That run of success — the Badgers were 4-for-6 on the power play for the game; in the old days of stats-keeping, they would have been 4-for-2 — vaulted Wisconsin from seventh in the league in power play to fourth.
"Lanes were open and it was one of those nights where the puck found the back of the net," Badgers winger Robbie Earl said. "We're a good power play when we get pucks on net, but [Saturday] the pucks went in. I think that's the only difference."
Eaves had been saying that he saw good things happening with the power-play unit that produced three of the four goals, but nothing could compare to what went down against the Tigers.
"It's like watching a plant grow," he said. "You're seeing good things. It's starting to sprout and it bloomed [Saturday]."
The Badgers are 12-for-33 on the power play in their five-game winning streak. They weren't the only ones who had multiple power-play strikes last weekend.
Minnesota scored twice after a checking-from-behind major assessed to North Dakota's Scott Foyt on Friday. (North Dakota, meanwhile, scored a shorthanded goal in that same sequence.) A day later, Minnesota State scored twice when Shea Hamilton was called for checking from behind.
There were six major penalties called on WCHA players last weekend, all for checking from behind. Denver's Ryan Dingle got a game disqualification along with his penalty last Saturday, meaning the Pioneers' leading goalscorer will have to sit out Friday's game at Wisconsin.
As an aside, the power-play success of WCHA teams is down slightly this season from the last. The league average is 18.31 percent this season, down from 18.82 percent last season.
Trivial Matters
What's the record for most power-play goals scored by one team in a WCHA game? Answer below.
Reaping Rewards
Michigan Tech finally got its just reward, the result of an effort inspired by a lack of playing time this month.
The Huskies became the fourth team to sweep Minnesota-Duluth at the DECC this season with a pair of victories last weekend. Those games and their home series this weekend with Alaska-Anchorage are the only four games the team will play in January.
"Going into the Duluth game, that was certainly our message: 'Hey, we've got four games this month. There's absolutely no excuse for [not] having an empty gas tank at the end of the weekend,'" Huskies coach Jamie Russell said. "'You need to leave it all laying right out there on the ice.' The guys did that."
That pulled Tech out of last place and into a tie for eighth with St. Cloud State, which has two games in hand. Russell's team is only two points out of sixth place and is five back of fifth-place North Dakota.
This weekend's series against the Seawolves can help the Huskies create a gap between themselves and the WCHA basement and, depending on how others do, further their climb up the ladder.
"Our goal all year has been we need to make progress, we need to develop and make sure that each period we play is better than the one previous," Russell said. "The standings are so tight right now that we can't find ourselves looking at the standings and what-if. We've got to focus and concentrate on Alaska-Anchorage and the first five minutes of the first period Friday. They're a team that works very, very hard and [is] physical, and we need to be ready to go and buckle up our helmets and work as hard as we did in Duluth."
At UMD, Tech got rare goals from sophomore Jimmy Kerr (his second of the season), freshman Justin St. Louis (his first two of the season) and freshman Ryan Angelow (his third of the season) to supplement Chris Conner and Brandon Schwartz.
The Huskies continued a run of good play that was highlighted at the Great Lakes Invitational, when they got a pair of hard-luck losses.
"We converted on our chances at Duluth," Russell said. "We had chances at the GLI that maybe we didn't cash in on when we should have. I think it was consistent, our effort. We didn't have any peaks and valleys in our play. We had four lines that worked extremely well. We had six defensemen that were all contributing, all working hard, all winning battles. I thought we were first to a lot of loose pucks. For us to be successful, that's how we've got to be every night."
Steps have been a little lighter in Houghton now that the Huskies have won consecutive games for the first time all season.
"It's amazing what a couple wins will do," Russell said.
Senior Shortage
When the two-time defending national champion struggles, everyone looks for reasons why.
There are no shortage of opinions why Denver is only two games above .500 (12-10-2) going into its series at Wisconsin this weekend. Injuries have ruined the Pioneers' depth, especially on offense. The team's effort was in question after Denver's fourth-place finish at its own holiday tournament.
No one doubts this is a different-looking team than the ones that won it all in the last two seasons. Pioneers coach George Gwozdecky identified a lack of senior presence as one of the biggest changes.
"We've had our stars over the last few years and guys who get a lot of the marquee billing, but those teams have had great strength from their senior classes — great strength in play and great strength in numbers," he said. "Guys who played on a regular basis, guys who played very important roles, even if they were more supplemental roles, very important roles on the ice. Guys who had been with us for three-plus years and had that strength, had the experience, had the know-how and perhaps that's one of the reasons why we're so different this year."
The only senior on this year's team who has been an integral part for three-plus seasons is forward Gabe Gauthier. Ted O'Leary is also a senior but played only 30 games over his first three seasons.
You can look back to two years ago, when the Pioneers got heart-and-soul efforts from Ryan Caldwell and Connor James to rally the season. Or to last season, when Matt Laatsch provided some of the same impact while Kevin Ulanski made his mark on the team.
"I think that's one of the factors in how at times we play with a little bit less consistency and a little bit less effectiveness offensively," Gwozdecky said. "We don't have those big, strong seniors that we've had in the past, and you've got to rely on other guys who may not be quite in the position they're going to be when they are seniors."
Through that, the Pioneers are still tied for second in the WCHA, so there's plenty to play for. But it should serve as a wake-up call that they're 26th in the PairWise Rankings and have a lot of work to do down the stretch just to make the NCAAs.
Out Of Sight, Out Of Mind
Brett Sterling wanted to get as far away as he could, as fast as he could.
The 9-1 thumping Wisconsin laid upon Sterling's Colorado College team last Saturday confirmed Wisconsin's current dominance of the WCHA, but the CC senior doesn't put too much into it.
"That's not us as a team, and I don't think that's them as a team," Sterling said as he left a quiet locker room last Saturday. "I don't think that this game is a defining game for either team. I just think it's something that happened and you've got to live with it. You can't change it now."
It was a much-anticipated series, if not for the fact that it was the No. 1 and No. 5 teams in the country then for the rivalry that was fueled by the late-game hit on CC's Scott Thauwald by Adam Burish in their November meeting.
The opener lived up to the billing, with each team scoring a pair of power-play goals and Wisconsin getting the lone even-strength score and some solid goaltending from Brian Elliott. The rematch was a stunning early knockout.
"It's a game that I don't ever want to think about again," Sterling said on Saturday. "You've got to think about it for these next two days and then leave it because you can't dwell on it. It's a horrible way to start, you get a checking from behind and they score [four] power-play goals. I've never seen that happen ever in a game, and you know what? It happened to us tonight.
"You've got to learn from it, you've got to watch the penalties. We know what we've got to do in changing the penalty kill. But other than that, this is a game that I'm not going to remember because it's something you can't dwell on, otherwise it'll eat you up inside. It's the worst hockey game I've ever been involved with, hands down."
In Other Words
• League players of the week were Wisconsin's Pavelski on offense, the Badgers' Tom Gilbert and North Dakota's Philippe Lamoureux on defense and Michigan Tech's St. Louis and Minnesota State's Dan Tormey as the top rookies.
• Wisconsin's Pavelski had four assists in the first period of last Saturday's game against Colorado College, tying a Badgers record.
• In its last eight games, Minnesota State is 6-1-1, has outscored its opponents 32-17 and outshot them 309-206.
• At 15-10-1, North Dakota is one victory better than after 26 games last season (14-10-2).
• Colorado College's 9-1 loss to Wisconsin last Saturday was its biggest loss since Jan. 30, 1993, when it lost 12-3 to Northern Michigan at the Broadmoor World Arena.
• Denver's win over St. Cloud State last Saturday ended a four-game home losing streak.
• Minnesota missed out on a chance to sweep the regular-season series against North Dakota for the first time since the 1991-92 season.
• North Dakota goaltender Jordan Parise might be available for this weekend's series against Minnesota State after missing the last four games with an upper-body injury, the Grand Forks Herald reported.
• Duluth voters will go to the polls Feb. 28 to decide in a referendum whether to increase the city's sales tax for bars and restaurants by 0.75 percent to pay for the $67 million expansion of the DECC that would include a new hockey arena, the Duluth News Tribune reported.
• Wisconsin is averaging 12,852 fans through 12 home games this season. The NHL's Washington Capitals are averaging 12,829. Both Wisconsin-Denver games at the Kohl Center this weekend are sold out.
• Trivia answer: Seven, by Michigan Tech vs. Minnesota on Dec. 19, 1987 (an 11-3 Tech win) and by North Dakota at Denver on Oct. 18, 1991 (a 10-5 UND win).
Final Word
The sightline is the reason some people don't want nets above the glass behind the goals, but the sound last Saturday night provided the reason why they're needed. A hard slapshot during Colorado College's game against Wisconsin at the World Arena went just over the glass and connected with a CC student in a low row, making a sickening thud.
CC sports information director Dave Moross said the student, a sophomore, was released from Penrose Hospital on Tuesday and a full recovery is expected.
Even before Saturday's events, CC had discussed nets and intends to install them before next season. I hope it doesn't take someone being seriously injured in front of them to make others change their mind on the subject.