Being a senior, Bemidji State defenseman Andrew Martens wants to finish his abbreviated college career on a high note. And with the cast he's joined with on the Beavers, few will argue that success is out of their range.
Martens leads all BSU defensemen in scoring with five goals among 18 points this season and is probably more offensive-minded that the rest of Bemidji's blue liners. He started the season paired with Riley Weselowski, but is now matched with Nathan Schwartzbauer. Both partners have elements in their game that complement Martens, so in essence, it's a no-lose situation.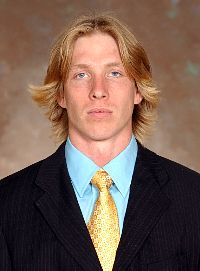 "(Assistant coach) Bert (Gilling) wanted to do some juggling to see what he could come up with," Beavers head coach Tom Serratore said. "I think he wanted to take a look at what we have and look at all the options. But if Bert wants to make a change, he has free rein."
Born in Calgary, Martens, now 24, moved to Texas when he was 10 and then left for Notre Dame, a boarding school in Wilcox, Sask., when he was of high school age. In 1999-2000, he played two exhibition games with the Ontario Hockey League's Ottawa 67's before skating that season for the Ottawa Junior Senators in the Central (Ontario) Junior Hockey League.
"In Texas, the hockey isn't all that great," noted Martens. "And being from Canada, I pretty much lit up the scoreboard."
The time with the 67's ultimately cost Martens a year of college hockey plus two games.
"Back then, I wasn't aware of the rules regarding major junior and college," Martens, an alternate captain this year, admitted. "I always wanted to play college hockey because I thought it'd be better for me. That year in Tier II (Junior Senators), Tom and Shawn Kuralak, who did some recruiting and scouting for Bemidji, both recruited me. I then went to Pembroke (Lumber Kings, also in the CJHL) and then ended up here at Bemidji."
But did the fact Martens, a 6-foot-1, 205-pound accounting major, have to waste a year have any bearing on his recruitment?
"Absolutely not," said Serratore. "Andrew has a lot of the qualities we were looking for. He's a fantastic student, has food size and is very smart on the ice. He's shown he can be offensive-minded, so when we got him, we figured at worst he'd be a solid defenseman. His first year, he was maybe five or six on the depth chart, then last year he was in the top four and then this year, he's 1-2. And that gradual improvement comes with experience and he's been our horse on the back line this year."
Not to look ahead, but Martens is undrafted and has many hockey choices to make this summer. At least he has a fall-back plan.
"I'll use my degree when that time comes," Martens said. "I want to play hockey as long as I can, obviously.
With a CHA title last year and a repeat within reach this year, the Beavers and Martens have had confidence since their 8-2-0 start. That being said, Serratore said that the confidence has carried over for longer than just a couple months.
"We've won a lot of hockey games over the past 2 1/2 years," he said. "And you win with experience. With Andrew, he has that experience and he's won. He knows that every game from here on out will be treated as a must-win game like it's the last game of the Stanley Cup finals."
Martens agreed.
"Every game now, we have to go twice as hard," he said. "For us seniors, we have six weeks left, hopefully more. We just have to keep the atmosphere loose in the locker room and know that we have a title to win.
"And to defend."
Warriors Get D-Man for '06-'07
Wayne State announced just one signing last November in Milton IceHawks defenseman Ryan Bernardi and it appears they haven't gone far to get their second commitment.
Jeff Caister, another defenseman with the IceHawks of the Ontario Provincial Junior Hockey League, also gave his nod to the Warriors this past week and the 21-year-old will head to Detroit this fall.
Caister, from Mississauga, Ont., this past Dec. 19 became Milton's all-time leading scorer among defenseman as he surpassed Rick MacDonald with a two-goal game against the Hamilton Red Wings. Caister also holds the distinction of being the team's current "Ironman." He has played in every regular-season and playoff game since joining the IceHawks in 2003 and is the lone blueliner among the team's all-time top ten scorers.
Robert Morris Coach: 'We're Not … Bad'
Though it's at the bottom of the CHA standings, Robert Morris doesn't look to stay there long.
After last Friday's 2-2 tie at Wayne State, head coach Derek Schooley gave his take on his club's on-ice situation.
"We're not as bad as you make us out to be on the Internet," Schooley said. "We might be a young team, but we compete and we compete hard. Maybe we just need the mentality to know how to find a way to put teams away."
Schooley also mentioned sophomore goalie Christian Boucher as "one of the top netminders in the league, if not the country."
"Many of the saves Christian makes are routine," noted Schooley. "We're a defense-oriented team, so a lot of the shots we allow come from the perimeter. We just need to give Christian more support, but for the most part, he stands on his head every game."
UAH to Honor '96 D-II National Championship
Alabama-Huntsville will honor the tenth anniversary of the 1996 Division II national championship Feb. 11 when the Chargers host RIT.
That year, the Chargers capped off an undefeated season and became the first varsity team in UAH history to capture a national championship on March 8-9, 1996, defeating Bemidji State in a two-game series, 7-1 and 3-0, in front of a combined 12,417 at the Von Braun Center.
The day's events will begin with the annual alumni game and then the 1996 championship team will return to the site where they defeated the Beavers and be honored during the first intermission of Saturday night's game.
The night will end with a reception immediately following the game Saturday night.
This weekend, the Boys in Blue take on Wayne State in Motown.
"Practice has been almost perfect, going tape to tape everyday," junior forwards Brett McConnachie and Dominik Rozman said in their weekly "Under the Bucket" feature on UAH's official website. "First place is still in the mix for the Chargers, so be sure for 'dem boys to be going pretty hard out 'dere."
Niagara and Huntsville Play Intense Series
It was called the marquee matchup in the CHA last weekend, and the Alabama-Huntsville/Niagara series certainly was.
Friday night, Brett McConnachie's goal at 19:54 of the third period ended UAH's comeback as the Chargers were down, 3-1, at one point and won, 4-3.
The game also saw UAH goalie Scott Munroe become the school's all-time saves leader as his stop on Ted Cook at 14:11 of the first period was career save 2,447.
Niagara rebounded and took a 4-3 win of its own Saturday evening as Jeff Van Nynatten couldn't let Munroe enter the record books on his own. With 42 saves, Van Nynatten is now tops on NU's all-time saves list.
"We finally controlled the play for about seven minutes in the third and that took some heat off," Niagara head coach Dave Burkholder said. "Whereas (Friday) night we didn't respond in the third and did not have any answers. I was hoping (Van Nynatten) wouldn't be this busy. After what Greg Gardner did and everything that's in the record books under Greg's name, for Jeff to be the all-time save leader is pretty special."
NU defenseman Dan Sullivan scored his first collegiate goal Saturday night for the Purple Eagles.
Niagara is now in second place in the CHA, two points back of Bemidji State and a point up on UAH.
Younger Serratore Wins Sibling Rivalry
By taking three of four this year from Air Force and older brother Frank, Tom Serratore has Bemidji State at the top of the CHA.
"There's a fine line between first place and third place in this league," Tom Serratore said. "If you lose, you can fall three spots. That top spot is still up for grabs and once the boys look at the standings, hopefully the focus will take care of itself."
Last weekend, the Beavers swept the Falcons on home ice to leapfrog Niagara into first place in the league.
Bemidji had split with Air Force back in Colorado Springs on Oct. 28-29.