The biggest series last weekend fizzled out somewhat as both Cornell and Colgate held serve and protected their home ice from Clarkson and St. Lawrence. The four games had ramifications both on the run up to the ECACHL regular season title and on the PairWise Rankings.
This weekend will feature another string of games with PairWise implications for ECACHL teams (see below), as Clarkson and St. Lawrence engage in a home-and-home series and Harvard returns to action after a two-week break for exams by hosting Rensselaer and Union.
Dartmouth and Rensselaer are both on the bubble of being Teams Under Consideration (anyone with an RPI at or above .500), so a pair of losses by either team could have implications on the fates of those ECACHL teams with PairWise positions within the top 14 teams — Harvard, Cornell, and St. Lawrence, primarily.
Cornell and Colgate, fresh off their big wins last weekend, will host Brown and ever-improving Yale. The Bulldogs are undefeated over their last seven conference games and have gone 6-2-2 since the start of December.
Meanwhile, Princeton has another weekend off before returning to action on Tuesday at Robert Morris, and its travel partner Quinnipiac will play host to CHA foe Niagara for a pair of games.
A Passion for Service + a Pinch of Time-Management
Last Friday the Hockey Humanitarian Foundation announced the seven finalists that have been selected for the 2006 Hockey Humanitarian Award. The foundation gives the award annually to recognize a college hockey player whose volunteer efforts have had a positive impact on the community. Princeton senior goaltender Eric Leroux is one of two ECACHL athletes, along with Clarkson women's forward Lindsay Williams, to be selected as a finalist.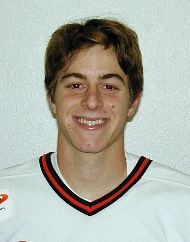 Leroux, who has been enjoying his best season statistically during his last year at Princeton, has a range of volunteer activities that have enriched the lives of those he has served. Of his many efforts, the most broad-ranging is the work he has undertaken each of the past two summers with the Foundation for Sustainable Development. In Kenya this past summer Leroux devoted his time to working with school-age children and helped to educate them about sexually transmitted diseases. The previous summer Leroux worked in Ecuador at a malaria clinic.
On the less global stage of New Jersey, Leroux has also worked to improve the lives of needy children in Princeton and the surrounding communities by serving as a Big Brother, organizing donations of medical supplies to the needy, and organizing his teammates on a project to direct used hockey equipment to youth hockey programs. The team effort is named PUCK — Providing Underprivileged Communities and Kids — and last year it helped to coordinate the donations of more than $5,000 worth of equipment to a youth hockey program in the city of Baltimore.
Leroux's passion for service work has impressed Princeton coach Guy Gadowsky, who was demonstrably excited, even over the phone, about the subject of Leroux's nomination.
"I love that award," said Gadowsky. "It's a tremendous accolade. It's what college athletics are about — its being a whole person, not just an athlete."
"It sounds like a cliché, but he really does help out humanity," Gadowsky said. "He's an amazing guy."
Just as impressive as the quality of Leroux's efforts, though, is the sheer quantity of his projects, both local and international — and the way he's able to balance his dedication to serving the less fortunate with playing college hockey at a high level and being a solid student at one of the country's most competitive universities.
"His time-management skills are absolutely tremendous," said Gadowsky. "He's very goal-oriented — he knows what he wants to do and he gets it done."
ECACHL Honor Roll
Colgate, Yale and Quinnipiac all swept their opponents last weekend, thanks in large part to contributions from the members of this week's Honor Roll. Colgate's Marc Fulton provided five points in wins over Clarkson and St. Lawrence, a pair of performances which earned him recognition as the ECACHL's Player of the Week.
In what has become a recurring event, Yale freshman netminder Alec Richards was honored as the league's Goaltender of the Week for his role in a pair of Bulldog wins, especially a 5-0 shutout of Rensselaer on Saturday night. And Quinnipiac freshman forward David Marshall was named Rookie of the Week after a four-point weekend against RIT.
Player of the Week
For the second time this season Colgate's Marc Fulton was named POTW, and his five-point showing against Clarkson and St. Lawrence helped propel Colgate to a home sweep against the North Country pair.
On Friday night against Clarkson, Fulton assisted on his team's first goal of the game early in the second period and then tallied the game-winner himself less than four minutes into the third. The next night against St. Lawrence Fulton was even better; again he assisted on his team's first goal, and he was credited for an assist on a power-play goal off the stick of Peter Bogdanich near the end of the second period.
Fulton saved his best for overtime, though, when he wristed a hard shot past St. Lawrence netminder Justin Pesony less than a minute into overtime to give Colgate a 4-3 win.
"Marc Fulton is a pretty dangerous player," said Colgate coach Don Vaughan. "Obviously his goal in overtime this weekend [against St. Lawrence] was great, but he also helped to set up two other goals that night and one the night before."
"He was working the boards really effectively, making crisp passes, really doing everything," Vaughan continued. "And when your team sees their best shooter working hard in all the other areas, it really gives everyone a boost."
Fulton is tied with Tyler Burton for the team lead in points with 28; through two dozen games this season he has nine goals and 19 assists. Already Fulton has improved on his sophomore season where he scored 14 points, including five power-play goals. And over the past two seasons he has become an increasingly important part of the Colgate power-play unit.
"Marc Fulton has got a great shot — a pro shot — and we try to put him in a position [on the power play] to use that," said Vaughan.
Goaltender of the Week
Through six games this season, the Yale Bulldogs stood 0-6-0. But since the start of December Yale has gone 6-2-2 and has notched a series of wins over conference opponents. At least part of the credit is due to the markedly improved play in net by freshman netminder Alec Richards.
"Obviously he's playing very well for us," said Yale coach Tim Taylor. "He's getting big saves, he keeps us in every game, and there haven't been many soft goals."
Over the past few weeks Richards has become a semi-permanent part of the Honor Roll as he helped the Bulldogs to weekend sweeps of Princeton and Quinnipiac two weeks ago and of Union and RPI this past weekend.
Richards best performance of the season came on Saturday night against Rensselaer when he stopped 29 shots en route to the first shutout of his career and Yale's first shutout of the season.
Though it has taken time to develop, Taylor feels that Richards' improvements in net and the increasingly strong play of the Bulldogs in their own defensive zone has built up a cycle of confidence in both goaltender and defense.
"The confidence in himself that he's developing in net leads to more confidence from the guys playing in front of him," Taylor said. "And so our team is playing well in front of him, too."
Rookie of the Week
Currently second on his team in points, Quinnipiac freshman forward David Marshall has been even better than the coaching staff at Quinnipiac expected. He added four points to his season total based on last weekend's effort, for which he was named the league's ROTW.
Against RIT, Marshall had a goal and two assists on Friday and another goal on Saturday. Through 25 games he has 17 goals — including a pair of game-winners, four power-play goals, and another pair of shorthanded strikes — and has helped relieve some of the offensive burden from Reid Cashman, the center of the Bobcats' offense.
"David's having a tremendous year for us," said Quinnipiac coach Rand Pecknold. "He's a real competitive kid; he's doing everything we ask."
"And he's finding a way to score goals — big goals — for us; he has a real knack around the net," Pecknold added.
Record Versus Nonconference Foes
The majority of the nonconference games have concluded for the season; there are only six left to play over the next three weeks. Three of those nonconference games are on the books in the coming days and all three are against opponents from the CHA. Quinnipiac will host Niagara for a pair this weekend, and Princeton will resume its schedule on Tuesday night against Robert Morris.
In early February, Yale hosts Connecticut from Atlantic Hockey for a Sunday afternoon contest that could decide the fate of the Commissioner's Cup, and on the first two Mondays in February Harvard will, as always, face two Hockey East opponents in the Beanpot.
This past weekend Quinnipiac won two road games at RIT, running the league's combined record against the D-I independent Tigers to 9-1-0. Dartmouth split a home pair against Sacred Heart (a 4-2 win) and Holy Cross (a 3-2 loss). Those wins helped to further cement the ECACHL's record against Atlantic Hockey opponents; for the season, the league will have a winning record against both Atlantic Hockey and the CHA. And the ECACHL is assured of having a losing record — and a lopsided one at that — against the CCHA and WCHA.
The only conference against which the outcome of the season series is still in doubt is Hockey East. Though the ECACHL has one more loss than win against Hockey East schools, a strong showing by Harvard in the Beanpot could give the ECACHL the edge over its younger brother.
vs. AH 12-5-1
vs. CCHA 4-12-3
vs. CHA 10-3-2
vs. Hockey East 13-14-1
vs. WCHA 4-9-4
vs. Independent 9-1-0 (RIT)
Overall 52-44-11
USCHO.com/CSTV Division I Men's Poll (Jan. 23, 2006)
No. 5 Cornell — Cornell was at home last weekend hosting two of the ECACHL's best teams, and a pair of convincing wins over St. Lawrence and Clarkson helped convince voters that Cornell deserved a bump from last week's No. 8 ranking. Cornell, which benefited from the pair of losses Vermont suffered at the hands of Boston College last weekend, moved up three spots, replacing the Catamounts at No. 5.
No. 14 St. Lawrence — The Saints dropped four spots from last week's poll after being swept on a road trip to Cornell and Colgate. Although the Big Red and Raiders are both quality opponents, I think the effect of St. Lawrence's losses was muted somewhat by their unexpectedly high position (No. 3 overall) in the first edition of the PairWise Rankings released last week.
No. 17 Harvard — In last week's column I joked that if Harvard could stretch out its Exam Period break for a few more weeks then the Crimson might be able to climb into the Top 10 without playing a game. This week voters disagreed; previously Harvard had climbed two spots while inactive because the teams around it had struggled. This week a very strong showing by Denver at Wisconsin and a Michigan State split with a strong Nebraska-Omaha team were the major factors in why the inactive Crimson dropped in the polls; both the Spartans and the Pioneers (as well as Boston University) bypassed Harvard.
No. 18 Colgate — It is a pretty tough break when you host two Teams Under Consideration, beat them both, and still fall in the polls, but that is exactly the fate that befell Colgate when this week's poll results were announced on Monday.
Somewhat like the Crimson, Colgate dropped one spot from last week's poll because the teams behind the Raiders (namely Denver and Michigan State) had strong showings that impressed the voters. Colgate may also be suffering from voters' reactions to the PairWise Rankings, in which Colgate — despite its strong record in ECACHL conference play and its lead in the conference standings — came in near the bottom of the pack.
Dropped
No ECACHL teams fell out of the Top 20 this week.
The PairWise
The PairWise Rankings, for those who are unaware, are covered in fantastic depth by USCHO and its chief bracketologist Jayson Moy. For a detailed analysis of the entire field, including probable seedings and important upcoming matchups, you should make a note to read Jayson's Bracketology articles every week.
This section of my weekly column is intended solely to serve as a broad overview of why some of the top ECACHL teams are at their particular spots in the rankings and some of the important factors that could influence the PairWise Rankings in future weeks.
For my analysis, I'll follow Jayson's lead and utilize .004 Road, .0025 Neutral, and .001 Home for calculating the RPI "bonus." Using those numbers, here's where the ECACHL teams fall:
Harvard
Record: 10-7-2
RPI: .5407
PWR: Tied for 7th (9th after tie-breaker)
Notes: The Crimson has the strongest schedule in the ECACHL, and has some big wins so far this season to go alongside some bad losses. A look at the team's place in the ECACHL standings shows that Harvard has struggled at times against its conference opponents — there are losses at Quinnipiac, at Clarkson, at Yale, at Dartmouth, and at Rensselaer.
Correspondingly though, there are few losses at home and there is a very impressive record against nonconference foes. With two games remaining, the Crimson has gone 3-1-1 against some of the best teams in the country. That record, which includes road victories at Boston College, UNH, and North Dakota, helps to give Harvard the third-highest RPI "bonus" of any team in the nation. For the Crimson to stay in tournament consideration the team will need to be stronger against its league opponents down the stretch and will need to put forth a much better effort in this year's Beanpot.
Cornell
Record: 12-4-2
RPI: .5398
PWR: 10th
Notes: Cornell, though it has one of the best winning percentages in the nation, falls behind Harvard because the Big Red's strength of schedule is comparatively week — 42nd overall — and because there is an almost complete lack of meaningful wins out-of-conference.
The Big Red has faced less-than-impressive nonconference foes; on this year's schedule was an early-season pair at home against Michigan State, a home-and-home (of sorts) against Niagara, a loner against RIT, and the Florida College Classic. That tournament hurt Cornell since this year's field was particularly weak. The Big Red beat a very weak team in Northeastern and then saw Maine, the second-best team in the tournament, lose its opener to Minnesota-Duluth. Though Cornell won the tournament in a shootout, the official tie in the record books against a struggling UMD team didn't help matters.
Cornell's lone win that qualifies for the bonus is an early-season victory at Lynah over Michigan State. With all of its nonconference games concluded, Cornell can help its position most by continuing to improve on its great record and by recording wins against other ECACHL Teams Under Consideration (Colgate next weekend, and Harvard in mid-February).
St. Lawrence
Record: 13-8-1
RPI: .5592
PWR: Tied for 12th (12th after tie-breaker)
Notes: The Saints were one of the top-ranked teams when last week's rankings were published, but a pair of road losses against two Teams Under Consideration (TUCs) — Cornell and Colgate — made for a precipitous tumble to number 12.
Like Harvard, St. Lawrence has both impressive wins and dubious defeats on its record (see October 28: RIT 3, St. Lawrence 2). Speaking volumes for St. Lawrence is its performance in a pair of games to open the season against Wisconsin. The Saints lost a close one in overtime on opening night and then won another overtime thriller the next night against the Badgers. That road win provides Joe Marsh's team with an RPI bonus, as does a 5-3 win at home against Providence in mid-October. Also impressive are a tie at Miami, a close home loss against UNH, and a 2-1 win at Vermont.
After losing to Cornell and Colgate, St. Lawrence will have to put together a strong effort down the stretch (particularly important is the last weekend of the regular season at Harvard) to ensure a spot in the NCAA tournament.
Colgate
Record: 13-6-5
RPI: .5177
PWR: 26th
Notes: The Raiders have been very strong in ECACHL play and are currently atop the conference standings, but they have struggled against nonconference foes. Those struggles, and the fact that Colgate's nonconference schedule included relatively weak teams or teams having down years, combine to make it very difficult for the Raiders to rise in the PairWise. The team has a chance to prove itself against some of the higher-ranked teams over the next few weeks; next weekend Colgate plays a pair of games against Cornell, and in mid-February will host Harvard. Those games are the three biggest tests on Colgate's calendar.
Clarkson
Record: 11-10-2
RPI: .5059
PWR: 28th
Notes: Clarkson is just barely a Team Under Consideration at this point, and another weekend like the Golden Knights recently suffered at the hands of Colgate and Cornell will drop them out entirely. I'm not that great with numbers, but it is hard to imagine the Golden Knights working their way up into the top 14 teams. The biggest impact that Clarkson can have on the PairWise Rankings is determined by whether it stays a TUC or whether it drops out entirely and the ramifications that could have on ECACHL teams that beat the Golden Knights (Cornell and Colgate) and those that have lost to them (Harvard).
Dartmouth
Record: 8-10-1
RPI: .5050
PWR: 29th
Notes: Like Clarkson, Dartmouth is just barely a Team Under Consideration and the biggest impact it will have on the PairWise is whether it remains a TUC. This Saturday night's game against Rensselaer could prove important (as Jayson mentioned in Bracketology) because both Dartmouth and RPI are on the bubble of TUC status and whether they are on or off can really affect the ECACHL teams above them.