While the single biggest game of the next few days will occur on Monday when the Harvard Crimson faces off against Boston University in the opening night of the Beanpot, there are two more important contests from a league perspective on the schedule for the weekend.
Both series are home-and-home affairs between travel partners, and the results will have implications on the conference standings, both at the top, the Colgate versus Cornell series, and in the fight for home ice at the eighth and ninth spots, the Rensselaer versus Union games. Additionally, Colgate- Cornell could have a significant impact on the PairWise Rankings.
---
Of the two rivalries this weekend, Colgate-Cornell has greater implications for the conference title and the PairWise picture. Both teams are currently Teams Under Consideration (TUCs) because they have an RPI above .500, but Cornell is much closer in the PairWise to the tournament field than is Colgate.
Both coaches said that they were taking a single-game focus with their teams, not the title or the PWR. But their players are aware of such things, even if neither they nor the coaches dwell on them, and that must add a little bit of pressure.
Given that pressure and the already-competitive nature of the rivalry between the two schools, both coaches are expecting intense games.
"We're expecting two of the toughest games we'll play all year," said Colgate coach Don Vaughan.
"The emotions are running high; both buildings are going to be full," he added.
One of the keys for his team, as Vaughan identified them, is how the players manage the emotions created by playing such high-stakes games in front of large, energetic crowds. Those crowds, even when you are at home, can be intimidating to an inexperienced player.
Vaughan's counterpart, Cornell coach Mike Schafer, agreed about the difficulty of playing in his rival's rink.
"Their place is one of the hardest to play in our league. I know that their rink will be absolutely packed, just like it was last year," he said.
And of course Cornell's Lynah Rink, one of the best home-"field" advantages in any sport, will also be packed with the Lynah Faithful. That is where the series will commence on Friday night, presenting Cornell with the opportunity, if the Big Red successfully defends its home ice, to enter Starr Rink in Hamilton with the momentum on its side.
That momentum slightly favors Colgate entering Friday's game. The Raiders have won five straight while Cornell stumbled to a tie against much-improved Yale last weekend. That loss dropped the Big Red more than one game behind the Raiders in the race for the league's regular-season title and the top seed for the ECACHL tournament. Through 14 league games, Colgate has a three-point lead on Cornell. St. Lawrence is currently in third place with 18 points, two behind Cornell.
"This weekend is a battle for first place," said Schafer. "We need to do a lot more winning this weekend than they do since they have a three-point lead on us."
Still, Schafer was quick to point out that both Cornell and Colgate have experience being atop the conference standings, and both the teams and their coaches know that you can get up on top one week only to be knocked off the next.
"The league is a lot stronger — top to bottom — than it has been for many years," Schafer said.
---
Though its impact won't be felt at the top of the standings, the series this weekend in Schenectady and Troy, N.Y., will have a significant effect on the race for first-round home ice the ECACHL tournament and will be another occasion for an intense rivalry.
Currently Rensselaer and Union are tied with Clarkson for seventh place in the ECACHL standings. Since a first-round bye goes to the top four finishers and finishers five through eight receive home ice in the first round, the points separating the eighth and ninth teams can be miniscule, but the difference between the two finishes is astronomical.
Like their counterparts at Colgate and Cornell, though, Rensselaer coach Dan Fridgen and Union coach Nate Leaman were focusing on winning the upcoming series, not analyzing the impact of the outcomes.
Leaman said he thought there was a strong rivalry between the two schools, adding, "It's going to be intense and emotional."
"It adds a little flair to the games, with bragging rights in the Capital Region on the line," agreed Fridgen.
"The fans really get into it," he continued. "There's a lot more media exposure than there used to be. It's become a big series."
That media interest can partly be attributed to the competitiveness of the games. Since the two schools share scouting tapes, both coaching staffs are familiar with their opponents and there aren't really any secrets to hide behind. That has led to a number of close games over the past few seasons.
"It's never a game where someone blows out the other team; it's always been close," said Fridgen.
Last year Union swept the series against Rensselaer, but its escapes with victory were narrow, on scores of 5-4 and 3-2. In Leaman's first season at Union, though, the opposite result occurred as the Engineers won both games.
"There's a lot of momentum swings in this series," Leaman said. "Both games last year swung quite a bit."
---
Now into the last month of the regular season, the ECACHL will feature some great matchups down the stretch. There will be a number of games broadcast on local or national television, creating lots of media exposure.
Saturday night in Hamilton, Time Warner and ESPNU will broadcast Cornell's contest against Colgate. The next day in the hours before the Super Bowl, CN8 will air a 2 p.m. matinee of UConn at Yale in a game that may well decide whether the ECACHL repeats as Commissioners' Cup champion.
The following Saturday there will again be two league games on television as ESPNU broadcasts the afternoon action starting at 4:30 p.m. when Princeton travels to Dartmouth. Later that night in a standard 7 p.m. start, Time Warner will broadcast from Union where the Dutchmen will host Yale.
---
Record Versus Nonconference Foes
The ECACHL suffered two losses, both of them surprising ones in my mind, to nonconference teams last weekend. With one month left in the regular season, there are only three nonconference games left on the combined schedule of all teams.
Quinnipiac, which had previously won two games on the road at RIT, hosted Niagara from the CHA for a pair of games. The Bobcats lost a close game on Friday night by allowing two third-period goals, but got revenge on Saturday as they outshot the Purple Eagles 54-25 and won by a 5-2 score.
Travel partner Princeton also played a nonconference opponent in Robert Morris; the Tigers, in their first game back from an exam-period break, traveled to face the Colonials and lost by a score of 5-2.
This coming Sunday in a matinee at Ingalls Rink, Yale will host Atlantic Hockey foe Connecticut in a game that may decide the the Commissioners' Cup. Harvard owns the last two nonconference contests; they will come against Hockey East opponents as part of the Beanpot and will start on Monday at 8 p.m. against crosstown rival Boston University.
vs. AH 12-5-1
vs. CCHA 4-12-3
vs. CHA 11-5-2
vs. Hockey East 13-14-1
vs. WCHA 4-9-4
vs. Independent 9-1-0 (RIT)
Overall 53-46-11
USCHO.com/CSTV Division I Men's Poll (Jan. 30)
No. 5 Cornell-Cornell held steady at No. 5 in this week's poll after a three-point home weekend that saw the Big Red post a closer-than-expected 4-3 win over Brown on Friday and then a 2-2 tie against surging Yale on Saturday. The slightly disappointing finish didn't hurt the Big Red in the eyes of voters, as the two teams immediately beneath Cornell in the previous week's poll — Michigan at No. 6 and North Dakota at No. 7 — both went winless on the weekend.
No. 17 Colgate-The Raiders moved up one spot in this week's poll after posting home wins over Yale and Brown. Saturday night's 5-2 victory over Brown marked the team's fifth straight win after beginning 2006 with a 0-3-1 record. Though Colgate leads the ECACHL standings, the team has struggled to defeat some quality opponents this season. Those struggles have led to a low RPI for the team and that, in turn, can influence voters' perceptions of a team's strength. The Raiders would likely get a substantial bump in the polls — and more importantly in the PairWise — if they were able to take three or four points from Cornell this weekend.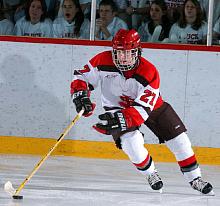 No. 18 St. Lawrence-After losing three in a row to some of the best teams in the ECACHL, St. Lawrence finally posted an impressive win on Saturday night when the Saints rallied from a 3-1 deficit to defeat rival Clarkson. 2006 has not been kind to the Saints; the team has struggled to a 3-4-0 record since the New Year and has fallen from No. 10 in the polls earlier this year to its current predicament near the margins, and in danger of slipping out entirely.
No. 20 Harvard-Historically Harvard has struggled out of the gate for the second half of the season following its nearly three-week break in January. This year's Crimson struggled entering the break, having gained only one of four points in its trip to the Capital Region of New York. And the team struggled exiting break last weekend, when it looked rusty in a 3-1 win over Rensselaer on Friday and struggled to produce scoring chances the following night in a 2-1 loss to Union.
The Crimson will have a chance to impress voters with Beanpot games against Boston University and either Boston College or Northeastern. But next Monday night's game against BU will come after voting for the polls has closed, and if the Crimson can't defeat Brown on Friday night in its lone game of the weekend, it will probably find itself outside the Top 20 for the first time since the November 7 poll.
Dropped
No ECACHL teams fell out of the poll this week.
The PairWise Rankings
The PairWise Rankings, as basically every USCHO.com reader must be aware, are covered every week by senior writer Jayson Moy and executive editor Scott Brown. For an in-depth projection of the entire field, including probable seedings, you should make a note to read Jayson's Bracketology articles and the detailed review of key teams and critical matchups in Scott's PairWise Analysis.
This section of my weekly column is intended solely to serve as a broad overview of why the top three or four ECACHL teams are at their particular spots in the rankings, and some of the important factors that could influence the PairWise Rankings in future weeks.
For my analysis, I'll utilize .004 Road, .0025 Neutral, and .001 Home for calculating the RPI "bonus." Using those numbers, here's where the ECACHL teams fall:
St. Lawrence
Record: 14-9-1
RPI: .5499
PWR: Tied for 10th (11th after tie-breaker)
Impressive Wins:
• 2-1 OT win at Wisconsin
• 5-3 win versus Providence
• 2-1 win at Vermont
Depressing Losses:
• 3-2 loss at RIT
• 3-1 loss at Brown
Notes: The Saints have stumbled since the PairWise Rankings were first announced with losses to Cornell, Colgate, and Clarkson. The team did manage to post a solid win over the Golden Knights on Saturday night, but its struggles against Teams Under Consideration (TUCs) over the past two weeks have wasted an opportunity to move up in the rankings. Joe Marsh's team will have to be careful this weekend against two teams, in Princeton and Quinnipiac, that are capable of beating anyone.
Harvard
Record: 11-8-2
RPI: .5334
PWR: Tied for 10th (12th after tie-breaker)
Impressive Wins:
• 5-3 win at Boston College
• 4-3 win at St. Lawrence
• 1-0 win at New Hampshire
• 1-0 win at North Dakota
Depressing Losses:
• 5-2 loss at Quinnipiac
• 5-1 loss at Dartmouth
Notes: The Crimson has some big wins this season, all on the road, but has also struggled on the road against conference opponents that it should beat. Harvard has a chance to improve its PairWise positioning with a strong performance in the Beanpot, but even if it can succeed there it must also produce wins in league play against Brown and Princeton on the next two Fridays.
Cornell
Record: 13-4-3
RPI: .5322
PWR: Tied for 15th (17th after tie-breaker)
Impressive Wins:
• 4-2 win versus Michigan State
• 4-3 win at Harvard
• 5-2 win versus St. Lawrence
Depressing Losses:
• 6-1 loss at Dartmouth
• 3-0 loss at Princeton
Notes: Cornell continues to improve its stellar winning percentage, although that has been compiled against a fairly weak nonconference schedule giving the team a comparatively low RPI. And as Scott noted in this week's column, the Big Red's record against TUCs is helping it right now but because the team only has six games against TUCs on its record, some combination of losses against Colgate, Harvard, Clarkson or St. Lawrence could really hurt Cornell's PairWise standing.
Colgate
Record: 15-6-5
RPI: .5245
PWR: 23rd
Impressive Wins:
• 4-2 win versus Clarkson
• 4-3 OT win versus St. Lawrence
Depressing Losses:
• 7-1 loss at Providence
• 4-0 loss at Bowling Green
• 3-2 loss versus St. Cloud State
• 5-3 loss at Princeton
Notes: Five straight wins has done a lot for Colgate, in terms of confidence, standing within the ECACHL and its PairWise position. The Raiders have beaten up many of the teams from the ECACHL, but have struggled against virtually every nonconference foe that they have faced. But coach Don Vaughan seems to have his team peaking at the right time, and they are arguably the hottest team in the conference. Though it cannot do anything to improve its poor record against nonconference foes, Colgate has a great opportunity this weekend to improve its RPI with wins against a talented Cornell team.