Last weekend was an eventful one in the ECACHL, with a number of exciting games and a few surprise outcomes. Clarkson and St. Lawrence both recorded much needed sweeps of Brown and Yale. And among the quartet of league leaders — Colgate, Cornell, Dartmouth, and Harvard — that faced off, each came away with two points to show for its efforts.
Princeton played very well but had surprisingly little to show for it, as the Tigers were again taken to overtime twice (that's the fourth time in two weeks) and managed only a point. Quinnipiac acquitted itself well in taking three points from Union and Rensselaer. While the Engineers might have been disappointed with a pair of ties on the road, the Dutchmen and coach Nate Leaman must have been happy with a three-point weekend that kept them in contention for a high playoff seed.
While the outcomes of the games were interesting, though, the results did little to resolve the impressively murky playoff picture in the ECACHL. Some things have become clear:
• Cornell has clinched a bye in the first round.
• Brown will be stuck with the No. 12 seed regardless of this weekend's results.
• Quinnipiac, Princeton and Yale will be on the road for the first round of the playoffs, although where each team will be headed is not yet known.
• Rensselaer and Clarkson are currently tied for seventh in the league, and regardless of the outcomes this weekend they will each host a first-round playoff series.
(For a more complete examination of possible finishes based on this weekend's results, see the table at the end of the column.)
With the exception of Cornell, no team has clinched a bye in the first round of the league playoffs. Colgate and Dartmouth have the inside position to land a bye, but St. Lawrence, Harvard, and Union all still have a chance to finish as one of the top four seeds. To claim a top-four seed and the accompanying first round bye, the Raiders and the Big Green each need at least two points. St. Lawrence needs three points to clinch a bye, while the Crimson needs four points, and Union needs a sweep (of Colgate and Cornell, no less) plus stumbles from some of the teams above it.
---
The most exciting game last weekend was likely the Harvard-Cornell game that was broadcast on CSTV on Saturday afternoon. Although I was there in person, I made a point of watching the game tape on Sunday evening and was still entertained by both the exciting plays and by the quality of the coverage on CSTV.
I made the trip up to Colgate and Cornell, and was as impressed as ever by the fans at those two schools. But while Starr Rink is an enjoyable place to see a game, the atmosphere at Lynah Rink — especially when Cornell hosts the Crimson — is something to behold.
From the fans who were already in their seats almost an hour before faceoff, to the Cornell band on hand to stir up the crowd and intimidate the opposition during warmups, the experience of seeing a rivalry game at Lynah is unique.
While the game was exciting over the first two periods, it was incredible for the last 20 minutes. The turning point of the game came when Cornell's Cam Abbott was assessed a five-minute major penalty for an ugly hit from behind that busted open the nose and brow of Harvard captain Peter Hafner.
On the extended power play that followed, Harvard broke the 2-2 tie after less than a minute when sophomore forward Jon Pelle scored his ninth goal of the season (and managed to get a measure of revenge on the Cornell fans whose chant of "UGLY-UGLY" could be clearly heard on national television when Pelle was interviewed by CSTV during the first intermission).
The Crimson had several opportunities to score over the next two-plus minutes, but the team's man-advantage ended early when forward Ryan Maki was sent to the box for slashing.
"I think the turning point was obviously in the third, five-minute hitting-from-behind, power-play goal," said Cornell coach Mike Schafer.
Skating four-on-four, though, Harvard broke into transition and took advantage of a Cornell miscue by starting a two-on-one break. The Crimson's Charlie Johnson made a nice spin-move on the break to bypass his defender and then passed the puck across the ice to the trailing Hafner for the game-winning goal.
"Charlie made a nice play, he kinda slipped there, and just gave me the feed," said Hafner. "I just tried to jam it as hard as I could. I certainly wasn't picking a corner, and luckily, it went in."
"Unfortunately, on the four-on-four, we fell down, and they took advantage of it," said Schafer. "So it's a frustrating loss from our standpoint… not much you can do."
"I was proud of the way we played," said Harvard coach Ted Donato. "It was a big win."
"At the end of the day, I was proud of our seniors," he continued. "I wanted so badly for them to be Ivy League champions and to finally get a win here at Lynah Rink.
"Our seniors had never won here, Ivy title on the line, senior night, national TV-it was a big setup, and I'm proud of the way our guys responded," he added.
---
While the Harvard-Cornell game was definitely entertaining, it was somewhat marred by the quality of the officiating. I was not really bothered by the third Cornell goal, even though it was controversial, both at the time of the play and afterwards.
With the benefit of replay, it appeared clear that the puck did not cross the line and go into the net. But the officials — referee Frank Murphy, and linesmen Joe Ross and Scott Whittemore — did not have the advantage of replay. They did, however, confer before the referee made his decision, and then Murphy went and explained it to both Donato and Schafer.
"[The third goal] ended up being a tough call because the puck didn't go in on TV," said Donato after the game. "But nonetheless, I don't doubt anybody's intentions. I just … my own deep-down feeling is that I'd like the ref to really be 100% sure in that situation. That's what I asked him, he said he was, and we can live with that."
What was more difficult to live with, for both coaches and for the majority of fans, myself included, was the manner in which the refereeing (particularly in the third period) led to a more violent and penalty-filled game. It all started with Abbott's hit on Hafner, which may not have been malevolent but was certainly illegal and deserving of a major penalty and a game misconduct.
Over the remainder of the third, three more game misconducts were assessed, to Harvard defensemen Tom Walsh and Dylan Reese and Cornell's Byron Bitz. In all, the two teams accumulated 21 penalties for 77 minutes.
Schafer, who has occasionally grown frustrated with the league's officiating, would not directly address it.
"No comment," he said. "If I comment on the officials, I'm just going to get myself in trouble."
But Schafer did go on to articulate — and I think most fans would agree — that the major issue in the game was the lack of balance in the calls. From my perspective, the overall level of calls for the entire game was probably balanced, but it seemed to fluctuate to the point where almost every call in one stretch went against Cornell and later on some questionable penalties were assessed to the Crimson.
That lack of equity, or at least the appearance of it, changed both teams' actions and made it very rough out on the ice.
"There's no question that our kid [Cam Abbott] deserved a five-minute major," Schafer said. "I didn't even see it, but if it's even questionable, it has to be called.
"Cam got what he deserved," he said later. "I gotta believe, and I didn't even see it.
"I just thought that we should be reciprocated on the same thing when our kid got drilled head-first [into] the boards in the corner," Schafer continued. "There's just no place for it in hockey … It doesn't matter what time of game, what the circumstances are, it has to be called."
---
With Harvard's 4-3 win at Cornell on Saturday evening, the Crimson clinched the Ivy League title. Harvard compiled a 7-3-0 record against its fellow Ivy League schools, while Cornell at 6-3-1 and Dartmouth at 6-4-0 finished close behind.
---
The great television coverage of the ECACHL that fans have enjoyed this year will continue again this weekend with a pair of games airing on local cable outlets and via webcasts. This season it has become almost commonplace for the league to have two games on TV each weekend, giving fans in New York or New England the opportunity to see matchups that they might not normally witness.
This weekend, Quinnipiac and Yale will reprise their budding rivalry on Friday night at 7 p.m. in a game that will be aired on NESN. The previous clash between the two schools was a Sunday afternoon game in early January that was aired on NESN, and I put my feet up and enjoyed the spectacle.
The quality of the hockey was very good, but moreover the quality of the coverage on NESN (which was led by members of Quinnipiac's School of Communications) was excellent, with a number of interesting interviews between and during periods.
The second of two games that will be televised this weekend is Saturday night's regular-season finale, when the Union Dutchmen host the Cornell Big Red. Fans in the Albany region can see the game on Time Warner Channel 3, and those in Central and Northern New York will find the game on Time Warner Sports Channel 26.
For those fans farther removed from the area, Time Warner will produce a live, free webcast that will that can be accessed at www.twalbany.com. USCHO.com's Jayson Moy will call the action alongside Matt DuBrey.
---
ECACHL Honor Roll
Clarkson and St. Lawrence, which both swept their opponents last weekend, provided all the members of this week's ECACHL Honor Roll. Saints netminder Justin Pesony was selected as the league's Goaltender of the Week for the third time this season, and he was joined by Clarkson forwards Jeff Genovy, the Player of the Week, and Chris D'Alvise, the Rookie of the Week.
Player of the Week
Clarkson senior forward Jenn Genovy was named POTW after a four-point weekend during his final regular-season home games. Genovy scored a pair of goals each in his team's 3-2 win over Yale and its 8-2 win over Brown.
On Friday night against Yale, Genovy gave the Golden Knights a 1-0 lead early in the first with a laser-sharp shot from the left faceoff circle that came in right under the crossbar. More than six minutes into the second, Genovy tied the score at 2-2 with his second goal of the game; this one came off a rebound of an initial shot stopped by Yale netminder Alec Richards.
On Saturday during his team's 8-2 romp over Brown, Genovy scored his team's sixth and eighth goals of the night. The back-to-back multi-goal games were the first of the senior winger's career, which has taken off this season. A four-year skater for Clarkson, Genovy assembled modest seasons — 13 points as a freshman, nine as a sophomore, and seven as a junior — during his first three years on the team. This season he has excelled; he is currently the team's third-leading scorer with 14 assists and 12 goals, seven of which have come on the power play.
Goaltender of the Week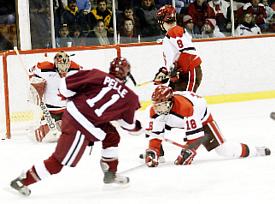 For the third time this year, St. Lawrence's Justin Pesony was named the league's GOTW. A pair of strong performances in net against Brown and Yale earned Pesony the recognition for the first time since the opening days of the season, when he was named GOTW for the first two weeks.
Pesony, a sophomore who has struggled at points this season, stopped 45 of 46 shots on the weekend and recorded his second shutout of the season on Friday against Yale. In addition to the pair of shutouts, he has a 17-9-2 record with a 2.81 goals against average and a .887 save percentage in his first full season in net.
Pesony saw limited time last season, appearing in seven games and compiling a 2-2-0 record with a 3.67 goals against average and a .895 save percentage.
Rookie of the Week
Clarkson freshman center Chris D'Alvise was named the Rookie of the Week after a five-point weekend. D'Alvise assisted on both of linemate Jeff Genovy's goals against Yale, and repeated the trick the next night against Brown while adding a goal of his own.
D'Alvise is the team's fifth-leading scorer, and its second highest scoring freshman behind Shea Guthrie. He has six goals and 17 assists in 31 games this season.
---
Also Honored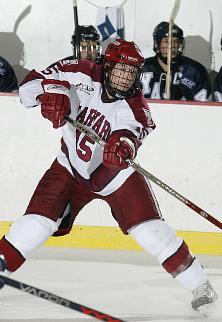 Two ECACHL players were named as finalists for the Walter Brown Award, given annually to the best American-born college hockey player in New England. Harvard senior Tom Walsh and Quinnipiac junior Reid Cashman, both defensemen, were among the 15 semifinalists.
One of the best defensemen in the nation and a finalist for the Hobey Baker Award last year, Cashman was not (oddly enough) among the nominees for last year's Walter Brown Award. Last season in Atlantic Hockey, Cashman scored 13 goals and contributed 32 assists. So far this season, his first in the ECACHL, Cashman has 35 points on three goals and 32 assists.
Walsh, a senior blueliner for the Crimson, is also a first-time nominee. Now a fixture on the Crimson's power play, Walsh is enjoying a solid season with two goals and 10 assists thus far.
Last year's winner of the Walter Brown Award was Harvard goaltender Dov Grumet-Morris. Grumet-Morris was the ninth Harvard athlete to win the award over its 54 years; in the last 20 years, the Walter Brown Award has often gone to a player at a Hockey East school.
And that makes some sense because every American-born player in Hockey East is eligible for the award, while a number of talented players from ECACHL schools — including three of the league's perennial best in Clarkson, Cornell and St. Lawrence — are ineligible.
Two interesting notes in Walter Brown Award history:
1) The three previous winners of the Award from Harvard were all Hobey Baker winners. They were Lane MacDonald (1989), Scott Fusco (1986) and Mark Fusco (1983).
2) The only non-Harvard Award winner from a current ECACHL school was Bob Gaudreau of Brown University, who won the Award as a defenseman in 1965.
---
In the weeks leading up to the ECACHL championship in Albany, I will be writing features on some of the league's most talented players. My intent is to introduce each player and present a compelling case for why they should or should not be considered for one of the league's awards.
Although I have a fairly firm idea of which players to present in each category, I'd love to hear some passionate arguments for or against them by the fans who have the opportunity to watch them week in and week out. If you'd like to critique my choices or if you think you have a compelling reason why one player is more deserving of the award than another, please send me an email.
The categories for the ECACHL awards are:
• Player of the Year
• Ken Dryden Award (Goaltender of the Year)
• Rookie of the Year
• Best Defensive Forward
• Best Defensive Defenseman
• Coach of the Year
---
USCHO.com/CSTV Division I Men's Poll (Feb. 20)
No. 7 Cornell — Cornell dropped one spot from last week's poll, after a home split with Dartmouth and Harvard. The Big Red's 3-1 win over Dartmouth was impressive, particularly considering how the Big Green had put together a 10-game league unbeaten streak before Friday night's loss. Saturday night's loss to Harvard was certainly disappointing given that the Crimson hadn't beaten Cornell at Lynah since 1999, and it was made all the more so by the fact that Saturday was the Big Red's senior night. I am of the opinion that Cornell only dropped one spot this week because most voters realize that Harvard's road record against top teams is particularly impressive and that while Cornell should be favored over Harvard at home, the two teams are very closely matched.
No. 15 Harvard — Harvard jumped three spots from last week's poll after gathering two points on the road against Colgate and Cornell. While Harvard was outplayed in almost all-facets of the game against the Raiders on Friday, the Crimson matched Cornell throughout Saturday's game and took advantage of an extended five-minute power play in the third to gain the win.
Interestingly enough, the Crimson's split produced only a slight bump in its PairWise position over the weekend, but the effect was greater in the polls. That is largely due, I feel, to the obvious difficulty that is inherent in skating into Lynah Rink and defeating Cornell on Senior Night. It also might be partially attributable to the fact that the game was televised live on CSTV, enabling many voters from around the country to get a sense of just how talented both teams are.
No. 18 St. Lawrence — St. Lawrence combined the strong goaltending it received from Justin Pesony with its usual balanced offense to record a pair of wins against Brown and Yale. The Saints, who were unranked in last week's poll, were the primary beneficiaries of the struggles of Lake Superior State and St. Cloud State. The Lakers were swept by Northern Michigan and dropped from No. 19 out of the Top 20. The Huskies, who were No. 14 in the previous poll, lost a pair to Minnesota State-Mankato and dropped into the Lakers spot, which in turn enabled St. Lawrence to jump from unranked to No. 18.
No. 20 Colgate — Colgate held onto its spot in the Top 20 with a home split against Harvard and Dartmouth. The Raiders looked strong during Friday night's win over the Crimson, but they were outplayed the next night against the Big Green. If the second highest unranked team from last week (Ohio State) had not been held to three points against Ferris State, I'm not sure if Colgate would still have made the cut.
Dropped
No ECACHL teams fell out of the Top 20 this week.
The PairWise Rankings
As in previous weeks, I like to include with my weekly column a short section focusing on the top three or four ECACHL teams and their particular PairWise situations. This section of my weekly column is simply a broad overview. For more detailed information, make sure to read Jayson Moy's "Bracketology" and Scott Brown's "The PairWise Analyzed" every Wednesday.
For my analysis, I'll utilize .004 Road, .0025 Neutral, and .001 Home for calculating the RPI "bonus." Using those numbers, here's where the ECACHL teams fall:
Cornell
Record: 16-6-4
Winning %: .6923
RPI: .5441
RPI Rank: 11th
RPI Bonus: .001 for a home ice win over Michigan State
PWR: tied for 8th (8th after tiebreaker)
Strong Wins:
• 4-2 win versus Michigan State
• 4-3 win at Harvard
• 5-2 win versus St. Lawrence
• 4-1 win versus Colgate
• 3-2 win at Colgate
• 3-1 win versus Dartmouth
Disappointing Losses:
• 6-1 loss at Dartmouth
• 3-0 loss at Princeton
• 3-1 loss at Clarkson
Notes: As Scott included in "The PairWise Analyzed," Cornell's weekend series against Rensselaer and Union could either help the Big Red a little bit or it could hurt severely. Right now neither Union nor Rensselaer qualifies as a Team Under Consideration (TUC), but with a pair of wins this weekend Union may well ascend to that level and Rensselaer might not be far behind with a .4879 RPI.
If the Dutchmen and the Engineers do win this weekend and become (either after this weekend or after putting together a winning streak in the ECACHL tournament) TUCs, that would pull down Cornell's strong record against TUCs. Its record against TUCs is the reason why Cornell currently wins comparisons against Michigan, Boston College, and Ohio State.
The one consolation that Cornell can take if Union and Rensselaer do become TUCs is that their elevation to that status dramatically hurts Harvard as well.
Harvard
Record: 15-10-2
Winning %: .5926
RPI: .5370
RPI Rank: 13th
RPI Bonus: .008 for a pair of road wins over Boston College and North Dakota
PWR: tied for 11th (12th after tiebreaker)
Strong Wins:
• 5-3 win at Boston College
• 4-3 win at St. Lawrence
• 1-0 win at New Hampshire
• 1-0 win at North Dakota
• 4-3 win at Cornell
Disappointing Losses:
• 5-2 loss at Quinnipiac
• 5-1 loss at Dartmouth
• 5-3 loss versus Boston University
• 4-1 loss at Colgate
Notes: Two TUCs will skate into Bright Hockey Center this weekend, and Harvard will be hoping for a sweep to both improve its PairWise position and to insure a bye in the first round of the ECACHL tournament.
Friday night's game against St. Lawrence is the most crucial since the Crimson and the Saints are currently 12th and 16th in the PairWise, but Saturday's game against Clarkson is almost as important. Right now the Golden Knights are the closest ECACHL team to a .500 RPI and the TUC status that it confers. If Clarkson were to fall out of TUC status, one of Harvard's losses against TUCs would be eliminated. If Clarkson beats Harvard, though, and moves on to cement its status as a TUC, then the Crimson will be lugging along an 0-2-0 record against the Golden Knights as a TUC.
Currently Harvard is tied with Boston College for 11th in the PairWise; BC has a very slight edge in RPI and record against TUCs, while Harvard enjoys a win in the teams' only head-to-head matchup and also a healthy edge in record against common opponents. Tied 2-2, BC wins the tiebreaker by having a slightly better RPI. A Crimson win against Clarkson (combined with a Dartmouth win over Clarkson) might drop Clarkson out of TUC status and tip the BC-Harvard comparison in the Crimson's favor.
Harvard has compiled an impressive record against top teams this season, but has struggled against league opponents. When examining the bonus-adjusted RPI rankings, this dichotomy presents an interesting case. Currently Harvard receives the third-highest RPI bonus at .008 (after Colorado College at .010 and Wisconsin at .009) thanks to its two big nonconference road wins over Boston College and North Dakota. A glance at the Crimson's record, though, shows another big nonconference road win against New Hampshire. Currently the Wildcats are 19th in bonus-adjusted RPI, but they have weekend series against No. 17 Providence and No. 12 Boston College over the next two weekends. It would require a fairly complex set of wins and losses, but if UNH puts together a strong winning streak over the next two weekends and advances into the Hockey East tournament, the Crimson could find itself with a late-season bump in its RPI that would in turn boost its PairWise position.
St. Lawrence
Record: 17-11-2
Winning %: .6000
RPI: .5363
RPI Rank: 14th
RPI Bonus: .004 for an early-season road win at Wisconsin
PWR: tied for 15th (16th after tiebreaker)
Strong Wins:
• 2-1 OT win at Wisconsin
• 5-3 win versus Providence
• 2-1 win at Vermont
• 3-2 win versus Colgate
Disappointing Losses:
• 3-2 loss at RIT
• 3-1 loss at Brown
• 4-3 loss at Princeton
• 3-1 loss at Quinnipiac
Notes: Just as with Harvard, this weekend is absolutely critical for the Saints as they face two TUCs in Harvard and Dartmouth. A pair of wins would bump up St. Lawrence's RPI, and it would push the team's record against TUCs above .500. That would be very helpful because unlike Clarkson, Union and Rensselaer, neither Dartmouth nor Harvard is falling out of TUC status this season.
Looking at the Saints schedule, particularly against non-conference opponents, there are a couple of unlikely chances for the team to receive an RPI bump. Joe Marsh's team recorded a home ice win over Providence, who is two spots from having an RPI in the Top 15. The team also recorded a strong road win at Vermont, but the Catamounts are currently 24th in the RPI and are very unlikely to break into the Top 15. Just as Harvard will root for UNH this weekend on the off-chance the Wildcats can somehow crack the Top 15, so too should the Saints align their prayers with the Providence Friars, UNH's opponents.
ECACHL Schedule Scenarios
As of Thursday, February 23
Place if team finishes with…
Team
ECACHL Record
Current
Points
Possible
Finishes
4 Points
3 Points
2 Points
1 Point
0 Points
Cornell
12-5-3
27
1 to 4
1
1
1 to 3
1 to 3
1 to 4
Colgate
12-6-2
26
1 to 6
1 to 3
1 to 3
1 to 4
2 to 5
3 to 6
Dartmouth
12-6-2
26
1 to 5
1 to 2
1 to 3
1 to 4
1 to 5
3 to 5
St. Lawrence
12-7-1
25
1 to 6
1 to 3
1 to 4
2 to 5
3 to 5
5 to 6
Harvard
11-8-1
23
1 to 8
1 to 4
3 to 6
4 to 6
5 to 8
5 to 8
Union
9-7-4
22
3 to 8
3 to 6
5 to 6
5 to 7
5 to 8
6 to 8
Rensselaer
9-9-2
20
5 to 8
5 to 7
5 to 8
7 to 8
7 to 8
7 to 8
Clarkson
7-7-6
20
5 to 8
5 to 8
5 to 8
6 to 8
7 to 8
8
Quinnipiac
7-12-1
15
9 to 11
9
9 to 10
9 to 11
9 to 11
10 to 11
Princeton
6-12-2
14
9 to 11
9 to 11
9 to 10
9 to 11
9 to 11
10 to 11
Yale
6-12-2
14
9 to 11
9
9 to 10
9 to 11
10 to 11
11
Brown
2-14-4
8
12
12
12
12
12
12