Six straight 20-win seasons and no postseason titles — that is the record to date for the St. Lawrence women's hockey program. But the stage is set for better postseason fortunes this weekend, now that the Saints are a 30-win team and ECACHL tournament host for the first time ever.

To claim the league title and NCAA autobid, St. Lawrence must first get by its longtime postseason nemesis, two-time defending ECACHL postseason champion Harvard. The potential final opponents look no less formidable. Brown, looking to repeat its successful Olympic-year ECAC title run of 2002, is coming off an impressive sweep of Dartmouth. Princeton has won nine straight since its last loss to SLU. The Tigers have effectively secured an NCAA at-large berth, while both Brown and Harvard are playing with their seasons on the line.
The schedulemakers could not have planned any better — both league semifinals are rematches of games played on the last Friday of the regular season.
Sunday's 2 p.m. final will be broadcast live on CN8, whose live video feed is available online here.
All player and team rankings refer to ECACHL regular season play.
No. 4 Harvard (16-12-4, 10-6-4) at No. 1 St. Lawrence (30-3-2, 16-2-2)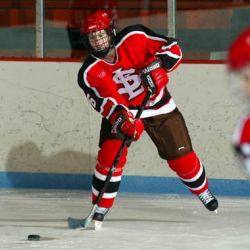 Game Time: Sat. 1 p.m.
Broadcast Info: Live audio from St. Lawrence.
Previous Meetings:
Jan. 13: Tie 2-2 (Recap)
Feb. 24: St. Lawrence 3-0 (Recap)
Top Scorers
SLU: Sabrina Harbec, 15-21-36 (1st)
Harvard: Jennifer Raimondi, 10-21-31 (3rd)
Top Goalies
SLU: Jess Moffat, 9-1-0 (1st), 0.97 (1st), .949 (1st)
Harvard: Ali Boe, 7-4-2 (6th), 1.82 (5th), .932 (4th)
Offense: SLU 4.15 (1st), Harvard 2.90 (3rd)
Defense: SLU 1.10 (1st), Harvard 1.95 (5th)
Power Play: SLU 24.3 (1st), Harvard 20.4 (3rd)
Penalty Kill: SLU 90.3 (1st), Harvard 87.6 (5th)
Penalty Minutes: SLU 14.3 (2nd), Harvard 12.9 (6th)
Outlook: Harvard has been reasonably successful at limiting the Saints' offense, but scoring against their defense has been a far greater challenge. Of the Crimson's two goals against St. Lawrence this season, one was a gift on a bad Saints line change and the other was an extra attacker goal. To pull an upset, Harvard will likely need to maintain its previous level of defensive execution, stay out of the box, and hope Jennifer Sifers plays like she did in her two-goal game against Clarkson last Sunday and Jennifer Raimondi plays like she did in her two-goal against Clarkson the Sunday before that — a tall order, for sure… The Saints are coming off their worst defensive weekend of the season in surrendering five goals to Yale, save for the six-goal weekend against St. Cloud when star defensemen Kerri Wallace and Annie Guay missed play for the Canadian U-22 championships… The Saints offense, meanwhile, has been in high gear. Sabrina Harbec has 10 goals and 12 assists in her 12-game point scoring streak, while reigning USCHO Offensive Player of the Week Emilie Berlinguette is showing signs of being the offensive force she was a year ago. Princeton and Harvard were the only teams to limit the Saints to three goals in February… Harvard has outscored SLU 20-5 in the program's three previous ECACHL tournament meetings — all Harvard wins. Harvard also beat St. Lawrence 2-1 and 4-1 in the 2004 and 2005 Frozen Four semifinals, respectively. Two of the ECACHL wins and the two Frozen Four wins were part of Harvard's 9-0-4 head-to-head unbeaten streak that SLU snapped in February. This is Harvard's eighth straight trip to the ECACHL semifinals.
No. 3 Brown (14-12-5, 10-6-4) at No. 2 Princeton (21-6-4, 15-3-2)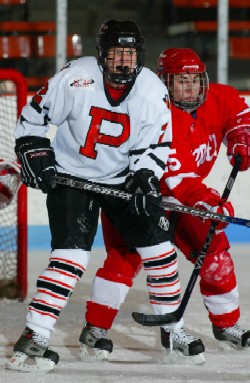 Game Time: Sat. 4 p.m.
Broadcast Info: Live audio from Brown.
Previous Meetings:
Jan. 7: Brown 4-3 (Box)
Jan. 24: Princeton 3-2 (Recap) (Broadcast)
Top Scorers
Princeton: Annie Greenwood, 20-6-26 (3rd)
Brown: Hayley Moore, 14-12-26 (3rd)
Top Goalies
Princeton: Roxanne Gaudiel, 13-2-2 (3rd),
1.40 (4th), .928 (6th)
Brown: O'Hara Shipe, 6-5-3 (7th),
1.89 (6th), .924 (8th)
Offense: Princeton 3.65 (2nd), Brown 2.30 (8th)
Defense: Princeton 1.50 (3rd), Brown 1.85 (4th)
Power Play: Princeton 22.0 (2nd), Brown 15.1 (7th)
Penalty Kill: Brown 88.9 (3rd), Princeton 88.2 (4th)
Penalty Minutes: Brown 13.5 (4th),
Princeton 10.9 (9th)
Outlook: Princeton clearly established itself as the league's second-best team with its current nine-game win streak, including the 3-2 win over Brown that helped wrap up the Tigers' first Ivy title since 1995… Princeton has reached the ECACHL semifinals four times in program history but never advanced to the final. The most recent semifinal defeat was to Dartmouth in 02-03… After backing into third place in the league with a 1-3-3 mark for February, Brown finally came out firing an all cylinders against Dartmouth in the league quarterfinals… While Brown's power play has been weak overall, it did provide goals in both wins over Dartmouth and both meetings with Princeton… Brown is just 6-8-3 on the road this season… Princeton is 17-0-1 when leading after two periods… Princeton had allowed just six goals in eight games before giving up four to Colgate its last time out.