First things first:
• In the 25 WCHA first-round playoff series over the last five years, the home team has advanced 23 times. This may be a time of increasing parity in the league in the regular season, but that hasn't carried over to the playoffs.
• Even more stunning than both Minnesota-Duluth and Michigan Tech getting shut out for the weekend by Minnesota and North Dakota, respectively? For the Huskies, it's the second time this season they've gone an entire series without hitting the net. The Bulldogs, meanwhile, have been outscored 28-3 in their last six games.
• It'll be interesting to see where Wisconsin goes from here. The Badgers showed signs last weekend that they're done slumping, but the playoffs — where they're 4-8 over the last three years — will be the true test.
Home Is Where The Wins Are
It's easy to think there will be an upset or two in the first round of the WCHA playoffs, what with the less-than-stellar overall 65-61-14 record for home teams in league play this season. But consider three factors:
• The teams that will host this weekend combined for a 42-25-3 home league record.
• The road teams have only two victories in 16 games this season against the teams they'll play.
• In 65 first-round series during the Final Five era, dating to 1993, only nine times has a road team won it.
Alaska-Anchorage, Michigan Tech and St. Cloud State know it can be done because their programs have all bucked the odds in the first 13 years of the 10-team tournament. Michigan Tech (1994, 1996) and St. Cloud State (1996, 1999) each have pulled an upset twice, while the Seawolves came through two years ago against Wisconsin.
That 2004 playoff season was the only time in the last five years that a road team has advanced to the Final Five, and both UAA and Colorado College did it that year. Otherwise, there have been a few game wins for the lower-ranked teams but no celebrating at the end of the weekend.
Maybe it's a growing disparity between the top teams and the bottom teams as the season goes on — especially between the top three and the bottom three. Maybe under the hot lights of the playoffs, home ice is enough of a comfort to provide a lift.
"I think that this time of the year, the athletes are fatigued," Denver coach George Gwozdecky said. "They have gone through a long, grueling season already, and I think the home-ice advantage is even more of an edge than it is during the regular season. Especially when you are considering a series and everything that's on the line, I think the home-ice advantage is so much more of a factor now than it is during the regular season."
Trivial Matters
Since the league started playing best-of-three series in the first round of the playoffs in 1988, how many WCHA tournament champions have lost a game in the first round? Answer below.
Ten To Make Five
Wisconsin coach Mike Eaves equates the start of the playoffs with a significant crank of the volume knob. The regular season may have been intense, but in the playoffs, the dial goes to 11.
That leaves a significant question for each of the WCHA's 10 teams this weekend, which Eaves posed in respect to his own team's series with Michigan Tech:
"Who's going to turn up the volume? Is it going to be us or them?"
Catching up isn't easy in the postseason, so playing at your tempo from the start is critical — maybe even the difference between going to St. Paul and watching from home.
That's one of the things to look for around the league this weekend. Here's a look at the five first-round series on tap:
No. 10 Alaska-Anchorage at No. 1 Minnesota
Season series: Minnesota won 4-0.
Since 10th-seeded Michigan Tech knocked off top-seeded Colorado College in 1994, we've been waiting to see who'll do it next. As shocking as that series result was, the Seawolves advancing this year would be somewhat unbelievable.
Not just because there was a 32-point difference between the teams in the standings, although that's a pretty strong piece of evidence. While Minnesota has won 18 of its last 20 games, the Seawolves haven't won since Jan. 6.
There's also the fact that Minnesota players have lit up UAA this season. In four games, Ryan Potulny has seven goals and 11 points while Phil Kessel has two goals and 11 points.
The Seawolves can hold some hope from the fact they played two one-goal games against the Gophers this season. The other were shutouts, 9-0 and 4-0.
No. 9 Minnesota-Duluth at No. 2 Denver
Season series: Denver won 2-0.
Just think of where these teams have been since meeting in the 2004 national semifinals. Denver won that game, the national championship two days later and a second straight title a year later. The Pioneers have 53 wins since that Frozen Four game in Boston.
Minnesota-Duluth has finished sixth and ninth in the WCHA and has only 24 victories since. And the Bulldogs can't be going into the playoffs with much confidence. They're on a six-game losing streak in which they've been shut out four times. They have won only one of their last 14 games.
Denver, meanwhile, still isn't in a rock-solid position in terms of the PairWise Rankings when bonus points are added, so advancing in two games has to be a priority. The Pioneers have the WCHA's scoring champion (Paul Stastny) and arguably the league's best defenseman (Matt Carle), and a cast of other veterans who know what it'll take in the playoffs.
No. 8 Michigan Tech at No. 3 Wisconsin
Season series: Wisconsin won 2-1-1.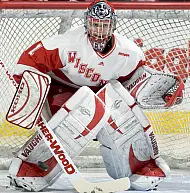 Wisconsin needed victories in a bad way last weekend, and the Badgers got them against St. Cloud State by returning to the form that got them 18 wins in their first 22 games of the season. They played an intelligent, hardworking brand of hockey and got some good goaltending from Brian Elliott.
But are the Badgers completely over the run of poor form that cost them the MacNaughton Cup? And are they playoff ready? Wisconsin was 2-3 in the postseason in each of the past two seasons, when their first-round series went to three games. It won last year's deciding game against Alaska-Anchorage but missed out on the Final Five in 2004.
Michigan Tech can enter this series with some degree of confidence from a 4-2 victory over the Badgers at the Kohl Center in December and a two-goal, third-period comeback that earned a 4-4 tie with Wisconsin last month. But the Huskies need to get off to a good start, something that has troubled them of late. They have been blanked or scored one goal in four of the last five series openers, all losses.
No. 7 Minnesota State at No. 4 North Dakota
Season series: North Dakota won 2-0.
Minnesota State and North Dakota have had interesting playoff games in the past. The year before the Mavericks became a full-time member of the WCHA, they won the first game of their 1999 playoff series against the league champion Sioux, only to lose the next two, including a 10-0 drubbing in Game 3.
If the Mavericks can continue the form that they used to win their last four games of the season, they'll be right in this series. That's a big if, however, because of the week off Minnesota State had to endure at the close of the regular season.
The Sioux got to the national championship game last season in large part because goaltender Jordan Parise got hot. Will it be the same this season? Parise blanked Michigan Tech in both games last weekend, but that came on the heels of a four-goal third period allowed to Denver. They also got help down the stretch last season from forward Erik Fabian, but the junior is done for the season after suffering a knee injury last Saturday night, according to the Grand Forks Herald.
Minnesota State's power play is operating at 25 percent (5-for-20) in its four-game winning streak while UND allowed four power-play goals in its 7-3 loss to the Pioneers on Feb. 25, so that's an area to watch this weekend.
No. 6 St. Cloud State at No. 5 Colorado College
Season series: Colorado College won 3-1.
It's a rematch of last year's first round, only St. Cloud State isn't nearly as bad as it was last year and Colorado College isn't as good. The Tigers made short work of the Huskies last season, but this series figures to be better, if for no other reason than Huskies goaltender Bobby Goepfert.
Goepfert has been St. Cloud State's anchor this season, and that has been critical for the often-low-scoring team. The Huskies finished the conference season seventh in offense but second in defense, thanks in large part to Goepfert's presence. They also can thank the junior transfer for many of their 13 conference wins — five came by a one-goal margin.
The Tigers started strong this season but have fizzled in the second half, hitting bottom with a 9-1 home loss to Wisconsin on Jan. 14. Since opening the second half with Great Lakes Invitational wins over Michigan and Michigan State that are now playing key roles for bonus points in the PairWise, CC is 6-7-1.
And the Tigers will be playing with an injured Brett Sterling, who missed last Friday's regular-season finale against Denver because of a left leg injury, according to The Gazette of Colorado Springs.
Our Picks, Part One
Just for kicks, here's how we'd pick some of the WCHA awards:
Player of the year: Matt Carle, Denver. Consistency and a high skill level make Carle a fair pick, even if there could be arguments made for others.
Coach of the year: Don Lucia, Minnesota. Yes, his team was picked for first and finished there. But you've got to look at the road and not just the destination. The Gophers lost Tyler Hirsch early and have played most of the season without Nate Hagemo, one of their top defensemen. They started slowly but picked things up in plenty of time to take over down the stretch. St. Cloud State's Bob Motzko gets major consideration and may have been the choice if the Huskies earned home ice for the playoffs.
Rookie of the year: Phil Kessel, Minnesota. Another tough call, especially because one-third of Kessel's 33 WCHA points came in four games against last-place Alaska-Anchorage. The decision between Kessel and North Dakota's T.J. Oshie came down to the fact that so much was expected of Kessel and, as a point-plus-per-game scorer, he hasn't disappointed.
All-WCHA first team: Forwards — Ryan Potulny, Minnesota; Joe Pavelski, Wisconsin; Paul Stastny, Denver. Defensemen — Carle; Tom Gilbert, Wisconsin. Goaltender — Brian Elliott, Wisconsin.
Even if seven of Potulny's 23 league goals came against Alaska-Anchorage, his 15 league games with at least one goal and seven multi-goal games were impressive stats. Pavelski scored eight goals and 16 points against the top three opposing defenses, the highest totals among top scorers in the league. Stastny's merely ordinary plus-4 rating was a concern, but he won the WCHA scoring race with a multi-point effort in 14 of his team's 28 league games.
Carle was an easy pick for the first team, and Gilbert joined him for his steady defensive play, 11 overall goals and an overall plus-23 rating. Elliott beat out St. Cloud State's Goepfert on the last weekend with a series that showed his struggles may have been an anomaly.
Why not CC's Sterling in one of the forward spots? Ten of his 28 goals came in non-conference play, and half of his 32 league points came against the WCHA's bottom three defensive teams. And North Dakota's Drew Stafford got plenty of consideration for his overall plus-23 rating and his 16 league goals, but he racked up 12 of those goals against the league's bottom three defenses.
All-WCHA rookie team: Forwards — Kessel; Oshie; Jonathan Toews, North Dakota. Defensemen — Taylor Chorney, North Dakota; Brian Lee, North Dakota. Goaltender — Dan Tormey, Minnesota State.
Toews shaded Minnesota-Duluth's Mason Raymond and Colorado College's Chad Rau for the final forward spot on the strength of 14 league goals. Denver's Chris Butler was a strong candidate for one of the defensive spots but his minus-3 rating, when compared to Chorney's plus-20 and Lee's plus-10, was a down side.
Our Picks, Part Two
It has become humbling in recent years to look back at the preseason predictions and compare them with the actual WCHA finish. This season, however, must have been an anomaly: We correctly picked the finish of four teams and were just one position off with four others.
Or does that just mean there were fewer surprises in the WCHA this time around? The only teams we missed badly on were Minnesota-Duluth (picked for sixth, finished ninth) and St. Cloud State (picked for eighth, finished sixth).
Compared to last year's standings, three teams lost three positions to tie for the biggest fall. Colorado College went from a tie for first to a tie for fourth, Minnesota-Duluth went from sixth to ninth and Alaska-Anchorage went from seventh to 10th.
St. Cloud State advanced three positions, from ninth to sixth, to record the biggest gain.
The Huskies also had the largest improvement in terms of points, going from 17 last season to 28 this season for a gain of 11. Alaska-Anchorage lost 11 points, from 22 to 11, to set the largest loss.
Back To Form
Wisconsin's Elliott may have been motivated by having to compete for his starting job in practice the day before the series opener last week. Or not.
"To be honest, I hate letting in goals," Elliott said. "You can say all you want, it's this and that, but when it comes down to it, you want to play your position the best that you can. I just wanted to be solid back there for these guys, especially on senior weekend."
He was in leading the Badgers to a much-needed sweep of St. Cloud State. He tied a Wisconsin record with his fourth shutout of the season on Friday, then stopped a career-high 37 shots a night later in a 3-1 victory.
Elliott had allowed 15 goals in three games since returning from a knee injury, but last weekend he started to return to the composure and form of the goaltender who earned Hobey Baker Award attention through the first half of the season.
"I take it he has a little confidence again going back into the playoffs," Motzko said. "Whatever people were writing about him, you can get a different pen out now."
Elliott won the WCHA's goaltending title, posting a 1.84 goals against average in league games. He also led the league in save percentage (.930) and tied with Minnesota's Kellen Briggs for the top record (15-3-3).
PairWise Push
Denver is 8-3-1 since the Jan. 18 debut of the PairWise Rankings, which at that point showed the Pioneers in 26th.
It's not just a coincidence.
"When the PairWise Rankings came out … all of a sudden there it was in black and white that, you know what, no matter how good we thought we were, the numbers stated differently," Gwozdecky said. "It really put it into a very concise form where we were and where we needed to go. I think we finally got interested. I think we finally stood up and took notice. Because of that, our whole team started understanding how we needed to play."
The Pioneers enter the postseason in a tie for eighth in the PairWise, although they fall to a tie for 11th with bonus points added on a 3-2-1 scale.
Nothing To Lose
Alaska-Anchorage is in a familiar position of needing to get extraordinary goaltending just to have a shot this weekend at Minnesota.
Two years ago, the Seawolves knew they were going to need a similar performance to get past Wisconsin, and it happened. But they also got timely goals, too.
"It's the same type of mentality as far as going into the series with nothing to lose and playing your best hockey," Seawolves coach Dave Shyiak said. "Some of those juniors and seniors know the feeling of getting to the Xcel Energy Center and playing in the Final Five. That's great experience and hopefully those guys can carry that on with some of our younger guys."
Shyiak said the Seawolves need to generate more offense than they did against the Gophers two weeks ago, and then they need to capitalize on those chances.
Otherwise, it'll be the end of what the first-year Seawolves coach called a frustrating season.
"I think we're better than our record, but I think the biggest thing for us is we weren't consistent in our play throughout the year," Shyiak said. "There were times we played really well and there were times in games against good teams we played real well. Then we had lapses."
Pressure's On
Lower-ranked teams can't afford to defeat themselves by thinking they're overmatched before they even take the ice. But there's nothing that says they can't try to put some weight on the opposition.
"I think certainly the pressure's on Wisconsin," Michigan Tech coach Jamie Russell said in advance on his team's series with the Badgers. "They've been highly ranked all year. They're expected to win the series.
"We're an eighth-place team that has knocked off some big teams. We've played some very good games against top-ranked opponents. It's a great time of year for our guys. They're on spring break, they don't have any school, they don't have any studies. It's focusing on hockey."
The focus for a team looking to win on the road is on a few key areas, Russell said: goaltending, special teams and controlling momentum.
Solid From 108 Feet
An attempted neutral-zone pass turned into a near icing and then a goal, all without touching another stick.
Strange as it may sound — and it looked about the same — that's how Wisconsin's Gilbert gave the Badgers a 2-0 lead over St. Cloud State 12 seconds into the second period last Saturday.
Gilbert, about two strides ahead of his own blue line, tried a pass forward for Pavelski, but it missed and continued into the Huskies' end. Goepfert slid over to the left post and played for icing, but he misjudged the angle and the puck instead glanced off the left post and into the net.
Motzko called it a big mistake. "Thank god we get it out of our hair now," he said.
In Other Words
• League players of the week were Denver's Stastny at forward, Wisconsin's Elliott on defense and Minnesota's Ryan Stoa and North Dakota's Toews as the top rookies.
• Minnesota's Potulny was the national player of the month for February, as chosen by the Hockey Commissioners' Association.
• Michigan Tech's Chris Conner needs one shorthanded goal to tie for the all-time WCHA lead, 16, held by Northern Michigan's Joe Frederick.
• Minnesota has three straight shutouts. It hasn't recorded four in a row since registering six in a row in 1929.
• Trivia answer: Two. Wisconsin won the 1995 championship after rallying from a first-round Game 1 loss to Northern Michigan and North Dakota claimed the 2000 title after Denver losing Game 2 of a first-round series to Denver.