A wild weekend full of intense overtime action and surprising upsets marked the start of the ECACHL Tournament; in only one series did the higher seed sweep its opponents, and the series that is usually judged to be the least competitive — the No. 5 versus No. 12 series — turned out to be the most closely fought of the four.
---
The biggest event of the weekend occurred in Schenectady, N.Y. It began on Saturday night but didn't draw to a close until the wee hours of Sunday morning as Yale defeated Union 3-2 in the longest game in men's NCAA hockey history.
The game ended in the fifth overtime on a shorthanded goal from Yale's David Meckler; the total official game time was 141:35.

"It was exciting," said Yale coach Tim Taylor in a classic understatement.
"It was like a heavyweight prizefight," Taylor went on. "As the overtimes wore on, it seemed like both fighters were punched out. In the midst of the third overtime, I found myself wondering how anyone was going to score."
The overtimes were representative of the entire series, as the two teams found themselves evenly matched and heading into intermission on Friday night as well. While Union had an advantage in shots on net, the score was tied 1-1 through 60 minutes on Friday and stayed that way through half of the first overtime. Bulldog forward Matt Cohen took advantage of a Union miscue to drive on net with the puck and give Yale a 2-1 win in the 70th minute.
"It was sure nice to open from a position of strength," said Taylor. "To win that game, especially on the road … I was thrilled that we won on Friday night and had them behind the 8-ball going into game two."
While Taylor's Bulldogs might have had an advantage heading into the game, the Dutchmen came out ready to play. Coach Nate Leaman's team scored a power-play goal midway through the first period to take a 1-0 lead, and then put on a strong effort in the third to outshoot the Yalies and score the game-tying power-play goal at 2-2.
As the game progressed from overtime to overtime, both teams grew fatigued and the players were starting to cramp up. Concerned parents brought food and drinks and passed them down to players at intermissions; the coaches tried to conserve their players' energy by keeping shifts short and emphasizing defense and conservative plays to prevent costly mistakes. But despite the grueling nature of the game and the natural anxiety that is a part of both overtime and of playoff college hockey, both teams were positive.
"The attitude on our bench and the commentary from our players was all positive," said Taylor. "It was a special event to be a part of."
---
While not as noteworthy for the record books, the series in Canton, N.Y., between St. Lawrence and Brown also proved exceptional. And while most fans might have expected an uncompetitive series between the No. 5 and the No. 12 teams in the league, St. Lawrence coach Joe Marsh said he, his staff, and his players knew differently.
"Brown is a much better team than people realize," he said. "We knew it was going to be a dogfight of a series."
The Bears, despite being a decided underdog and playing in front of the enthusiastic fans of Appleton Arena, jumped out to early leads in the first two games. St. Lawrence had to fight its way back on both nights to tie the game and to force overtime on Friday, this despite outshooting the Bears 54-27 on Friday night and 56-13 on Saturday.
The Saints got a goal 25 seconds into overtime from Mike Zbriger to win Friday's game 3-2, but Brown won Saturday night's contest on a rocket of a shot from forward Jeff Prough.
"Prough — that kid's a player," Marsh said. "He just stepped up and blasted it; that was a great shot."
In Sunday night's deciding game, St. Lawrence held an early lead and forced Brown to rally for ties at 1-1 and 2-2. The Saints then scored two unanswered goals, forcing Brown to rally for the tie, which the Bears achieved on an extra-attacker goal with 3.5 seconds left in regulation. Ultimately though, St. Lawrence pulled out the win in overtime thanks to a shot from Kevin DeVirigilio that deflected off Brock McBride's skate.
"Like most of our year, we played some good hockey but we just couldn't seem to get that next big goal to get over the hump," said Brown coach Roger Grillo.
The most impressive aspect of the weekend, besides the tightly-matched teams and the overtimes, was the play of Brown goaltender Adam D'Alba. His team was badly outshot each night — the closest night was Sunday, when St. Lawrence only outshot the Bears by 20 — and yet D'Alba came up with critical saves to keep his team in each contest.
"Adam played really well," said Grillo. "He was in a groove this weekend, and he really gave them some fits."
"[D'Alba] was fantastic," Marsh agreed. "The whole weekend he was unbelievable. It was good a performance as I've seen in this building, maybe ever."
Marsh then went on to recall how this performance may have been better than that of some goaltender that used to play for Wisconsin in the late 1980s. That goaltender's name? Curtis Joseph.
---
Marsh's team will again play in what might be the most competitive of the second-round series when it travels to Harvard to face the Crimson. The two teams met most recently during the last weekend of the regular season, where a 3-2 Harvard victory helped clinch a first-round bye for the Crimson.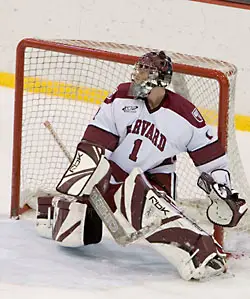 Both contests between the two teams this season have been decided by one goal, and while St. Lawrence has been competitive in both games — and probably outplayed the Crimson for 45 minutes during the game in Canton — the play of goaltender John Daigneau has allowed Harvard to win both games.
Marsh thinks that if nothing else, the three close games against Brown will have emphasized for his team the importance of controlling its play.
"With overtimes, learning how to play through anxiety and emotion, you get battle hardened," he said. "It makes you tune into the little things you have to do to win."
"Harvard's a good team," he said. "They have home ice, and they've beat us twice this season."
"We've got to go into the series with an underdog mentality," he added."
Marsh's recent opponent and his upcoming opponent, though, were quick to emphasize the talent and skills on the St. Lawrence roster.
"St. Lawrence will give any of the remaining teams a run for their money," Grillo said.
"This is a very skilled team," said Harvard coach Ted Donato. "Offensively they are very dangerous."
"And although we won both games this year they were both very close," he added. "This is a team that last year fought us for every inch of the ice in the playoffs."
---
Paying attention to the little things might not be as easy in Hanover, where Dartmouth's players have slightly bigger things like final exams to contend with, in addition to a second-round series against Yale.
"It's the way the schedule always falls," said Dartmouth coach Bob Gaudet. "That's just the quirks of it. There's nothing we can do about it, just try and stay focused."
Although it has gained momentum from its upset win over Union, Yale is the lowest seed remaining in the tournament and is a team against which Dartmouth has played well this season. The Big Green have defeated Yale twice this season, 9-4 in New Hampshire and 6-4 in New Haven, and in both games Dartmouth outshot the Yalies badly.
"Yale beat a real good team in Union in their own building," Gaudet said. "They're a well-coached team, they're a skilled team. And their goaltender has been playing really well."
"It's a whole new season for us and for them."
---
Quinnipiac, the No. 10 seed overall that pulled a surprising two-game sweep of Rensselaer on the road last weekend, will travel to face Colgate in Hamilton, N.Y. The Bobcats received strong play in net from freshman Bud Fisher in their two wins against the Engineers; in Friday's 2-1 win, Fisher stopped 28 of 29 shots and held RPI scoreless on five power plays. And the next night Fisher allowed just a pair of goals on 35 shots.
While Colgate, to whom the Bobcats lost twice this season, will present a serious challenge, by finishing in 10th place in the league and advancing at least into the second round of the ECACHL tournament Quinnipiac has already achieved more than some expected in its inaugural season in the ECACHL.
Tim Taylor is not one of those people.
"Rand Pecknold has done a terrific job at Quinnipiac," said Taylor. "Their success hasn't surprised me much — I knew they were going to be a very good program."
---
For Clarkson, the 2-0 series win over Princeton was about winning a close game on Friday night by a score of 2-1 and then carrying that momentum over into a more convincing 5-0 win on Saturday.
"It could have gone either way on Friday night," said Clarkson coach George Roll. "I thought David Leggio came up with some big saves for us, and then we went out and played a really complete game on Saturday night."
"It was one of our best games of the year," he added.
The challenge for this weekend is to take that momentum and maintain that momentum on the road against Cornell. While playing at Cornell is likely the most challenging road venue in the league, any away game has proven tricky for Clarkson this season. The Golden Knights have compiled a record of 14-2-2 in Cheel Arena, but have struggled to a 3-13-0 mark on an opponent's home ice.
"We know we need to play better on the road, and that's what we are working on," Roll said.
That task is doubly important against Cornell, where even one careless or sloppy play can given the Big Red's special teams units a chance to break open the game.
"They're a very good defensive team, Roll said.
"We need to be patient against them, and you've got to be disciplined," he emphasized. "You can't get involved in a special teams game with Cornell."
One factor that promotes confidence among the Golden Knights is the team's past success in the playoffs at Lynah. The last two seasons have both seen Clarkson head into Cornell for the playoffs, and while the Golden Knights were swept out in two games last year, the year before they rallied from a 1-0 series deficit to defeat Cornell and advance to the ECACHL championship game.
"It does help to know that we've gone into their building and won a series," said Roll. "But I'm sure they remember that fact, too."
---
The PairWise Rankings
Here is my brief weekly look at USCHO's PairWise Rankings and the particular PairWise situations of the top three or four ECACHL teams. As usual, this section of my weekly column is simply a broad overview. For more detailed information, make sure to read Jayson Moy's Bracketology articles and Scott Brown's PairWise Analyzed articles every Wednesday.
A quick explanatory note: The overall record of some ECACHL teams may not be the same as the team's record on USCHO's RPI and PWR calculators. This is due to that team's (Cornell and St. Lawrence, for example) games against RIT. The Tigers are in their first season of play at the Division I level, and are not eligible for the NCAA tournament this season. As such, games played against RIT do not count towards a team's RPI (and do not affect its PairWise Ranking).
For my analysis this week I will continue to utilize the .004 Road, .0025 Neutral, and .001 Home figures for calculating the RPI "bonus." Using those numbers, here's where the ECACHL teams fall:
Harvard
PairWise Rank: tied for 8th with North Dakota, 8th after tie-breaker
RPI Rank: 8th with an RPI of .5478
RPI Bonus: .0080 points for a pair of road wins over New Hampshire and North Dakota
Record Rank: 13th
Record: 17-10-2
Winning %: .6207
Strength of Schedule Rank: 22nd
Strength of Schedule: .5128
Notes: Harvard finds itself well-positioned for the NCAA tournament, despite nearly missing out on a first-round bye in its won league. The Crimson is assisted by a fairly strong RPI, which is partially the result of quality nonconference wins.
In my projection using a 4-2.5-1 bonus model, Harvard again receives .0080. This week, though, New Hampshire has replaced Boston College as one of Harvard's quality wins. The Eagles have struggled of late, and are at No. 17 in the RPI. If Boston College makes a run through the Hockey East tournament, though, Jerry York's team could again make the Top 15, giving a late-season bonus to Harvard.
Harvard's record against Teams Under Consideration (TUC) may either improve or take a hit, depending on the outcome of this weekend's series against St. Lawrence. As a corollary to that, if Cornell knocks Clarkson from the ranks of TUCs, Harvard's record in that area would improve slightly. A perfect weekend for Harvard — a sweep of St. Lawrence and a 2-0 series win by Cornell over Clarkson — would boost the team's RPI and supplement its record against TUCs, moving the Crimson from a 9-6-1 record to a mark of 10-5-1 and possibly turning a handful of comparisons in Harvard's favor.
Cornell
PairWise Rank: 10th
RPI Rank: 12th
RPI: .5439
RPI Bonus: .0010 points for a home ice win over Michigan State
Record Rank: 6th
Record: 17-7-4
Winning %: .6786
Strength of Schedule Rank: 34th
Strength of Schedule: .4977
Notes: As Scott and Jayson noted this week, Cornell's series against Clarkson could produce a number of complicated twists in the PairWise. After briefly dropping from TUC status after being swept by Dartmouth and Harvard in the last weekend of the regular season, Clarkson's first-round sweep of Princeton brought the Golden Knights back into TUC status.
While a pair of losses may well leave Clarkson below a .500 RPI once again, Jayson noted a truly frightening scenario for Cornell fans should the Big Red be swept on its home ice. Any other scenario — a 2-0 series win for Cornell, a 2-1 series win for Cornell, a 2-1 series win for Clarkson — will not hurt the Big Red's NCAA chances significantly.
Dartmouth
PairWise Rank: 17th
RPI Rank: 16th
RPI: .5341
RPI Bonus: None
Record Rank: 19th
Record: 16-11-2
Winning %: .5862
Strength of Schedule Rank: 19th
Strength of Schedule: .5167
Notes: Dartmouth will be faced with a Yale squad enjoying a great deal of momentum in the wake of the Bulldogs upset series win over Union, and the game presents a potential pitfall for the Big Green while offering scant help towards improving its PairWise position.
Dartmouth's chances of making the NCAA tournament as an at-large bid are fairly remote right now, and they'd become microscopic with a 2-1 series win and nonexistent with any form of series loss. A sweep is what Dartmouth needs just to tread water, and then it would have a chance to prove itself against the mettle of the ECACHL the following weekend in Albany.
One interesting note is the strength of Dartmouth's schedule, which is a bit higher than Harvard's. While the Big Green have certainly had a challenging slate — games against BU and UNH come to mind — I didn't think the team had a more challenging set of opponents than the Crimson, who faced BU twice, UNH, BC, and North Dakota twice.
The reason that Dartmouth's SOS is higher than Harvard is solely related to Harvard's only nonconference opponent that was not mentioned. Northeastern, the team Harvard defeated in the Beanpot consolation, is a notably worse team for RPI purposes than some of the Atlantic Hockey opponents — Holy Cross and Sacred Heart, for example — on Dartmouth's schedule.
St. Lawrence
PairWise Rank: 20th
RPI Rank: 21st
RPI: .5210 * (reflects adjusted RPI)
RPI Bonus: .0040 for a road win at Wisconsin
Record Rank: 23rd
Record: 19-14-2
Winning %: .5714
Strength of Schedule Rank: 35th
Strength of Schedule: .4977
Notes: As Jayson noted, St. Lawrence's loss to Brown hurt the team's RPI and its PWR position. Still, the Saints have a chance this weekend to record wins against a top TUC and guarantee themselves a spot in Albany, likely against the ECACHL's other TUCs. If the Saints lose this series, their season will be over. A series win and a chance for more wins in Albany might keep St. Lawrence at the very furthest edge of a possible at-large bid to the NCAAs.
---
USCHO.com/CSTV Division I Men's Poll
When USCHO first publishes its PairWise Rankings in January, the significance of the Top 20 Poll begins to wane. While the poll does represent the up-to-date opinions of 28 Division I head coaches and 12 of the top college hockey writers in the country, those opinions, however wise and informed, are not nearly as important as the cold, hard calculations that will actually determination the field for the NCAA tournament.
But the poll does provide fans with something that the PairWise cannot — the poll shows concepts and results that do not have a numerical basis. For example, the PairWise is blind to the difference between a particularly decisive win on the road against a good league opponent and a last-second overtime victory against said team. The coaches and writers who vote each week see that manner of results and it affects the way they vote.
A decisive victory, a string of shutouts and the confidence it engenders, a winning streak and the momentum it creates — all are reflected in the poll. And that is why, only a week and a half away from NCAA tournament selection, it is still a worthwhile exercise to search the top 20 for oddities and trends.
Top 20 from March 6
No. 7 Cornell — Recovering and recuperating as part of its bye week, the Big Red edged up one spot from last week's poll thanks to plummets by Colorado College (from No. 5 to No. 9) and Boston College (No. 9 to No. 14). Back in action this weekend, it will be interesting to see in next week's poll how voters treat the Big Red's series with Clarkson, a team that has an RPI barely above .500 but might have the most talented roster in the ECACHL.
No. 12 Harvard — Like its carmine counterpart, Cornell, Harvard moved up one spot from last week's poll despite being inactive with a playoff bye. The Crimson, just like three of the four teams behind it, benefited from Boston College's tumble. Harvard ended the season with a solid three-game winning streak and five wins in its last six games, and it will be interesting to see if the Crimson can recapture the momentum after sitting idly by(e) for about two weeks.
No. 16 Dartmouth and No. 17 Colgate — Where Cornell and Harvard provided little reason for analysis, Dartmouth and Colgate's positions in this week's poll prompted a raised eyebrow from this observer.
Last week was Dartmouth's first back in the poll, and the Big Green tied with Vermont for No. 17. This week Dartmouth moved up one spot, displacing Colgate despite the fact that the co-winners of the ECACHL's Cleary Cup were both idle. And while the movement of one poll spot may not seem like too much, the difference in points between the two teams is substantial — Dartmouth was 15 points below Colgate in last week's poll and this week is 18 points above the Raiders, a 33-point swing.
Though the two teams were inactive last weekend and ended the season tied for the ECACHL regular-season crown, I think the increase in support for Dartmouth is a delayed reaction to the impressive finish to the Big Green's season, where the team progressed from a disappointing start to record one of the best second-half performances in the league. It is somewhat odd, though, that the Big Green received a big bump a full week after the team won its last three games to clinch a share of the title.
Dropped
No ECACHL teams fell out of the top 20 this week.