Not many college hockey players, let alone forwards, know what it is like to go 59 games without scoring a goal. Two of those players knew that feeling going into Friday's matchup between North Dakota and Wisconsin, and both now know how it feels to get the piano off their backs.
UW junior Andy Brandt hadn't scored since Nov. 8, 2003, a span of 76 games in a Badger uniform. But at 11:05 of the first period Friday, he ended that span when he capped off a two-on-one break by depositing the puck into the upper corner of the net.
However, the end of Brandt's drought may have been lost — not just because the Badgers squandered an early 2-0 lead, but because of how they lost the game, thanks to a certain North Dakota sophomore.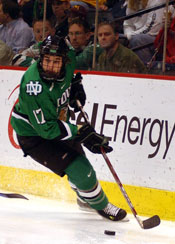 Rylan Kaip had never scored a goal for UND, despite lacing up his skates 59 times heading into Friday's contest. He still remembered his last goal, but it occurred when he was with the Notre Dame Hounds of the Saskatchewan Junior League.
He shook the weight off his shoulders by scoring his first career goal to tie the game with less than one minute left in the first period. Then he completely erased those bad memories by tallying his second of the game — the eventual game-winner — with less than two minutes left in the second frame.
"I haven't scored in quite a while, so it felt good to get the monkey off my back," Kaip said. "It came at a good time."
"It's interesting … Brandt gets his first goal and Kaip gets his first two," Wisconsin head coach Mike Eaves said. "A lot of times in playoff games, that's the difference. And tonight, that was the difference — those two goals were the difference in the game."
And what a contrast the two goals were. His first was characteristic of a slump-buster as he just chipped in a pass, somehow sneaking the puck between the near post and Brian Elliott's right leg.
The second, on the other hand, was a goal-scorer's goal. He intercepted a deflection deep in the right circle and then snapped off a wrister that blew Elliott's water bottle off the top of the net.
"The first one tonight … it wasn't a highlight-reel goal, but he got the first one and the second one, that was almost a highlight-reel goal," North Dakota head coach Dave Hakstol said. "We've seen him do those things in practice."
Almost every player experiences a drought of some sort, whether it is three games or 59 games. Perhaps that is the oddest part of Kaip's stretch. To he and his teammates, the goalless streak really was just like any other — only much longer.
"It happens in your career," Kaip said. "Mine probably went a little longer than most people's, but you've just got to keep trying in practice.
The Wilcox, Sask., native did just that, showing Hakstol and his teammates how good a scorer he could be.
"Even in games he makes those plays. He's been a little bit snake-bitten," UND goalie Jordan Parise said. "He hits posts and hits guys that just get their shafts on the puck. He gets quite a few opportunities and he definitely has the ability to make those plays. After a few games that really starts to take its toll and I think he really started to grip his stick too hard."
Friday's game saw him get the same opportunities as usual, but this time there was a different outcome.
"Everything just went his way," Parise said. "He was getting the same scoring opportunities that he usually gets, but this time he was burying them."
At the same time, getting to this point was not easy for Kaip. After suffering an injury last year, he was unable to play in the second half of last season, missing 23 games along the way.
Then, he basically had to start fresh when this season began.
"That's like missing a whole season. You come back and you're almost a freshman again," Hakstol said. "It's really taken him a little while to get back to where we thought he would be a year ago."
His teammates stuck by him through thick and thin and he maintained his work ethic despite his scoring woes.
"All of my teammates were really supportive," Kaip said. "I think they wanted me to score more than I did, myself. Give a lot of credit to them."
"If you're not working hard and you're not playing well and you're not contributing something to the team, you're not just going to get the support of your [teammates]," Hakstol said.
Against the Badgers, he brought those teammates a win. And while one might think that after ending a 59-game goalless streak that the player would be pretty excited. Though soft-spoken after the game, he was happy, but it seemed like his teammates were even happier for him.
With their tickets punched to the WCHA title game thanks to a two-goal effort in a feel-good story, who wouldn't be?