They're on the doorstep of Boston University's first league championship since 1997. BU's six seniors are poised to close out their Hockey East careers in the best possible fashion after defeating New Hampshire, 9-2, in the semifinal game. Each skater factored in the offensive explosion, more often than not while wreaking havoc near the crease.
The title clash against Boston College remains, but if the seniors reprise their six-goal, five-assist performance the crown is all but in Terrier hands.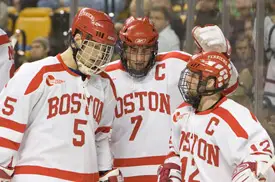 David Van der Gulik led the charge with his second hat trick in the last three games. Defenseman Dan Spang added two goals and two assists. Brad Zancanaro contributed a goal and an assist and Jekabs Redlihs nicely set up the first of Van der Gulik's.
For Van der Gulik and Redlihs, the chance to shine in the postseason helps make up for a season in which they missed almost all of the first half. Van der Gulik didn't suit up until Dec. 30. Redlihs played only six games and then was gone until Jan. 13.
It's no coincidence that the Terriers dominating 17-1-2 record over their last 20 games lines up almost perfectly with the return of the two stalwarts.
"[The seniors] have been really coming through all year for us, especially in the second half after we got Vandy [Van der Gulik] and Redlihs back," BU coach Jack Parker said. "Zank [Zancanaro] has had a fabulous year. Spang has had a fabulous year. John Laliberte has been snakebit, but he helped us hold things together while Vandy was out.
"There's been a lot of talk about Vandy coming back and what that has meant, but when he came back [so did Redlihs]. People give our coaching staff credit for [our the second half resurgence], but we just penciled seven and 14 in the lineup."
Spang got the huge win started in ironic fashion. Named runner-up just one night earlier for the league's Defensive Defenseman Award, he moved to the net on a delayed penalty and was parked at the crease when Brian McGuirk fired from a sharp angle, allowing the "defensive defenseman" to convert and in the process score his seventh goal of the season.
"I saw there was a penalty so I just jumped up in the slot and McGuirk put a good shot on net," Spang said.
Redlihs then set up the second, curling around from up top to below the net before feeding Van der Gulik right on … you guessed it, the doorstep.
The third came when Van der Gulik and Laliberte broke two-on-one. Van der Gulik used Laliberte as the best of decoys, selling the pass across to his linemate so well that he beat UNH goaltender Kevin Regan short side.
Van der Gulik completed his hat trick from the you-know-where, which was also where Zancanaro scored early in the third to make it a 7-2 blowout.
"[Being around the net] is always an emphasis," Van der Gulik said. "That's how I score a lot of my goals. I've been going to the net and the puck's been going in the net for me."
With 8:11 remaining, the senior lineup of three forwards and two defensemen finally became complete when Stephan Siwiec took over between the pipes. Siwiec had been the hero of last year's Beanpot opener when he made 36 saves in a 2-1 win over Boston College, filling in for an injured John Curry.
That moment in the limelight, however, hasn't been reprised this season. With Curry en route to an All-Hockey East berth and Player of the Year runner-up honors, Siwiec has managed only 25 minutes of action.
"I was really happy to get Siwiec into the game," Parker said. "It's been a tough senior year ice time-wise for him. But he's a real team player and a real catalyst for us in a lot of ways."
Siwiec stopped both shots he faced to complete the impeccable contributions of BU's all-senior team.
It's this time of the year when successful teams need their seniors to step up. Based on recent evidence, then, BU's season and the collegiate careers of the six BU seniors have a long way to go.