The battle for the last No. 1 seed in the NCAA tournament this season was resolved last Saturday in favor of Michigan State, which won the Mason Cup to edge ECACHL tournament champion Harvard for the honors in Albany. Those two teams — the No. 4 and No. 5 overall seeds this season — face interesting first-round matchups in Saturday's semifinals.
The Spartans, who redeemed an injury-riddled first half with striking success en route to the CCHA title, face New Hampshire, which found itself on the NCAA bubble most of the way before securing its bid with its appearance in the Hockey East semifinals.
The Wildcats, who lost in a blowout to Boston University last Friday, will put that behind them to challenge Jeff Lerg and the MSU D with a potent attack led by Jacob Micflikier, Brett Hemingway and Daniel Winnik.
Harvard, meanwhile, put it all together in the ECACHL championships, cruising to two wins over Dartmouth and Cornell to put the Whitelaw Trophy on its mantel. The Crimson, though, have some ghosts to exorcise against first-round opponent Maine, which dealt Harvard a stunning loss in the 2002 NCAAs that still resonates.
The Black Bears, for their part, are happy to be staying East after brutal recent draw including last year's NCAA first-round appearance against Minnesota on the Gophers' home ice.
Michigan State vs. New Hampshire
Saturday, noon ET, Pepsi Arena, Albany, N.Y.
Michigan State Spartans
Record: 24-11-8, 14-7-7 CCHA (second)
Seed: No. 4 overall, No. 1 East
How in: CCHA tournament champion
2005 NCAA tournament: none
Michigan State enters the East Regional as the No. 1 seed, which in itself is not necessarily auspicious, until you consider the year. The Spartans, participating in their 24th NCAA tournament, have won the national championship only twice, in 1966 and 1986. Detect a pattern?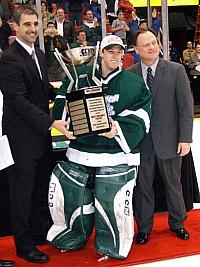 The Spartans captured their CCHA-record 11th postseason championship last weekend by beating Michigan, 4-1, in Friday night's semifinal, and regular-season champ Miami, 2-1, in a game in which MSU smothered an excellent Miami offense. It was good practice, said MSU head coach Rick Comley, for this weekend.
"We're just coming off two games that totally prepared the teams for this round to play. You're not going to play a tougher opponent in my mind than Michigan and Miami. If you play well and get good goaltending, you have a chance."
To say that the Spartans are playing well and getting goaltending down the stretch would be an understatement. MSU is 16-3-3 since Jan. 1, and enters the NCAA tournament one of the most consistent teams in the nation.
During the first half of the season, the Spartans were banged up and exhausted, playing three straight Tuesday night games — with weekend series in between — without the likes of senior captain Drew Miller, freshman forward Tim Kennedy, and half a dozen other guys.
At midseason, a combination of a healthy roster and a red-hot rookie goaltender propelled MSU toward the Mason Cup. Jeff Lerg (1.95 GAA, .927 SV%) has emerged not only as the starting Spartan netminder, but as one of the best goaltenders in the country. Lerg's goals-against average is third-best in the country, his save percentage sixth, and his win percentage (.704) 10th. Michigan State allows 2.28 goals per game, sixth-best in the nation.
So the Spartans have returned to their defending ways — something MSU fans have been able to rely on for years — but not at the expense of offense. Since becoming the Spartan head coach four years ago, it has always been Comley's plan to open up the team offensively, and he's succeeded.
The Spartan offense is led by senior captain Drew Miller (17-25–42), of the East Lansing Millers, and MSU has nine players with at least 10 goals each. In fact, the Spartan defense is so deep and so reliable that the fourth line, anchored by sophomore Zak McClellan, made two appearances in the final six minutes of MSU's win over Miami last weekend. McClellan — looking so mature at 23 with his playoff beard that his teammates call him "Gramps" — also had the game-winning goal against Michigan.
Comley is proud of the way his Spartans held together during a difficult season. MSU may be the No. 1 seed in this regional, but during the early part of the season, the Spartans were the 10th-place team in the CCHA.
Comley gives all the credit to his players, especially captain Miller, whose leadership was "everything" this season, said Comley.
"You'd better put the right people in [the locker room] and they mesh, and then good things happen. They either bring people to the fold or they alienate people. Every coach in this league would want Miller on his team. He's a top-six forward.
"We have a lot of good players, like Corey Potter. He gets no recognition at all, but there isn't a team in this league that wouldn't want him."
Potter (4-8–12), a senior defenseman, is one of the many Spartans who play without recognition. This MSU squad, in spite of its impressive season and numbers, is used to being ignored. There wasn't a single Spartan on the All-CCHA teams, and only Potter and Jeff Lerg received honorable mention.
That left out a slew of players who had outstanding seasons: sophomores Bryan Lerg (15-22–37, Jim McKenzie (10-17–27) and Chris Mueller (11-15–26); seniors David Booth (13-20–33) and Colton Fretter (10-19–29); juniors Miller and Tyler Howells (10-24–34); and rookie Justin Abdelkader (10-11–21).
And that list doesn't include guys who don't rack up points, like defensemen Jared Nightingale, Chris Snavely and Ethan Graham.
"It's a team that doesn't care about individual glory," said Comley. "I think they all accept the fact that it isn't just one player. They played through a lot of adversity and they've all bought into what we were trying to sell."
It's also a young team. "We have two seniors and three junior defensemen. It's not a team that has nine seniors and six juniors."
Comley said that it doesn't matter where the Spartans are playing this weekend, just that they're playing. "I'm one of those guys at this time of the year … you'd better not want to go anywhere. You're going to have to play really well to get out of every bracket.
"[New Hampshire's] Dick Umile is an outstanding coach. Their top five players are as good as any top five in the country. Harvard is playing as well as anyone.
"To me, there are eight or 10 teams that can win it."
Comley counts his Spartans among that number. "I tried to tell people all year this is good team."
New Hampshire Wildcats
Record: 20-12-7, 14-7-6 Hockey East (fourth)
Seed: No. 13 overall, No. 4 East
How in: At-large
2005 NCAA tournament: Lost in Northeast Regional final
New Hampshire entered its Hockey East semifinal game on fire — having gone 7-1-3 with all but two of those games against teams in the league's top half — but that flame was doused by an even hotter Boston University, 9-2.
After the loss, UNH coach Dick Umile said, "If we play like that again, I hope [our season] is over."
The Wildcats now get their chance at redemption.
"We'll bounce back," Umile says. "We're disappointed the way we played, but we've forgotten about it. We could have lost 3-2 in overtime and the results would all be the same. We laid an egg. You let it go and move on."
Fans who are seeing UNH for the first time at the regionals will have their attention drawn quickly to three forwards: Daniel Winnik, Brett Hemingway and Jacob Micflikier. All juniors, they formed a juggernaut line until Umile moved Micflikier in mid-February to distribute the scoring more evenly. The trio still reunites, however, on the power play and in key situations.
"They have good chemistry together," Umile says. "Winnik is your classic two-way centerman. He plays well defensively, is a very good distributor and he can finish it. He's had a very good year and at times been very dominant when he get the puck down in the offensive zone. Brett has got a great shot and a great release. Micflikier is a crafty guy that just jumps into holes. He's got speed and stick skills. He can do it one-on-one."
UNH's offense, however, doesn't start and end with the big three. There's depth that extends to the fourth line.
"That's why we became a better team the second half," Umile says. "The younger guys started to play well. Now we've got some nice balance from two to four."
The big gun on defense is Brian Yandle, the lone senior blueliner.
"The kid is a very, very smart hockey player," Umile says. "Every night he's in the offense. He gets a ton of shots every night. That doesn't just happen; he puts himself in that position."
Joining Yandle on the blue line are freshmen Jamie Fritsch and Joe Charlebois, sophomores Craig Switzer and Brad Flaishans along with junior Chris Murray.
"We've got some nice chemistry with our defense," Umile says. "It's improved as the season has gone along."
In goal, senior Jeff Pietrasiak and sophomore Kevin Regan have rotated.
"We're comfortable with both goaltenders," Umile says. "They've done a good job for us. We've had nights like the other night that we didn't defend very well, standing around instead of covering people, but our problem hasn't been about goaltending."
The Wildcat penalty kill finished third in Hockey East (86.2 percent) while the power play ranked second at 20.1 percent.
"We've done a very good job on our shorthand of late," Umile says. "We've gotten very confident there. And the power play has been scoring in almost every game. It's been a threat every time we play."
Harvard vs. Maine
Saturday, 3 p.m. ET, Pepsi Arena, Albany, N.Y.
Harvard Crimson
Record: 21-11-2, 13-8-1 ECACHL (fourth)
Seed: No. 5 overall, No. 2 East
How in: ECACHL tournament champion
2005 NCAA tournament: Lost in Northeast Regional semifinals
A potential No. 1 seed in the NCAAs was on the line when Harvard took on against Cornell in the ECACHL championship, and though the Crimson did all it could by dispatching Cornell 6-2, championships by Boston University and Michigan State ensured that the Crimson could finish no higher than a No. 2.
Still, the win over Cornell brought the fifth overall seed and at least one other advantage: it assured Harvard of placement in a venue close to home. Once the seedings were announced Sunday morning, the Crimson found itself in a familiar setting, facing off against a familiar foe.
The Crimson will face Maine on Saturday in the East Regional. A well-known venue for Harvard and the site of memorable wins in recent years, the Pepsi Arena has been the host for the last four ECACHL championships — of which Harvard has won a pair.
The Black Bears are also well-known to the Crimson, for reasons Harvard may want to forget. In 2002, Maine, the eventual runner-up to national champion Minnesota, ended a magical Harvard run through the ECACHL playoffs and into the NCAAs. The Crimson had recorded three straight playoff overtime victories (two of them in double OT) to capture the ECACHL, took to the ice in Worcester against favored Maine, battled hard for three periods, and pushed the Black Bears to overtime.
Harvard's wild playoff ride ended just two minutes later, though, as Maine's John Ronan broke into the Crimson zone for a pinpoint shot over the shoulder of Crimson netminder Dov Grumet-Morris.
Harvard and Maine met again in the NCAAs two years later, this time in Albany. The Crimson again was an underdog against a Black Bear team that narrowly lost the national championship game to Denver. That year Maine was led by its goaltending with sophomore Jim Howard and senior Frank Doyle.
Harvard started strong and shocked the Black Bears, peppering Howard with 33 shots on net. More importantly, the Crimson crashed the net for four goals that led Maine coach Tim Whitehead to pull Howard after two periods with the Crimson up 4-1.
From that point, though, the game belonged to Maine. Doyle was steady in net but faced few scoring chances, and the Black Bears were relentless in the third, scoring four goals and so dominating their opponent that even the most ardent Harvard fan knew a Maine win was all but inevitable.
"I don't think [thoughts of the 2004 loss to Maine] will play a factor at all," said Harvard coach Ted Donato.
"There's no doubt that was a heartbreaking game," he admitted. "But we played them last year, so it's not like we haven't played them since then."
History is not entirely bleak for Harvard, as Donato noted. The Crimson thoroughly outplayed Maine in a 4-1 win last season at the Bright Hockey Center.
Still, those thoughts won't have any bearing when the two teams meet Saturday, according to Donato.
"At the end of the day each team and each year is a different entity," he said.
The changeover between the 2004 Crimson and this year's team is illustrative of that fact; while the current team features three blueliners who were on the ice during the heartbreaking loss two years ago, Harvard's front lines and key offensive contributors are new.
The team's leading scorer this season, junior center Kevin Du, skated on the checking line in 2004 and contributed sparingly to the team's offense. Over the past two years, he has become a crucial part of the offense; this season he's scored 10 goals and contributed 23 assists, and he's on the ice for all the important special-teams situations. If Harvard hopes to advance, offense from Du will be critical because the team's second-leading scorer, sophomore forward Jon Pelle, was injured during the ECACHL championship. His status is uncertain.
Even without Pelle, though, Harvard managed to post six goals against Cornell. The Crimson's offense has been red-hot; over its last three games Harvard has played talented St. Lawrence, Dartmouth, and Cornell — and scored 24 goals, converting 9-of-22 power plays.
As impressive as Harvard has been over the last three games, and indeed since the team's loss to Boston University in the opening round of the Beanpot, Maine has been just as successful. Dating back to a 4-0 shutout loss at home to Providence, Maine has been on a tear through Hockey East.
"Over the second half of the season, Maine's gone 12-2-2, so they're playing some of their best hockey," said Donato. "This is going to be a great challenge for us."
Maine Black Bears
Record: 26-11-2, 17-8-2 Hockey East (t-second)
Seed: No. 12 overall, No. 3 East
How in: At-large
2005 NCAA tournament: Lost in West Regional semifinals
Heading into the Hockey East semifinals, Maine was riding high. The Black Bears were 8-0-2 in their last 10 and 12-1-2 in their last 15. Their bid for a Hockey East title and a higher seeding in the NCAAs, however, fell short when they lost a one-goal game (plus empty-netters) to Boston College.
Even so, Maine is still in the East, a bonus for its fans, and won't have to overcome the disadvantages of taking on a Western host on its own ice, as happened two of the last three years.
"It's great to be in the tournament, but even better to be in the East," Maine coach Tim Whitehead says. "Over the last few years we've had some tough assignments, Michigan at Michigan and Minnesota at Minnesota. So this is a big bonus for us.
"We were really hoping that our fans, friends and families could all come see us play and that's exactly what happened. So we're thrilled to be in Albany."
Maine's offense topped all Hockey East teams in league games, averaging 3.44 goals per game. Greg Moore's 26 goals were second in the league and tied for sixth nationally. Josh Soares, Michel Léveillé and Derek Damon all ranked among Hockey East's top 15 scorers.
"We've had contributions from a lot of different people along the way," Whitehead says. "We're a pretty well-balanced team so that's a big positive for us. We've got a heck of a captain in Greg Moore and a real good supporting cast around him.
"We don't necessarily have any superstars, but we feel we've got strength at all three positions."
The strength on defense and in goal has resulted in Hockey East's second-best goals-against numbers, an average of 2.18 per game. The leaders on the blue line are seniors Steve Mullin and Travis Wight, junior Mike Lundin and sophomores Bret Tyler and Travis Ramsey. Freshman goaltender Ben Bishop took over the goaltending position with exceptional play down the stretch.
"We're proud of our defense and goalies," Whitehead says. "We're young at those positions, but we feel we've gained a lot of experience at this point.
"We have a veteran corps of forwards that do a nice job getting back and helping defensively, but in the end our goalies and defensemen have to defend and they've done a great job with it."
Bishop earned a berth on the Hockey East All-Rookie team. Fans who recall Garth Snow's ability both to stop pucks and to act as a third defenseman will experience flashbacks when they see Bishop play.
"'Bish' has been great," Whitehead says. "He's had a tremendous freshman year and has really established himself as one of the top goalies in our league even though he's only a freshman.
"He came in a very tough situation, where he had to take over for Jimmy Howard. His attitude's been great. He continues to focus on improving. He works extremely hard. He's a very talented kid and I'm just really proud of him."