It's an obvious choice — when a team reaches its first Frozen Four, look to a senior with 68 career starts and 48 wins between the pipes, rather than starting a freshman goalie with only 11 college games under her belt.
Maybe not, if that freshman is Jessie Vetter.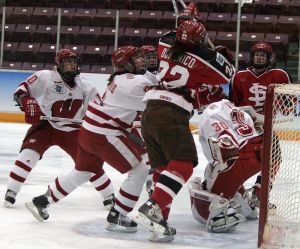 The Cottage Grove, Wisc. native allowed a goal nine minutes into her first NCAA tournament start against Mercyhurst. She hasn't allowed one since.
That shutout streak has now spanned seven periods and Badger victories over Mercyhurst, 2-1 in double overtime, and St. Lawrence, by a 1-0 score.
"I'm definitely seeing the puck really well right now," said Vetter. "The team is playing well in front of me, and they are very supportive with me. We've had two big wins for us. I'm just feeling good right now and enjoying the game."
It's easy for a goalie to enjoy playing hockey when the red light behind her is never lit. But things haven't always gone so smoothly for Vetter during her time at Madison.
She sat out her first season as a redshirt. No competitive athlete enjoys such a season, where they can work out and practice, but not dress for games.
"I think what I learned last year was just practicing and getting used to college in general," she said. "It definitely taught me a lot — just being a leader. It was hard [redshirting], but it helped me for this year. It just helped me be a better player all around."
An illness this season delayed her first start until a Dec. 4 win over Bemidji State. But her time out of action didn't got wasted, as she watched senior Meghan Horras and junior Christine Dufour in action.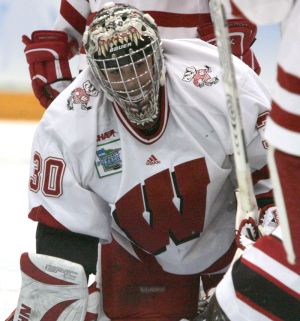 What did she learn?
"Just the habits and to work hard," Vetter said. "What you do in practice will carry over to the game. You have to come into every game just wanting to play and be competitive."
And compete she has. That competitiveness shows in practice, where her teammates struggled to score against her in several drills which clearly favor the shooters as they tuned up for the Frozen Four.
She has carried the same level of play into the games.
"As a goalie, you've got to make the first save," Vetter said. "If you make the first save, you're in the game."
She also thought a successful penalty kill got her team over a hump in the victory over the Saints.
"After we killed off the first power play, I thought, this game's on. I just knew that our team would come out and play really, really well," she said.
Still, the decision to start the freshman over his two more experienced goaltenders in the biggest game of the year didn't come easily to Coach Mark Johnson.
"It was a decision that wasn't made overnight," he said. "Meghan Horras has done a wonderful job over her four years at Wisconsin. I just felt that what Jessie had done over the last couple of weeks — it had come down to a gut feeling."
He admitted that if the result was different, he would be open to a lot of second guessing. No worries — the freshman with a lot of experience in practice, if not in games, is making her coach look like a genius.