Most everyone in the WCHA may know Ryan MacMurchy and Jack Skille, but if you're a college hockey fan who lives east of Milwaukee, chances are that when you think "Badger hockey," you think "Brian Elliott."
If you're a diehard college hockey fan, you may even know the play of sophomore Joe Pavelski, junior Robbie Earl, or senior captain Adam Burish.
But Ross Carlson?
The junior forward from Duluth, Minn., netted a brilliant shorthanded goal that electrified the crowd in the second period of Wisconsin's 5-2 win over Maine, and added a key assist in the contest to boot.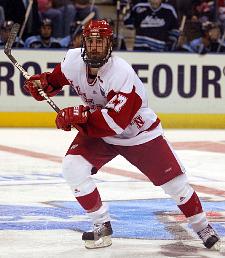 Facing down one of the nation's best power plays with Badger defenseman Tom Gilbert in the penalty box, Carlson picked up the puck after the Black Bears lost it at the point, skated into the Maine zone on the left wing, hopped past a diving defender, shot and scored, giving Wisconsin its second lead of the game.
"That shorthanded goal was quite lucky," said Carlson. "It was a good bounce for me, bounced out behind their defensemen and I decided to skate.
"I knew I was going to cut to the middle but I didn't know when or how, and the guy went flying and I flipped the puck up, knocked it down, and shot it. I didn't even see [Andrew] Joudrey coming. We would have had a nice two-on-one."
Carlson (10-11–21), the left winger on the third line, is just one of many Badger players whose fame doesn't extend much beyond the WCHA, role-players who have fueled the team all season. There's sophomore defenseman Kyle Klubertanz, with his 17 assists and three power-play goals. And Joudrey, the second-line center with three power-play goals and three game-winners.
And junior Jake Dowell, whose fifth goal of the season interrupted Pavelski's hat trick in Wisconsin's 4-0 Midwest Regional win over Bemidji State.
Even though the mostly home crowd in Milwaukee saw a game that Wisconsin won with relative ease, All-WCHA blueliner Tom Gilbert wasn't satisfied with his defense's performance.
"It wasn't our best game. We weren't doing the things that we do well," he said. "We were throwing a lot of pucks in the middle of the ice. It's something that we don't normally do, so I think it might have been maybe the two-week jitters of not getting back and playing a game, but I think it's out of our system.
"I think Saturday we're going to be ready and we're going to be back to what we do well."
In spite of Gilbert's assessment of the overall team defense, the Wisconsin penalty kill was flawless Thursday, shutting down the third-best power play in the nation and holding Maine 0-for-7 with the man advantage. The PK — like the rest of the team — is a mix of recognizable names and guys who don't get much press, like MacMurchy.
The biggest name on the team, the netminder — Hobey "Hat Trick" finalist Elliott — credited the diligence and human self-sacrifice of his penalty killers.
"Our guys were just blocking shots. I can think of one shot in particular, in the second period when Ryan MacMurchy just went down, and he just got it right in the stomach and got the puck out of our zone.
"That was happening all over the ice. I think that was key to our success. Everybody was putting their body on the line. I know there'll be some ice bags out there and that's what you need to do to be successful in championship-like games."
Among the least-sung heroes on the Badgers include the fourth line of senior wingers Nick Licari and A.J. Degenhardt and junior centerman Andy Brandt, a trio responsible for just eight goals this season but important to the Badgers' nation-leading defense, which is allowing just 1.86 goals per game.
Thursday, however, Eaves gave these three mixed reviews, revealing one of the few things Wisconsin will have to work on before meeting Boston College in Saturday's championship game.
"The one thing that was somewhat frustrating to us is that Andy Brandt's line — which usually gives us such great energy — they took three penalties tonight," said Eaves. "I said, 'Andy, what did you do to tick this referee off?' They could actually give us more.
"I thought … they did some good things penalty-killing, but part of their job is they can't be taking penalties for us, so I think they can be better, to be quite frank with you."
As every fan, player, and coach knows, to get to a championship game, you need contributions from every guy on the roster, not just the media darlings. And the contributions up and down the Badgers' roster have earned them the right to play for a national title in front of a distinctly favorable crowd.
Said Gilbert, "We've been working for it all year. Our crowd is the best in the country and to have 19,000 out here cheering for us — it's awesome."
And helpful. After Saturday, some of these lesser-known players may be making NCAA history.