The Boston College Eagles, just four weeks ago, were talking more about bubbles than rings.
After a near-deadly skid that ended the regular season, BC knew not only did it need to advance to the Hockey East final four, but in doing so needed to sweep its best two-of-three quarterfinal series with Vermont in order to improve its NCAA tournament stock.
So when the Eagles trailed, 2-1, in the waning minutes of Game 1 versus Vermont, the team's postseason future looked dim.
Tom Peters, BC's associate athletics director who oversees the hockey program at the Heights, recanted a story of talking on the phone that night to the rest of the BC contingent who was in Charlotte, N.C., with the men's basketball team at the ACC championship.
Peters sat on the phone and told the folks on the other end, "It's over." The must-win game looked like many in the weeks prior. BC couldn't generate scoring opportunities.
The next words out of Peters' mouth, though, were probably more prophetic than he realized.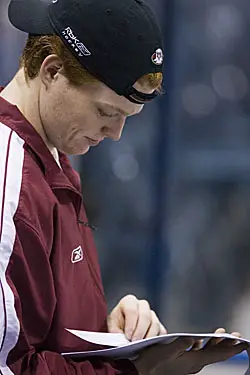 "Hold on," said Peters, when senior Chris Collins tied the game with 59.4 seconds remaining with goaltender Cory Schneider on the bench.
For the last 29 days, Boston College has been doing exactly that — holding on. The Eagles have held on so long, in fact, that they are now one win away from a national championship and will face off against Wisconsin on Saturday night at the Bradley Center in Milwaukee, with the game's Holy Grail on the line.
So you might think that this is a team that feels it's playing with the house's money. Don't tell that to the BC players, though.
"I feel like we're here, so we might as well win it," said BC captain Peter Harrold. "We came here for one reason and it was to win a trophy. I think we're still playing with our money and we want to take it all home."
"We invested a lot in September and a lot in the summer too," said 6-foot-7 forward Brian Boyle. "We knew we were going to be young early on, so we've come so far as a team that we expect to win."
BC head coach Jerry York recognizes the volatility of his team's run, but also knows that as much as any team, BC deserves to have the "Why not us?" mentality made famous by the Boston Red Sox.
"The games are so close to winning or losing that you're always looking for some sort of edge to carry you to the winner's circle," said York. "The Vermont game isn't an exception — we were playing games like that all year.
"I think our team is used to survival. With a little puck luck there could've been another 10 teams that could've replaced our two teams."
Now that BC is here, it has to contend with a strong, skilled and physical Wisconsin team, not to mention 16,000-plus screaming Wisconsin fans.
Said Boyle, "We've had red and white fans screaming at us before," referring to archrival Boston University. In fact, the Badgers play a physical style comparable to that of the Terriers, so BC's five games against the other Boston team might have been good preparation.
If anything, BC is at the point that everyone on the club feels like things are clicking. The offense has begun getting production from players other than the top line (in Thursday's semifinal, two rookie defensemen and a third-line forward scored). And senior forward Chris Collins, just back to 100 percent health, was a major factor Thursday with his hat trick.
"I think we have seen goals from other players on our team besides Chris, and that makes us much harder to defend," said York. "I don't think you advance without being very well-balanced offensively and defensively, and especially goaltending. I think that's the formula that gets you here."
Should that formula play itself out on Friday night, expect BC to have a great chance at carrying the NCAA championship trophy around the Bradley Center ice.
Like Father, Like Son
Perhaps the most intriguing matchup in Saturday night's title game may not be on the ice.
Wisconsin coach Mike Eaves will, for the first time in his life, coach against his son. Ben Eaves, a former BC hockey player, has served much of the season as a volunteer assistant coach for the Eagles.
The younger Eaves was playing with the Pittsburgh Penguins when he suffered a season-ending knee injury. Since that time, he's been rehabbing in Boston and helping out York and his staff, preparing and breaking down video of Boston College and its opponents for every game.
Thus, it's become an Eaves family affair in Milwaukee. Mike's wife and Ben's mom, Beth Eaves, has been seen around town with both of the men in her life (absent, of course, is Ben's younger brother Patrick, also a former BC player, who is currently playing for the Ottawa Senators).
The trio, along with Boston College chaplain to athletics and family friend Father Tony Penna, all had breakfast Friday morning. Mike Eaves said that the topic was anything but hockey.
"We got together this morning and talked life and talked books and talked philosophy," said Eaves. "There was very little hockey talk. I probably won't see Ben now until after the game is over."
Obviously, the elder Eaves has had a major influence on his Wisconsin team, having taken the program from some struggles to within a game of the national title.
The impact his son Ben has had on this year's BC team might be a little different, but still important.
"He helps a lot with all of us, telling us a few things between periods," said Collins. "He gives us a player's perspective. He's coaching, but it's almost like he's another player with us.
"He's one of my better friends that I've had in the last four years, so to have him back here is incredible.
"I know in the regional he was really pulling for his dad to beat Cornell, so he's excited [to have them here]. The Eaves family is really tight-knit, so I'm sure he's a little bit torn, but I think he's with us for tomorrow night. Ben's been part of this team, so when it comes to hockey he'll get into it."
Fountain of Youth
Anyone who watched BC's practice on Friday might have thought the nation's youngest team was getting younger.
The 4-foot player clad in BC white wasn't a reincarnation of Brian Gionta. Rather, it was Jacob Paluch, the 11-year-old son of former BC associate head coach (and current Bowling Green head coach) Scott Paluch.
York, though he mentioned that Jacob told him before practice that he didn't want to do any drills, still used the young Paluch as a teaching tool for his players.
"We talked beforehand what it's like to be 10 or 11 years old and try to rekindle that enthusiasm."
The team did indeed look like kids at Christmas on Friday, enjoying every minute of the season's final practice. No more was that obvious than when Collins became the first senior this season to win "the belt," which is awarded to the winner of the breakaway contest after practice.
Of course, the young Paluch may not have wanted to do any drills, but he was more than happy to take his go at a breakaway and to celebrate with Collins afterward.