This marks USCHO's tenth year at Frozen Fours, beginning in Milwaukee and coming back full circle. Since yours truly has been part of all of them, here are some favorite memories with a few notable downers mixed in.
Bear in mind that it comes from a point of view in which the other five leagues circle around Hockey East, the center of my hockey universe.
• 1997: The day before the semifinals, a total stranger initiates a conversation in which he states that the one Eastern team remaining, Boston University, has no chance. "They'd have been lucky to finish sixth in the WCHA this year," he says. Hello, East vs. West provincialism.
• 1997: Michigan has run roughshod over the rest of college hockey, going 34-3-4 as a wire-to-wire number one team. They're arguably the most prohibitive favorite since Maine's 1993 squad that finished with only a single loss. In the first period, BU star Chris Drury lays a huge chest-on-chest hit on Michigan star Brendan Morrison. Mano a mano. The tone is set. The Terriers pull off a stunning upset, 3-2.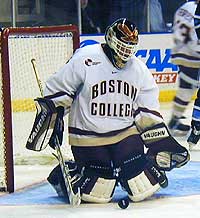 • 1997: Maybe, I think, those BU stiffs might have done better than sixth place in the WCHA after all.
• 1997: At one of the media dinners, the hosts serve swordfish along with several other culinary delights. This is the first of countless Frozen Four broadsides that I will absorb in a battle with my waistline that I am destined to lose.
• 1997: North Dakota wins the other semifinal and the Hoogsteen brothers, David and Kevin, capture my imagination. One of them is almost microscopic in Division I terms, weighing "145 pounds soaking wet." I love to watch small, quick players. The Hoogsteens are very small and very quick. BU coach Jack Parker gives them the most apt description possible: water bugs.
• 1997: BU leads 2-0 after the first period, but it all falls apart in the second when North Dakota scores five times including two by David Hoogsteen. The Terriers had beaten the supposedly unbeatable Wolverines, but weren't able to finish off what would have been a second NCAA title in three years.
• 1998: Boston is hosting the Frozen Four this year. To save USCHO money on hotel bills, I don't stay downtown but commute home to the 'burbs each night. Or in some cases, each morning. I've underestimated the Frozen Four's social angle and one morning pull into the driveway at 6:30 a.m. I vow that next time I'll be more profligate with USCHO's money.
• 1998: Not only is this in my backyard, but both Boston College and New Hampshire are in it. This is UNH's first trip to the Frozen Four and I feel happy for the its devoted fans. They'll always remember how they got here, a Mark Mowers shorthanded overtime goal to defeat BU, and it will be a steppingstone to future title game appearances, but as things turn out they'll prefer to forget their disappointing 4-0 loss to Michigan.
• 1998: Chris Drury, one of my all-time favorite players, wins the Hobey Baker Award. The ceremony is held in Faneuil Hall, which remains to this day my favorite venue for the award.
• 1998: I'd been convinced that Boston College was a year away, but the Eagles advance to the title game. Marty Reasoner and Brian Gionta, the latter another one of my favorite all-time players, make up a dynamic one-two punch. The Eagles never trail in regulation, but Michigan ties it with little more than six minutes left. In overtime, Josh Langfeld puts a brutally soft goal past Scott Clemmensen, one which almost certainly haunted the goaltender until redemption in 2001.
• 1999: With the Frozen Four in Anaheim, my wonderful daughter Nicole is annoyed that I haven't brought her. She isn't particularly interested in the games, but she'd love to see California. I explain that it is a working trip and not a vacation, but then have to backtrack after describing Hollywood Boulevard, a house involved with the show 90210 and Venice Beach. "Work, work, work," she says, or words to that effect.
• 1999: Hockey East puts three teams into the Frozen Four and two, Maine and New Hampshire, into the title game. UNH's Jason Krog wins the Hobey. I'm so smug, if you brush past me some of it will wipe off on you. I become even more insufferable than usual.
• 1999: Maine beats UNH in overtime, 3-2. I feel schizophrenic. I'm so happy for the Black Bear fans, but feel so badly for those from New Hampshire. This would have been their first NCAA championship and it was truly one of those games that could have gone either way.
• 2000: Maine gets back to the Frozen Four to defend its title, but loses to North Dakota in the semifinal. BC is back for the third straight year and goes into the third period of the championship game with a 2-1 lead. The Fighting Sioux, however, tie it early and take the lead with less than six minutes remaining. An empty netter seals the deal. This makes two title-game heartbreakers for BC in three years on home turf, Boston in 1998 and now in Providence.
• 2000: BC doesn't go home empty-handed, however, since Mike Mottau wins the Hobey Baker Award. This makes three straight winners from Hockey East.
• 2001: It's not going to happen again, is it? Boston College, appearing in its fourth straight Frozen Four, leads North Dakota 2-0 with four minutes remaining in the championship game. But a too-many-men-on-the-ice penalty gives the Sioux a power play. They pull their goalie to make it six-on-four and convert. And then with less than a minute left, North Dakota pulls its goalie again and scores a second extra-skater goal to send the game into overtime. Are you kidding me? How much more sadistic can the hockey gods be? The Eagles have had some cruel losses since winning it all in 1949, but this is getting ridiculous. I always hope Hockey East teams win. It's natural after coming into contact with coaches and players that you like. Rarely if ever, however, have I hoped harder for a win than this time. Even if on purely humanitarian grounds, BC should get this title. And they do on Krys Kolanos' sweet move. Eagles fans can now die in peace.
• 2002: The Frozen Four is in Minnesota this year and some of the natives talk with what sounds like a pretty pronounced accent. The feelings go both ways, however. BU coach Jack Parker is initially denied entrance to the dining room because they can't understand him when he says his name. The list-checkers look and what they're hearing doesn't match the names they see. Only after he spells it do they realize that he does in fact belong.
• 2002: The Maine Black Bears advance to the championship game, feeling as though they have a seventh man on their side. Their coach, Shawn Walsh, died of cancer on the eve of the season and they've used his inspiration to get them through the tough times. In replacing the irreplaceable, Tim Whitehead has done a masterful job. The Black Bears get to within 53 seconds of a third national championship and what would surely be the most emotional of them all only to see Minnesota tie it with an extra-skater goal. Playing before their home crowd, the Gophers win it late in the overtime period on a power-play goal. The decibel levels reach what are surely record levels.
• 2002: Midway through the game, Maine's Mike Schutte provides one of the most amusing interactions between a player and an opposing crowd. With seemingly 19,000 of the 19,324 in attendance rooting for Minnesota, Schutte holds his index finger to his mouth in a shush-ing expression after his goal stuns the crowd into silence. Picked up on the Jumbotron, the gesture would surely have become a prominent part of Black Bears' folklore had they held on for the win.
• 2003: With the Frozen Four in Buffalo, I eat wings for what seems like breakfast, lunch and dinner. By the time I leave, I'm about to turn into a mildly spicy wing myself.
• 2003: Minnesota scores four unanswered third-period goals to defeat New Hampshire in the title game, thereby breaking the longstanding Boston University record of having the last back-to-back championships in 1971 and 1972.
• 2003: Nonetheless, the Frozen Four is not a total loss for the Hockey East contingent. Tim Danehy, a.k.a. "Danzer," introduces many of us to Texas Hold 'Em Poker during one socializing session, an act which will eventually earn him the title Godfather of Hockey East Hold 'Em. A year later, his babies will have surpassed him and consider him a near poker simpleton, but for one year he is king. After writing for the title game, we play through the night. One player is overdue to leave for the airport, but in the face of threats by his ride to depart without him he responds, "But I'm the big stack!"
• 2004: Two Hockey East teams, Maine and Boston College, face off in one semifinal while two from the WCHA, Denver and Minnesota-Duluth, are matched up in the other. Yuck. These same-conference matchups have been happening too much for my taste. In the title game, Denver weathers a six-on-three disadvantage at the end to win, 1-0.
• 2005: What the heck? Where are the Hockey East teams? It's an All-WCHA Frozen Four. In the previous eight years, Hockey East had placed a single team three times, two teams four times and three teams once. My WCHA colleague, Todd D. Milewski, is far more gracious about his league's success than I was in 1999. But then again, he's a much nicer guy.
• 2005: To help Todd out, we all adopt a team to write about. I get to select Denver and the Pioneers deliver a title for back-to-back back-to-backs (Minnesota in 2002 and 2003; Denver in 2004 and 2005). Writing a feature about that is like shooting fish in a barrel.
• 2006: I look back at nine years of great memories and look forward to all the future ones awaiting.