On the road, scoring the first goal can often make or break the evening's performance. Home teams usually have an adrenaline surge off the opening face-off with the crowd buoying their efforts. Getting that initial tally accomplishes the dual purposes of taking the lead and deflating those energies. Since 1999, the team that has scored first in the national title game has emerged the champion.
Scoring first was particularly important for Boston College in this championship game. Wisconsin was outplaying the Eagles for the first half of the period and the sold-out Bradley Center was rollicking behind the Badgers.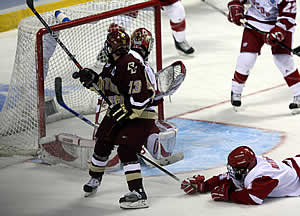 At first glance, the Eagles appeared to have caught a major break in the opening goal. The pivotal turnover in the corner bounced off Eagle winger Dan Bertram before he could corral it and throw it in front towards Pat Gannon. The puck deflected a couple of times before reaching Gannon, who backhanded it into the net.
But, as they say, you create your own luck. On the initial dump-in, Wisconsin had two players back on defense. Bertram darted from the red line to get into the corner to pressure the breakout pass. Any less hustle, and there's no turnover because the Badgers can make a clean outlet.
On the other side, Wisconsin put itself in a position for a little misfortune. Both of its defenders had their backs turned to Bertram, pursuing the puck in the corner. Only one player should have gone for the puck, while the other should have impeded Bertram's route.
Badger defenseman Matt Olinger did not turn his head until the last couple of seconds, when the race was all but over. If either player slows Bertram by a second, it buys what could have been just enough time to make a good clear and perhaps the game remains scoreless.
Instead, Boston College accomplished its initial objective of the game: score first. Unfortunately for the Eagles, that was the only objective of the game they satisified.
Ironically, the last time a team scored the first goal of a title game and didn't win was the very same Boston College, in 1998.