With three goals and an assist on the weekend, everybody in the state of Wisconsin knew that junior forward Robbie Earl would be the Frozen Four's Most Outstanding Player. Everyone, it seems, except Earl.
"I didn't even know until we got the locker room when coach told me. It's a great honor. But there's so many other players that could have it, not just in these two games but all year. I take great pride in being named [MOP], but it's a great feeling winning the national championship."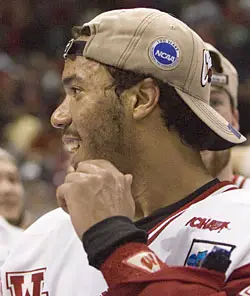 Earl had two goals and an assist Thursday night against Maine and scored the tying goal at 1:17 of the second period to jumpstart Wisconsin back into the national championship game.
The ironic thing was that he was not even supposed to be on the ice when he scored. Earl was banged up on the shift and started limping towards the bench. Once the puck went in transition, he joined the rush and went to the net where he struck gold.
"I got upended in the neutral zone and hurt my shoulder a little bit," Earl said. "I was actually heading off to the bench. I decided to take a chance and go to the net and it was a great pass by Adam Burish."
Coach Mike Eaves certainly had no problem with his forward's decision to stay on the ice.
"I think on the play, he was thinking 'I better get to the bench, something doesn't feel right' and then on the way to the bench thought 'I feel okay' as the team went on offense," said Eaves. "The thing that the did was he did the hard thing and that was go to the net. He went to the net and ended up scoring the goal."
Earl shared the credit for his MOP Award with his teammates.
"I thought that it was fitting Robbie right away talked about his linemates, Joe Pavelski and Adam Burish. You don't have the success in this game at this level without playing with good people," Eaves said.
Entering the Frozen Four, Earl had not been having a great NCAA tournament. He was shutout in the Midwest Regional against Bemidji State and Cornell. Overall, Earl is the current Wisconsin career leader in points with 121.
"Ever since he came here he has had the ability to play big in big games," Eaves said. "He's a big game player. Once again, he came up big this weekend for us. His challenge has been in games that weren't big games for us to be consistent. He's worked on that. His point production per game is up. In terms of big games, he's always had that and it's one of those qualities I think he'll always have."
A native of Los Angeles, Earl finishes the season with 24 goals and 26 assists. He had 13 multi-point games this year as well as a career-high nine-game scoring streak, from Jan. 28-March 3.
But it will this two-game scoring streak that will always rank as his career best. And by now, even he knows it.
All Tournament Team
Joining Earl on the All Tournament Team was Burish, who setup his tying goal, Boston College forward Chris Collins, BC defenseman Brett Motherwell, Wisconsin defenseman Tom Gilbert (who scored the championship-winning goal), and Badger goalie Brian Elliott.