Some thoughts as the season has ended and Wisconsin has entrenched itself as the new State of Hockey.
First off, hats off to both head coaches — Mark Johnson of the women's team and Mike Eaves of the men's team at Wisconsin — for national championships. These former teammates and disciples of "Badger Bob" Johnson have accomplished something never done at the Division I level in hockey.
Mark Johnson's team won a title with perhaps the most dedicated team defense the women's game has seen. Back-to-back shutouts of St. Lawrence and Minnesota proved that when your players are committed in all three zones to playing well without the puck, winning can look easy.
Johnson eloquently said that the winner at the women's Frozen Four was the game of women's hockey because of the quality of play that was on display in Minneapolis.
St. Lawrence, well-coached by Paul Flanagan, was making its third consecutive appearance in the Frozen Four, but ran into a juggernaut in Wisconsin in the semifinals. Newcomer New Hampshire and then-champ Minnesota played a semifinal classic, won by Bobbi Ross' game winning goal with under two minutes left, 5-4.
For Ross, it was her fourth goal of the game, and one of those goals, the one that tied it at 3, was on a penalty shot. New Hampshire showed a firewagon brand of hockey reminiscent of the Golden Gophers of the past two seasons.
A team on the cusp of an appearance in the Women's Frozen Four is Mercyhurst, which can also open it up. Mike Sisti's group, who play in the CHA, also have shown they can play a well-disciplined, yet wide-open style.
Women's hockey has come a long way, and folks like Tim Gerrish, Ben Smith, and Jeff Sauer, to name just a few, should be commended to their dedication to its constant evolution.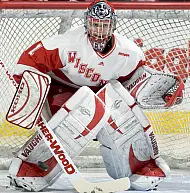 Moving along to the men's tourney, I really thought last season was Wisconsin's year, but the Badgers swooned as the season went along. There was a weekend before Christmas at Minnesota State where they really came unglued, and then they played a schedule to finish the season against the top five teams (other then themselves) in the WCHA, which was the top conference in the nation. They didn't do well, and fell short in the WCHA Final Five.
Losing Bernd Bruckler — who I thought the world of as a college goalie — should have been a bigger loss than it was. That is a credit to Brian Elliott, who was awesome early, got hurt, and then rebounded slowly. However, Elliott, he of the moose-call fame at the Hobey Baker presentation, was terrific when he had to be in the playoffs and backstopped Wisconsin to a title.
Along the way, two players emerged offensively in a system that has been labeled methodical and defensive. No groundbreaking here, as Robbie Earl and Joe Pavelski took the national spotlight and shined in it.
Earl's goal in the national semifinal, an effort that combined speed and finesse, was highlight-film material because he used speed to break clear, skill in lasering a shot in the only place a puck could have found space to go in against 6-7 goalie Ben Bishop, and patience in waiting for that speck of net to open up.
That tally gave Wisconsin a 3-1 lead midway through the game, and came just after Wisconsin had scored shorthanded to really change the momentum in a pro-Wisconsin building.
It should be noted that Maine was making its third Frozen Four appearance of the Tim Whitehead era, which started in 2001-02.

Whitehead, the handpicked successor to the late Shawn Walsh by Walsh himself, guided the Black Bears to within 52 seconds of a national title in his debut season behind the bench, losing to Minnesota in Minneapolis in OT.
He followed that up the next year by getting the Bears past Boston College at the FleetCenter in Boston for a date with Denver in the finals. In that game, Maine scored first, but a toe in the crease, which had nothing to do with the goal, cost Maine that all-important first goal. It was a letter-of-the-law call that had to be made, but it probably cost Maine emotionally more than on the scoreboard.
Denver scored to make it 1-0, and held on. To Maine's detriment, the Black Bears did not score on a six-on-three in the final minute, but hit a crossbar while Denver goalie Adam Berkhoel was awesome. It proved a deadly combo.
This season, Maine found itself back in the Frozen Four, and once again ran into the home team. Unlike its dispatching of BC in Boston in the semifinals two years ago, Maine couldn't shut down Wisconsin, a team on a mission. Freshman goalie Ben Bishop gained valuable big-stage experience, and the youth of the Black Bears will grow from this experience.
However, my point here is more than just the team. There are those in Orono who started a fire-Whitehead campaign this season, especially after a bad effort against UNH on a Saturday night at Alfond.
They claimed the team didn't play with passion under Whitehead, and that he is just too calm behind the bench to inspire his team. He doesn't yell enough, or scream, or motivate while the game is going on.
Let's rewind to that six-on-three in the '04 title game. These observations were passed on to me by Anaheim VP of Scouting David McNab, and they are pertinent to this point.
When the first call was made, Denver coach George Gwozdecky remained calm, and got his PK unit on the ice. The call was debatable, but he never said a word or showed any emotion or disgust. The second penalty, which was for closing a hand on the puck, was the kind of call you never see made in that situation. Gwozdecky could have been expected to flip out, because now 90 seconds away from a national title, he was down two men, and Maine would probably pull the goalie to increase the manpower on the ice.
If you are Gwozdecky, you are now thinking that you were two minutes away with a 1-0 lead. Down a man, the worst-case scenario is that you have a goalie playing great, and if you get scored on shorthanded, it is 1-1 and you have OT. Down two guys, it is conceivable these ticky-tack penalties at the end of a game could cost you a game you have controlled for the past two-plus periods.
Personally, I'd have flipped (and have, as many minor-league refs will attest). Gwozdecky never said a word. He kept calm and cool. He ran his bench, and Denver survived. He never gave his team a reason to lose its composure — because he kept his. Yelling and screaming can be a detriment on the bench. If the leader stays composed, his players will also.
Back to Whitehead. His signature as a coach is that composure. Whitehead, who has a master's degree in teaching, has developed Maine into a program that is perhaps the most fundamentally sound in the country. Their practices emphasize skill development, and they have a master of that art in assistant coach Grant Standbrook, and another quality teaching coach in Campbell Blair.
Whitehead, who once accurately told me that coaching is teaching with a competitive edge, has had his teams prepared for success. One can argue that they pulled off a miracle in getting to the '02 Frozen Four in Minneapolis considering that they had had their legendary head coach die at the start of the season, and had an awful start.
But Whitehead got that team together and got it ever so close to immortality. This season, he runs into a great team in Wisconsin, playing nearly in its home rink, after playing a regional in Green Bay, two hours up the road. Talk about bad timing!
Boston University's legendary coach Jack Parker once said that the teams or coaches he fears the most are the ones with the best players. Wisconsin had them, and won. For those who feel Whitehead is not the guy to run Maine's hockey program, consider he's won a Hockey East title, made three Frozen Fours, and coached in two NCAA title games (losing by a goal each time, one in OT) — in five years.
Not bad for a guy who gets accused of not being able to inspire a team to greater heights. Memo to the Maine faithful … wake up! You have college hockey's best building, a great fan base, and a great program. You'll get your ring, with "Timmeh" at the helm.