The Alaska Nanooks, poster boys for why defense doesn't win games.
With the best penalty kill in the league and the third-best in the nation, and two goaltenders with a combined save percentage of .917, the Nanooks still managed to finish the 2005-06 season tied for eighth in the league.
I know, I know. The CCHA is a tough place to play. It's a battle out there every night. Teams in this league are always beating up on each other. Anyone can beat anyone else on any given day.
Horse hockey.
"Up front, it's no secret," said third-year head coach Tavis MacMillan. "We've struggled to score goals and it's our biggest challenge right now. We felt we made some strides in the area of defending and goaltending but we've been challenged by scoring goals. It's something that we need to get better at and we feel like we've got the right kids — better yet, we're going to put them in better places to succeed this year."
The Nanooks do return their three top goal scorers from a year ago, senior Curtis Fraser, junior Aaron Lee, and sophomore Kyle Jones, and MacMillan thinks that junior Kyle Greentree will snap out of last year's sophomore scoring slump as well.
"We'll be led by junior Kyle Greentree who in my mind has taken another step and put himself in a position to become the dominant player we thought he could be. He and Curtis Fraser will be our leaders up there.
"As far as new guys, we have a young kid coming in, a 17-year-old by the name of Dion Knelsen that we think is going to be an elite player at this level…[who] will contribute right away, will be a kid we can count on right away even as a 17-year-old."
Whoa, Coach! Back up a minute. Seventeen years old? At Alaska? If Dion Knelsen is 17, doesn't that mean that senior captain Burnett Lucas and his classmates, Fraser and Jordan Emmerson are, like, old enough to be Knelsen's dad?
Readiness
"This will be an interesting year for us," said MacMillan. "We've evolved from a team that's been fairly young my first two seasons to a team now that's going to be mostly veterans, mostly older players."
Except for Knelsen, a true babe on a team never known for its collective youth.
In fairness to the Nanooks, Alaska has always been at a disadvantage for recruiting, and the program has done well to bring in older, more experienced freshmen who have helped to build and sustain the team.
Landing Knelsen is a positive step for the Nanooks, but in the interest of disclosure, it should be noted that another, elder Knelsen is also joining the squad, 19-year-old winger Brandon.
No one understands the Nanooks as does MacMillan, who played for Alaska and served as an assistant coach as well. Two years ago, MacMillan said that the strength of his team would be its youth and enthusiasm, and he was right.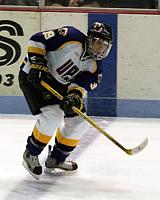 This year, those veterans — especially those old guys — will be a distinct advantage, and they'll come ready to play.
Resilience
Like the Miami RedHawks, the Nanooks return a pair of excellent starting goaltenders, and that, said MacMillan, will be the team's best asset as the season begins.
"That starts right away in the most important position, in goaltending. We return two goaltenders in Chad Johnson and Wylie Rogers. That's probably the strength of our team right now.
"On defense, we're fairly experienced with some older guys, but we're going to be led probably by a sophomore, Tyler Eckford, a young man with some great outside potential. The graduation of Jordan Hendry … leaves a void in our lineup, but it's something we think Tyler's ready to fulfill and take over."
Hendry, who returned to the Nanooks after sitting out most of the 2004-05 season with illness and injury, could have remained in Alaska for another year of eligibility but opted to go pro. His play last season absolutely solidified the Nanook defense.
Reality
It's the big pink elephant in the middle of the room: Fairbanks is a long, long way away from the rest of the league.
While the Nanooks never use distance and the travel it necessitates as an excuse for not having yet broken into the upper CCHA tier, there's no doubt that those factors must play into the reason why the Nanooks — while very good — have yet to attain greatness.
And it isn't easy to convince fans that the distance is a true obstacle. Under MacMillan, for example, the Nanooks have compiled a 7-3 playoff road record.
But compiling a better road record than home record — as the Nanooks did last season — or comparable home and road records — as Alaska does most seasons — doesn't show how well the Nanooks handle the travel. They're still mired in the middle of the pack, and must somehow do something to compensate for a brutal schedule.
Owning their home ice would be a good start.
"It's going to be another great year in the CCHA," said MacMillan. "Every night, you'd better be prepared to play. And I think consistency has been a factor for us in our inability to move up. Our kids are starting to learn that if you want to be successful in a tough league, you've got to bring it every night."
Or take it, when you can.