RIT had its ups and downs in its first season of Division I play, putting a scare into several top teams and knocking off St. Lawrence.
Looking for the silver lining in a 6-22-2 season can be difficult, but Wayne Wilson's squad was able to gain some solace in the fact that the Tigers, with just one Division I recruiting class under their belts, were in every game they played, pulling their goaltender 20 times en route to ten one-goal losses, and 16 by two goals. In all, RIT was outscored by just 25 goals in 35 games.
"It was a fine line that we have to get over," said Wilson. "We could make some excuses last year about it being our first year coming from D-III, about how we had to face some tough, rested teams in their barns. But the time for excuses is over."
Being in a league this season is huge for many reasons, according to Wilson.
"It gives our players and fans more incentive. We have something to play for this season," he said. "We have a better measure to gauge ourselves. Looking at the standings is a clear measure of where you are compared to your peers. Games can mean more. Fans can get excited, looking at the standings and seeing that we're playing a team two points ahead of us or two points behind us, or when you're playing the first-place team in the league."
Joining Atlantic Hockey will also help the Tigers with recruiting.
"We were a hard program to find last season," said Wilson. "We were the only independent. We had been accepted into Atlantic Hockey but weren't in the standings."
But Wilson says his recruiting went well and he likes his freshmen.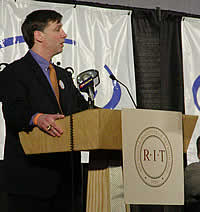 "All the freshmen coming in can play right away," he said. "It's going to be a competitive situation. We'll be making tough decisions about who is in the lineup not only for the first game, but throughout the season. We'll be moving people in and out and wait until the quarter mark of the season to see where everyone fits in."
Expected to make major contributions again is junior forward Simon Lambert. His 34 points last season were almost double that of anyone else on the team. But the linchpin for RIT will be goaltender Jocelyn Guimond, who kept RIT in many games, and tied an NCAA record for most saves en route to a win, making 66 in a 3-2 win against St. Lawrence.
"Guimond is our No. 1 (goalie) based on what he did last year," said Wilson. But Louis (Menard — medical redshirt last season) will get his opportunity, and we'll watch Jared's (DeMichiel) progress.
"We're still a young team, and we saw excellent improvement in our younger players last season," said Wilson. "We need that to continue."