One was a surprise, the other expected to be there, but now the question facing both the Minnesota and St. Lawrence hockey programs is can they get back to the Frozen Four again.
Both teams have been among the sport's elite since the first NCAA-sponsored national championship in 2001. The Saints have made four of the first six Frozen Fours, although 2001 was their only final appearance. St. Lawrence has bowed out in the semifinals three straight seasons.
"Our senior class – that's all they know," Saints head coach Paul Flanagan said about the past three Frozen Fours. The "once you've been there, you've got to get back" attitude is alive in the locker room and as any coach knows, intangibles are crucial to success.
Minnesota was riding a two-year NCAA championship run, until losing to Wisconsin 3-0 in last year's final. The Golden Gophers have been to five straight Frozen Fours since just missing out on the first.
"The bar is pretty high here with the tradition we have established," said UM head coach Laura Halldorson. But the goals remain the same, she said: Win the WCHA regular season and then the league and national tournaments. "But right now it's September … I can't think past this weekend."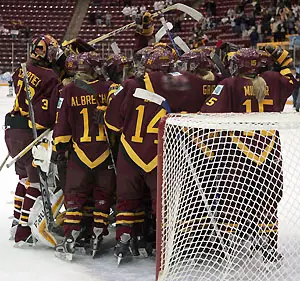 The Gophers lost 4-2 to the Minnesota Whitecaps in an exhibition game Saturday. They open their regular season this weekend in the Easton Shootout Tournament with games Friday against Maine and Saturday against New Hampshire, who they defeated 5-4 in the 2006 national semifinals.
Both St. Lawrence and Minnesota return a core of starters but the losses could hurt, as would be expected.
"We lost a lot but not a ton," said SLU coach Paul Flanagan as the team prepared for its season opener, a pair of games Friday and Saturday against Wayne State. Returning is goalkeeper Meaghan Guckian, who split time regularly with departed Jessica Moffat last season. The return of Chelsea Grills, the 2004 ECAC Rookie of the Year who redshirted last season, will add to the offense.
Flanagan, in his eighth season as head coach, said last year's squad was top heavy with two strong lines, a third checking line, and not much of a fourth line. "This year it will be a more collective effort rather than one or two players having 50-point seasons," he said. "We're a little more balanced," he said. "Now if I had to I could send four lines out." As far as the offense is concerned, the two top scorers for last season, Patty Kazmaier Award finalist Sabrina Harbec (61 points) and sophomore Carson Duggan (42 points) are both returning. Also returning is Second Team All-American defenseman Annie Guay (34 points).
Although it's hard to replace elite players, he said of last year's team that went 31-5-2, "There are kids waiting in the wings whether they are veterans or freshmen who want to step up. We should be pretty good on the blue line," he said.
Halldorson, in her ninth season, saw plenty of stepping up from her younger players last season. Although voted first in 2005-06 preseason polls (mainly because they were the 2004 defending champs), the team was inconsistent early on without its four Olympians and both goaltenders from the previous national championship team. "I've been around hockey for a long time," Halldorson said, "but I don't remember one team losing this amount of players." In the beginning of the season, "there was a lot of looking around … like who's going to do it, but over time the young players became leaders and we established our own identity," she said. "Players grew more confident and began to believe in each other and that made all the difference. As a group, we felt we could do it."
Among the returning players, the Golden Gophers are strongest at the forward position, returning 87 percent of their scoring from last year. Four forwards competed in the U-22 games between the U.S. and Canada, plus two other players will give Minnesota "two very dangerous lines," she said. Captains Andrea Nichols and Bobbi Ross are back, as are the team's two leading scorers from last season, junior Erica McKenzie (53 points) and sophomore Gigi Marvin (46 points). Two returning goaltenders, sophomores Brittony Chatier and Kim Hanlon, give the team experienced in that department. Hanlon was the WCHA goaltending champ last season with a goals against average of 1.19 in 19 games.
The Gophers are youngest in the defensive end, where they lost three to graduation. A junior, two sophomores (including WCHA All-Rookie selection Melanie Gagnon) and a pair of highly-promising freshmen defenders will be counted on to fill this void. In addition, Halldorson will move senior Maggie Souba from forward to defense. "She's comfortable there and she's a smart player," she said. "She'll help limit turnovers and mistakes." Gagnon and Ross are on the Canadian U-22 team.
Both Flanagan and Halldorson are curious about what will happen to the women's hockey landscape with the return of players from the 2006 Winter Olympics. Neither Minnesota nor St. Lawrence has Olympians this season, but other teams will benefit from their elite presence.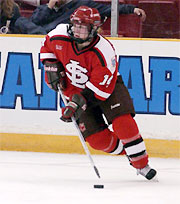 Flanagan said because there are more quality players and programs than when he started, returning Olympians may not make as great an impact on the sport as they once did. At one time, a returning Olympian "was like Mario Lemieux coming down from the NHL and playing college teams," he said.
"That's changed because there's a bigger core of better players," he said. "Recruiting is more spread out, more schools are offering scholarships and from top to bottom. They're moving closer together." When he first came into the business, Dartmouth and Harvard were the prohibitive favorites in the ECAC, largely because of the Olympians. "Now they can be beaten," he said.
"I look for us to be every bit as competitive as last year," said Flanagan. "If we stay healthy, get solid defense and we can win close games like we've done in the past, this will translate."
The sport has grown from the point when only a handful of teams could hope to make the Frozen Four. Now, he estimates, 14 or so teams could compete at that level. Eight years ago there were 13 Division I teams; now there are 32, and the NCAA tournament has been expanded from four teams to eight since the 2004-2005 season.
However, Halldorson said the landscape changes every year in the sport and will certainly be affected this season with the return of the Olympic players.
During her playing days at Princeton (she graduated in 1985) and early coaching years at Colby College, only three schools offered scholarships and the ECAC was the only one league. Over the years, she has observed the pool of quality high school players increasing, which gives teams depth, but the number of elite players has not really changed that much.
"I'm hoping the pool of top players continues to increase to keep up with the growth of the sport," she said. "Otherwise, we'll be spread too thin."
Based on last season, there was enough talent in her system to achieve what she comes close to calling a miracle. "Not many people outside our program expected us to make it to the Frozen Four," she said. But this season, more is expected as the year of experience should figure largely in the team's fortunes.
"I like our team – the work ethic, the talent, the chemistry," Halldorson said. "Our goal is to build on what we did last year," she said of her team ranked No. 3 in preseason polls. "There are so many aspects going into a team … talent is a big piece but not the most important. We all have to be pulling on the same rope."