Six and Four
This year, Hockey East looks like a two- or perhaps three-tier league. It will, of course, continue to feature great top-to-bottom strength and those teams on the bottom trying to move up will strike down the Goliaths on plenty of occasions. That said, there should be a significant gap between the top six teams and the bottom four.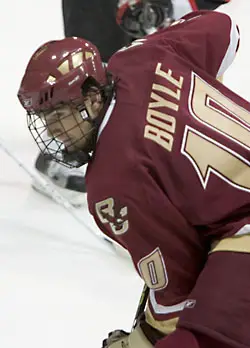 There are, once again, the four perennial powers: Boston College, Boston University, Maine and New Hampshire. The coaches' preseason poll pegs these schools for the home ice slots, with Vermont and Providence providing the toughest challenges. National pollsters agree, putting all of the four "usual suspects" within the top 11 teams in the USCHO.com/CSTV Preseason Poll with Providence and Vermont almost breaking into the top 20.
The writers of this preview agree for the most part, but differ on the exact ordering. Dave is impressed by the threat posed by Vermont and Providence, but is unable to see the necessary chinks in the four powers' armors for the two challengers to get home ice. On the other hand, Scott, shaking his head at Dave's "safe" (almost to the point of cowardice) picks, sees Providence bypassing both UNH and Maine.
Either way, the coaches, Dave, and Scott all see the same six teams in that upper tier. The other four schools have some catching up to do. Merrimack and Northeastern finished well out of the playoffs last year and thus have the furthest to go. Massachusetts and Massachusetts-Lowell finished last season within striking range, but have big holes to fill, particularly the River Hawks.
There is, however, a reason why they play the games. Few thought Lowell would struggle so much last season and no one, other than perhaps PC coach Tim Army's relatives, expected the Friars to spend so much time atop the league standings.
Here, then, are thumbnail views of each team's outlook. Click on the links for more details.
Head Coach: Jerry York (749-502-75, 34 years overall; 282-157-41, 12 years at BC)
2005-2006 Record: 26-13-3 (17-8-2, T-2nd HEA)
2005-2006 Team Offense: 3.48 goals per game, 2nd
2005-2006 Team Defense: 2.26 goals against per game, T-2nd
2005-2006 Power Play: 15.1 percent, 8th
2005-2006 Penalty Kill: 85.9 percent, 4th
Key Losses: Chris Collins, Peter Harrold and Stephen Gionta
Key returnees: Cory Schneider (2.11 GAA, .929 Sv%), Brian Boyle (22-30–52) and Brett Motherwell (4-19–23)
2006-2007 Coaches' Poll: 1st
In brief: Glass-half-empty BC fans might bemoan the losses of Chris Collins and Peter Harrold, but Cory Schneider and Brian Boyle return as major weapons. Add a year of experience to all those youngsters who last season got to the national title game and you've got the makings of a potential juggernaut.
Coaches' pick: 1st
Dave's pick: 1st
Scott's pick: 1st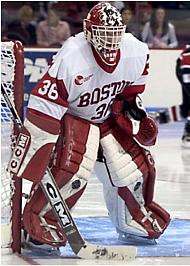 Head Coach: Jack Parker (742-379-84, 33 years)
2005-2006 Record: 26-10-4 (17-7-3, 1st HEA)
2005-2006 Team Offense: 3.40 goals per game, 2nd
2005-2006 Team Defense: 2.48 goals against per game, t-5th
2005-2006 Power Play: 15.6 percent, 6th
2005-2006 Penalty Kill: 81.9 percent, t-6th
Key Losses: David Van der Gulik, Dan Spang, Brad Zancanaro, John Laliberte
Key returnees: John Curry (2.24 GAA, .918 Sv%), Pete MacArthur (14-25-39), Kenny Roche (17-14-31), Brandon Yip (9-22-31), Sean Sullivan (3-14-17, +12), and Matt Gilroy (+21)
In brief: Despite losing their top forward line and an All-American defenseman in Dan Spang, BU figures to be solid in every area and won't need to rely on many freshmen in key roles. If a few returning players can step up their production, they can contend for the top spot in the league and the nation.
Coaches' pick: 2nd
Dave's pick: 2nd
Scott's pick: 2nd
T-3. New Hampshire
Head Coach: Richard Umile (373-186-61, 16 years)
2005-2006 Record: 20-13-7 (14-7-6, 4th HEA)
2005-2006 Team Offense: 3.15 goals per game, 4th
2005-2006 Team Defense: 2.33 goals against per game, 4th
2005-2006 Power Play: 20.7 percent, 2nd
2005-2006 Penalty Kill: 85.0 percent, 4th
Key Losses: Daniel Winnik, Brian Yandle, Jeff Pietrasiak
Key returnees: Jacob Micflikier (16-26-42), Kevin Regan (2.63 GAA, .914 Sv%), Brett Hemingway (19-22-41), Trevor Smith (10-10-20), Craig Switzer (2-14-16), Josh Ciocco (7-11-18)
In brief: The Wildcats have a talented nucleus, but the early departure of power forward Daniel Winnik on top of outstanding offensive defenseman Brian Yandle means that others will need to come through on the score sheet. Another key factor is whether goaltender Kevin Regan puts up numbers more like his freshman year (15-4-2, 2.35, .928) or last year (8-8-5, 2.63, .914).
Coaches' pick: 4th
Dave's pick: 3rd
Scott's pick: 5th
T-3. Maine
Head Coach: Tim Whitehead (207-149-35, 10 years overall; 131-54-24, five years Maine)
2005-2006 Record: 28-12-2 (17-8-2, T-2nd HEA)
2005-2006 Team Offense: 3.40 goals per game, 3rd
2005-2006 Team Defense: 2.26 goals against per game, T-2nd
2005-2006 Power Play: 21.9 percent, 1st
2005-2006 Penalty Kill: 88.9 percent, 1st
Key Losses: Greg Moore, Derek Damon, John Hopson, Steve Mullin and Travis Wight
Key returnees: Michel Léveillé (16-24–40), Josh Soares (15-26–41), Billy Ryan (10-18–28), Bret Tyler (7-16–23) and Ben Bishop (2.28 GAA, .907 Sv%)
In brief: All-American Greg Moore leads the group of four forwards who must be replaced along with defensive stalwarts Steve Mullin and Travis Wight. That said, don't be surprised if sophomore goaltender Ben Bishop takes his game to the next level and leads the Black Bears to another Frozen Four.
Coaches' pick: 3rd
Dave's pick: 4th
Scott's pick: 4th
5. Providence
Head Coach: Tim Army (17-16-3, 1 year)
2005-2006 Record: 17-16-3 (14-10-3, 5th HEA)
2005-2006 Team Offense: 2.89 goals per game, 5th
2005-2006 Team Defense: 2.48 goals against per game, t-5th
2005-2006 Power Play: 17.2 percent, 4th
2005-2006 Penalty Kill: 85.8 percent, 3rd
Key Losses: Torry Gajda, James Pemberton, Nate Meyers
Key returnees: Tyler Sims (2.32 GAA, .916 Sv%), Chase Watson (6-27-33), Jon Rheault (16-14-30), Colin McDonald (9-19-28), Cody Wild (6-15-21)
In brief: After a stellar run in late fall, the Friars faded in the stretch. With more depth this year and few departures, PC should be better equipped to keep the foot on the gas with Tim Army's aggressive emphasis on attacking the other team's net in all situations.
Coaches' pick: 6th
Dave's pick: 6th
Scott's pick: 3rd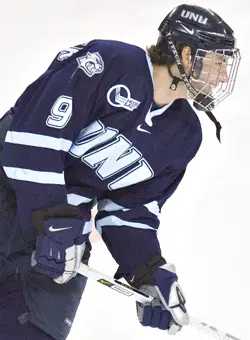 6. Vermont
Head Coach: Kevin Sneddon (98-149-32, eight years overall; 48-50-14, three years at Vermont)
2004-2005 Record: 18-14-6 (10-11-6, 6th HEA)
2004-2005 Team Offense: 2.55 goals per game, 7th
2004-2005 Team Defense: 2.16 goals against per game, 1st
2004-2005 Power Play: 20.1 percent, 2nd
2004-2005 Penalty Kill: 86.4 percent, T-2nd
Key Losses: Brady Leisenring, Jeff Corey and Jaime Sifers
Key returnees: Joe Fallon (2.02 GAA, .907 Sv%), Torrey Mitchell (12-28–40), Dean Strong (9-15–24), Peter Lenes (13-7–20), Kenny Macaulay and Mark Lutz
In brief: Although Jaime Sifers, Brady Leisenring and Jeff Corey leave behind big holes to fill, a talented core remains. Last year the Catamounts were, in coach Kevin Sneddon's words, "top five [nationally] in team defense, but top 40 in offense." Can they maintain the former while improving the latter?
Coaches' pick: 5th
Dave's pick: 5th
Scott's pick: 6th
7. Northeastern
Head Coach: Greg Cronin (23-37-9, 2 years)
2005-2006 Record: 6-23-5 (3-24-7, 9th HEA)
2005-2006 Team Offense: 2.11 goals per game, 9th
2005-2006 Team Defense: 3.26 goals against per game, 8th
2005-2006 Power Play: 14.6 percent, 8th
2005-2006 Penalty Kill: 81.9 percent, t-6th
Key Losses: Chuck Tomes, Brian Swiniarski
Key returnees: Mike Morris (DNP-Injured), Steve Birnstill (2-14-16), Jimmy Russo (5-13-18), Ryan Ginand (10-6-16) Joe Vitale (8-8-16), Adam Geragosian (3.24 GAA, .902 Sv%)
In brief: Coming off a trying 3-24-7 season last year, coach Greg Cronin and company have brought in a horde of talented recruits, including many who were prolific scorers at the junior level. This is a work in progress, but they should make significant strides. The big question is whether star forward Mike Morris is fully recovered from the concussion that forced him to miss all of last season.
Coaches' pick: 8th
Dave's pick: 8th
Scott's pick: 7th
Head Coach: Don Cahoon (260-288-53, 19 years overall; 70-119-17, six years at UMass)
2005-2006 Record: 13-21-2 (10-15-2, 8th HEA)
2005-2006 Team Offense: 2.14 goals per game, 8th
2005-2006 Team Defense: 2.86 goals against per game, 7th
2005-2006 Power Play: 16.2 percent, 7th
2005-2006 Penalty Kill: 81.1 percent, 8th
Key Losses: Stephen Werner, Marvin Degon and Gabe Winer
Key returnees: Matt Anderson (7-13–20), Chris Capraro (8-11-19) and Jon Quick (2.98 GAA, .920 Sv%)
In brief: Mainstays Stephen Werner, Marvin Degon and Gabe Winer have graduated. A few secondary players must rise to the fore, joining Matt Anderson, Chris Capraro and Jon Quick as difference-makers.
Coaches' pick: 7th
Dave's pick: 7th
Scott's pick: 9th
Head Coach: Blaise MacDonald (168-146-38, 10 years overall, 77-88-21, five years at Lowell)
2005-2006 Record: 14-20-2 (11-14-2, 7th HEA)
2005-2006 Team Offense: 2.89 goals per game, 6th
2005-2006 Team Defense: 3.67 goals against per game, 10th
2005-2006 Power Play: 16.7 percent, 6th
2005-2006 Penalty Kill: 79.7 percent, 10th
Key Losses: Bobby Robins, Elias Godoy, Andrew Martin, Danny O'Brien, Mark Pandolfo, Peter Vetri and Matt Collar
Key returnees: Jason Tejchma (11-15–26), Jeremy Hall (12-13–25), Cleve Kinley and J.R. Bria
In brief: The River Hawks lost their four top scorers, five defensemen, and the goaltender who played almost every game for them last year. Barring a miracle by coach Blaise MacDonald, the cellar could be a more likely destination than the playoffs.
Coaches' pick: 9th
Dave's pick: 9th
Scott's pick: 8th
10. Merrimack
Head Coach: Mark Dennehy (6-23-5, 1 year)
2005-2006 Record: 6-23-5 (3-19-5, 10th HEA)
2005-2006 Team Offense: 1.59 goals per game, 10th
2005-2006 Team Defense: 3.41 goals against per game, 10th
2005-2006 Power Play: 12.9 percent, 10th
2005-2006 Penalty Kill: 80.6 percent, 8th
Key Losses: Bryan Schmidt, Matt Johnson, Scott Drewicki, Brent Gough, Rob Lalonde
Key returnees: Patrick Watson (2.72 GAA, .920 Sv%) Jim Healey (3.49 GAA, .892 Sv%), Rob Ricci (10-16-26), Mike Alexiou (2-11-13), and Ryan Sullivan
In brief: Like Northeastern, Merrimack has a second-year coach looking for light in the end of the tunnel. Mark Dennehy's Warriors figure to have a very solid goaltending tandem in Patrick Watson and Jim Healey. They will steal some games, but can anyone besides sophomore Rob Ricci put up good point totals?
Coaches' pick: 10th
Dave's pick: 10th
Scott's pick: 10th