From doormat to playoff contender: that is how far Neumann has come in the past two seasons. The Knights enjoyed their most success ever last year, finally having a winning season and being right in the playoff hunt down the stretch.
But Neumann came up short, missing the playoffs by a scant three points, and watched the other teams enjoy the post season spotlight. That hasn't sat well with the Knights over this past summer.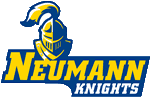 "Our foundation is working hard and that is what we have to build off of," said Neumann coach Dennis Williams. "We go into the season as a team that still hasn't reached the playoffs, so we didn't reach a goal that we put out there for ourselves last season. We still have that bad taste sitting there. There is still unfinished work to be done."
While Neumann didn't have any seniors on last year's team, it did lose a handful of players during the offseason for various reasons. The most noticeable pair are the Droddy brothers, Kevin and Jason, who would have been the sole recruited seniors on the team this season and were the last holdouts from the pre-Williams days at Neumann.
Word about Neumann's up and coming team has echoed throughout the rinks of college hockey, and for the second year in a row the school has attracted transfers from other teams.
"It feels good that kids want to transfer to come to play for your program," said Williams. "Getting character guys is definitely a positive for us."
Mark Van Vliet has transferred in from Division I Quinnipiac as a junior after tallying six goals and five assists for the Bobcats in 28 games last season.
"Mark is definitely going to be on the top line or two for us and will be a great addition to the program," said Williams.
Neumann also landed another transfer from Oswego in defenseman Tyler Rivers who played nine games for the Lakers last year.
"With the great program that he came from in Oswego, I hope that he can bring over some leadership as well," said Williams.
The top freshman in this season's class seems to be Matt Ward who was a top-10 scorer in the CJHL last season. Five other freshmen join Ward on the young Neumann squad.
The Knights will have to weather a short bench early in the season. The suspensions resulting from the brawl at Manhattanville late last season carry over into this season for four players. Junior Dayne Bihn has a one game suspension remaining. Junior Sean Cryer and sophomore Donavan Hall each have three more games to serve, while sophomore Keleigh Schrock has to sit for eight more games.
The short bench early in the season will give the newcomers plenty of ice time, but once the Knights get going, they will need to keep their eye on the playoff goal at the end of the season every day.
"We need to try to keep the team working towards one philosophy," said Williams. "We have a great group of young men who share the same vision that I have. As we get going, we need to keep the constant consistency every practice, every game, every night. We faltered coming down the stretch last year, so we need to not make those little mistakes any more."