He may not appear much on the score sheet and he won't be noticed for being a sizeable player on the ice. But that's not Tim Madsen's game.
The 5-foot-8, 170-pound Niagara junior is a prototypical role player, a third- or fourth-liner if you will. It's a role he relishes for the Purple Eagles.
"My last year of juniors (2003-04 with the United States Hockey League's Waterloo Black Hawks), I scored 19 goals in the best junior league in the country," Madsen said. "Here at college, I still play the same way, but the puck just hasn't been going in. I have accepted my role on the team and am very satisfied with it as long as we keep winning.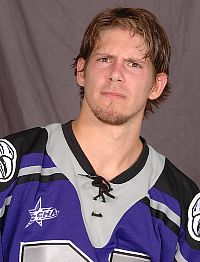 "Personal stuff doesn't matter to me. That's how you need to be to win championships and how I think more guys need to be. No selfish teams ever won championships."
The 22-year-old native of Elk River, Minn. (30 minutes northwest of Minneapolis), is an assistant captain with the first-place Purple Eagles this season. Leadership was always a trait Madsen wore on his sleeve, but now he gets the official recognition on his left shoulder.
"I'm the guy who will yell and scream. That's me," Madsen said. "'Benti' (captain Sean Bentivoglio) and (Matt) Caruana lead by example and (Pat) Oliveto and I are the vocal leaders. I don't care if you're our team's leading scorer, our goalie or even a role player like me, if I think something needs to be said or we need to settle things down, I'll be the first one to say it. I treat my role like I'm a coach."
Coaching is definitely one aspect of hockey Madsen, a self-proclaimed "student of the game," wants to pursue once his playing days are in the rear view mirror.
"My uncle (Regg Simon) coaches in the USHL (with the Des Moines Buccaneers) and I talk to my coach in Waterloo (P.K. O'Handley) now and then," said Madsen, a business management major with a minor in leadership. "I'd like to be a coach some place and stay involved in the game. I don't want some 9-5 job at a bank or something, but hey, a 9-5 job at a hockey rink, that's what I'd love."
Currently on a line with freshmen Egor Mironov and Nate Bostic, Madsen has had a plethora of linemates, including CHA wunderkinds Les Reaney and Ted Cook. So far in his two-plus years on Monteagle Ridge, Madsen has amassed three goals and 14 points. Still, his goal remains team-oriented and one that he thinks many people put past teams in the five-team CHA.
"I'm here to win championships," said Madsen. "We won nationals my last year with Waterloo and I want to taste that here. There seems to be a misconception about players at small schools. People think we're content to just win the CHA tournament and make it to the NCAA tournament. That's not the case at all. Sure, winning the league would be nice, but even better is winning a national championship. It really bugs me that people think we only want to show up at the (NCAA) tournament.
"Maybe we don't get a whole lot of attention right now because the (Buffalo) Sabres are doing so well, but people will take notice if we keep winning. People say we need a reason for them to come see us play, so we need to create reasons."
Minnesota born and raised, Madsen saw first-hand the success of the Minnesota hockey program. Like most kids in Minnesota, Madsen had one goal as a youth.
"Every kid in Minnesota wants to be a Gopher," said Madsen. "I did, too, but I also wanted a scholarship and I got that at Niagara. I'm working toward my degree and hopefully it keeps me in the hockey world.
"Hockey's all I know and all I want to do."
Wayne State Freshmen Getting Job Done
When Wayne State graduated defensemen Greg Poupard and Steve Kovalchik last spring, that left a huge opening on the Warriors' power play.
Enter Jeff Caister.
The freshman blueliner has come in and run the power play with the look of an upperclassman. At times, he's paired with Ryan Bernardi, a teammate of his last season with the Milton IceHawks Junior A program in the Ontario Provincial Junior Hockey League.
"That's what we hoped he would do," said WSU head coach Bill Wilkinson of Caister being the power-play quarterback. "He's a smart player and really reads the ice extremely well. He's got a great shot and you saw that (Friday night)."
In last Friday's 2-1 nonconference loss to Sacred Heart at home, Caister scored the lone goal, his first collegiate goal, for WSU off a nifty helper from Jared Katz, another Wayne State freshman. Katz, all 5-foot-8 and 145 pounds of him, took the puck in deep and went down with two SHU defenders draped on him. But on his way to the ice, Katz centered a pass to the point and Caister wrested a shot past Pioneers' goalie Stefan Drew.
"Katz works his tail off, doesn't he?" Wilkinson said. "He's by far not the biggest kid out there, but I always say it's the size of the heart and not the size of the body that makes a difference. I didn't even see the pass or if it even was meant to be a pass, but it sure got the job done."
Purps Take Three Of Four Points From CHA Champs
In their first meeting since the CHA finals last March, Bemidji State and Niagara hooked up last weekend in western New York with the Purple Eagles taking three of four points.
Friday night, BSU goalie Layne Sedevie was chased just 5:17 into the game after allowing three goals on four shots, including one 25 seconds into the game.
Last season's Co-CHA Rookies of the Year Les Reaney and Ted Cook each had two power-play goals in the win. Being reunited with senior captain Sean Bentivoglio sparked an offensive explosion for the sophomore forwards as Bentivoglio assisted on three of the pair's four goals.
"We just work awesome together," Reaney said. "It's chemistry from last season. We just know where we all are and we feed off of each other."
Reaney's goal in the first minute opened the floodgates for NU's 6-2 win.
Sophomore goalie Juliano Pagliero established himself as Niagara's No. 1 goalie Saturday night by turning aside 36 shots, including nine in overtime, just a night after making 36 saves as the two teams skated to a 2-2 tie.
"'Pags' was a pillar back there," NU head coach Dave Burkholder said. "And in overtime, we were fading a little bit, but he made a couple of big saves to save it for us. I think it was an important weekend for him for his confidence. He certainly proved it (Friday) night and I thought that he was solid (Saturday) night. Right now, the guys have a lot of confidence in him."
Matt Allen's goal at 5:26 of the third period gave BSU the tie. Matt Climie finished with 33 saves and also had 19 saves after coming in for Sedevie on Friday.
"Right now we're not a team with a lot of competitive maturity," Bemidji State head coach Tom Serratore told USCHO. "We don't have a win this season and they better start realizing that you have to bring it for 60 minutes. You play every game like it's your last and right now we aren't getting it done."
The Beavers play at Minnesota State, a team they swept last season as part of an 8-2-0 start, this weekend.
Junior Orlando Alamano is scheduled in goal on Saturday for his first-ever start. Alamano played 14:19 in relief of Sedevie back on Nov. 12, 2004 (a 9-2 BSU blowout win over Bentley) in his only other regular-season appearance.
RMU Looking For More Goals
Robert Morris has only played one game, a 4-1 loss at Cornell last Thursday, in the past two weeks, but head coach Derek Schooley has the Colonials primed for their weekend series at home with Niagara.
"We're sick of battling each other in practice," Schooley said. "We're ready to compete against CHA competition and start the league portion of the schedule. We had a spirited week of practice after playing what I thought was a very good game against Cornell after being off for 10 days."
Early on, scoring goals has been an issue for RMU. The Colonials are last in scoring in the CHA with just seven goals so far this season. They have tallied three goals in their last three games, all losses. The other four came in their season-opening win at Canisius.
"I'd be concerned if we weren't getting our chances, but we are and we have to concentrate on finishing," said Schooley. "We can't get frustrated and just have to keep working hard down low."
Wilkinson Returns To WMU
Saturday night, Wilkinson returns to his old stomping grounds at Western Michigan as WSU plays a single game against the Broncos this week. Wilkinson coached 17 seasons in Kalamazoo from 1982-1998.
"We're excited to play CCHA competition," Wilkinson told MichiganCollegeHockey.com. "It'll be a fun event, too. You know there will be a lot of screaming fans when you go into Lawson. It's a tough environment to play in and I've never experienced it from the other side."
WSU and WMU first met last New Year's Eve at the Badger Showdown with the Warriors earning a 6-3 win. It was one of six wins all last season for Wayne State.
UAH Loses to Air Force, Tops Army
With two goals in the third period, Alabama-Huntsville beat Army 2-1 last Saturday in the consolation game of the inaugural Lightning College Hockey Classic in Tampa. Josh Murray and linemate Tyler Hilbert tallied in the win. Marc Narduzzi picked up his first win in net of the season making 17 saves.
Friday, UAH fell to ex-CHA member Air Force, 7-5. David Nimmo had a goal and an assist to extended his point streak to eight games, but he was unable to keep it going as Army held him without a point.
The Chargers took in the Tampa Bay Lightning-Carolina Hurricanes game last Thursday night as well. The 2004 Stanley Cup champs beat the 2006 Cup champs, 5-1.
Alabama-Huntsville is idle this weekend before playing its first CHA road series at Niagara next weekend.