A Quick Start
Last season, Cortland won four games. They didn't even win their second game until past the halfway point.
This year, the Red Dragons have already won three times … in their first three games.
"When you got four wins the previous season, and get three right off the bat, the guys are certainly excited," coach Tom Cranfield said.
Cranfield credits the attitude of the team before the season started: "I think initially when they got here, we had better leadership than before. And for a team, that's the most important thing."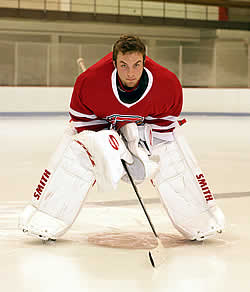 What's also important is strong goaltending, something Cortland was quite concerned about after the graduation of Matt Meacham. However, freshman Ben Binga is making Cortland fans forget about Meacham faster than a stripper can make a guy forget about a girlfriend who just left him.
"Hardest working kid on the team," Cranfield said. "He's very technical as far as hockey goes. Biggest thing is, he loves to compete. He never gives up on the puck."
Binga, who was named SUNYAC Goaltender of the Week and Cortland Male Athlete of the Week, produced the first shutout for the Red Dragons in nearly seven years. In fact, he opened the season with a 113:13 shutout streak and then proceeded onto another shutout streak of 50:28. He is tops amongst SUNYAC goalies for overall GAA (1.33) and save percentage (.966). He's had to face 119 shots in just three games.
On the other end of the ice, Barry McLaughlin has stepped up his play after a somewhat disappointing 2005-06 campaign.
"He didn't meet the goals he set for himself last year," Cranfield said. "It was really important to him to come back this year in tip-top shape and prove to everyone he really is a good hockey player. He's kind of on a mission."
That mission has led him to score four goals and three assists, including two goals in their season opener against Brockport. That's already 35% of last season's production when he got ten goals and ten assists for 20 points.
Granted, there are some circumstances behind this quick start. Two opponents were Brockport and Lebanon Valley, two of their victims last season. However, they did beat Fredonia, even though they were outshot, 46-13 (did I mention that Ben Binga guy?).
"Fredonia is always a good test, so that was a big win," Cranfield said.
Obviously, it's way too early to declare Cortland this year's Buffalo State. Or, even to say that the Red Dragons are going to have a successful season. However, for a team that went 4-19-2 last year, opening this season up at 3-0 sure beats any other alternative.
Morrisville Mustangs
In the season preview, I did not include Morrisville. However, I do plan on keeping tabs with the future SUNYAC team in this column. Like I reported last year, Morrisville is moving its athletic program from a junior college to Division III. This means they have to go through a 3-4 year process, depending on how quickly they meet NCAA requirements.
This year, they are a true independent. Next season, they will begin competing in the SUNYAC. Though their games and stats will count, they will not be able to participate in the SUNYAC playoffs the first two years in the league.
So, how does coach Earl Utter motivate his team? "We recruited the type of kids who take pride in what they do," he said. "It's not the wins and losses that motivates us. It's how many hits we have, shots we get, shots the other team gets, how hard we work."
"We're going to try to outwork teams," he continued. "Our work ethic is hopefully equal to theirs. Obviously, try to get as many wins as possible while trying to be the hardest working team on the ice. Our skill level is not going to match the others in the SUNYAC."
Three players to keep an eye on are goaltender Travis Moore who has made an impression right off the bat, forward Matt Damskov who has gotten two goals and two assists in the first five games, and defenseman Evan Kernohan.
"We have a lot of guys who are going to be coming into their own as they play," Utter said about his squad. "A bunch of hard working kids."
The Mustangs opened their Division III quest by taking a 9-1 pounding to Oswego where they were outshot, 53-11. Many immediately thought this was going to be one very long season for Morrisville. However, they held their own in a 5-3 loss to Geneseo where Morrisville led 2-0 and it was tied 3-3 in the third period. They trailed Plattsburgh by only a goal heading into the final minute of the game.
"We scored more goals than we thought we would," Utter said. "When we had Plattsburgh leading 4-3 with a minute left that was a huge plus for us. If we work really hard, we can stay in games. We had good games where we earned respect from the SUNYAC teams."
In all honesty, it will be a tough haul this year for the Mustangs. However, teams better not assume that a game against Morrisville is a guaranteed "W". If they do, Morrisville and it's hard working team just may beat them.
SUNYAC Short Shots
A sellout crowd of 2,980 jammed into Oswego's new rink for the inaugural game to watch the home team beat Utica, 4-3 … Fredonia's Matt McKeown scored as pure a natural hat trick as there is, notching the first three goals of the game against Marian all in the first period in a span of 3:06. He also scored the first two goals against Buffalo State, 17 seconds apart … Oswego's Garren Reisweber notched a hat trick against Morrisville … In Brockport's 5-3 win over Buffalo State, seven of the goals came on the power play … Plattsburgh finished off Morrisville by scoring the last two goals 19 seconds apart in the final minute … Geneseo scored the tying and winning goals against Neumann 14 seconds apart late in the third period … St. Clair scored four power play goals yet Geneseo got three shorthanded goals in a 7-4 Ice Knights' victory … Fredonia lost a 2-0 first period lead to St. Norbert by letting up two shorthanded goals in the second period and settled for a tie … The 50 shot club included Oswego with 53 shots against Morrisville in a 9-1 win, Geneseo with 56 against Morrisville in a 5-3 victory, Plattsburgh with 52 in a 6-3 win over Morrisville, and Geneseo got 50 against Neumann in a 5-3 win … Fredonia got 21 shots in the first period against Buffalo State, yet managed only four shots in the third period, in a 5-4 win … Fredonia held Cortland to just two shots in the first period and zero in the third, yet the Red Dragons won, 2-1.
Game of the Week
With the exception of Plattsburgh's 7-1 victory over Potsdam this past weekend, conference play begins this week with everybody getting into the action. There are some key games over those two days.
Buffalo State, which has gotten off to a slow start, will try to prove last year was not a fluke when they host Plattsburgh Saturday. Oswego and Geneseo, who keep missing each other in the playoffs the past two seasons, will faceoff on Saturday as well. Another Saturday match up sees Potsdam, who has gotten off to a dismal start, playing at Fredonia in a rematch of last season's first round.
The game I'm going to pick is Cortland at Geneseo. The Red Dragons will get their toughest game of the year so far to kick off conference play.
"Our first real test," Cranfield said. "Geneseo are the two-time champions. It's a situation to see where we fall amongst the elite."
Indeed it is. Even if Cortland doesn't win this game, how they compete against Geneseo will tell a lot about whether the Red Dragons will be a team to be reckoned with.
"When it counts for points, these are the most important games of the year," Cranfield said. "The kids are really looking forward to it."
So are we.
On The Periphery
Isn't it great to watch people get something so right? Everything from understanding the situation to the strategy to deal with it to the execution of their plan, overcoming any hurdles along the way.
The Buffalo Sabres this year are a perfect example. They understood perhaps better than anyone exactly what the new NHL was going to be (unlike Bobby Clarke and the Philadelphia Flyers). They crafted their team to match perfectly with that new landscape. They dealt with the issues of being a small market team with an owner not quite as willing to open his wallet. Most importantly, they performed exactly as planned. From the ownership to the management to the coaches to the players, the whole operation has been so right. From a spectator standpoint, it has been an extreme pleasure watching them play, and this comes from a diehard New York Rangers fan.
It's sports at its perfection. It doesn't come along often. Maybe we'll see it this year in the SUNYAC or elsewhere in college hockey. If you do, sit back and savor it.