Team Overview: Yes the Hawks still continue to face the dilemma of being a D-II team in a D-III league — so once again they will not qualify for tournament play come playoff time in the conference. While they are the reigning D-II tournament champions, coach Ed Seney would like his squad to focus on his team's taking the top spot in the conference. "We bring back a pretty solid group and have some good new players to add to the mix this season," he said. "We should be able to score some goals with a couple of pretty good lines and some added depth on the roster. We look real solid with (Brett) Smith and (Brian) Dobler on the blue line and our goaltending really came on at the end of last season."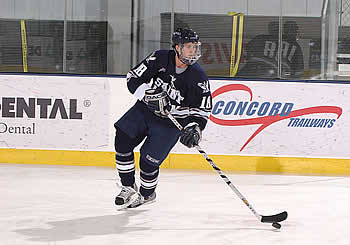 Senior Brett Smith is one the elite defensemen in the country and last year posted terrific offensive numbers with eleven goals and twenty-five assists for thirty-six points. "We have a lot more depth this year defensively but you know that Brett is going to get a lot of ice time," commented Seney.
Goalie Jason Rafuse finished last season with a strong 2.63 goals against average in 24 games played for the Hawks and looks to build on that record this season.
Special Teams: Over thirty percent of the team's 126 goal output last season was produced with the man advantage. The Hawks can make teams pay for taking penalties and are very good defending when penalized having surrendered just 21 power play goals against last season.
Schedule: The Hawks get two shots at beating a team they have never beaten in playing Middlebury during the season as well as over the holiday break. St. Anselm's also plays the traditional single game match-ups against the other D-II schools used to establish seeding for the Northeast-10 championship at the end of the season.
Summary: The Hawks are seasoned and hungry to prove themselves in the ECAC East. Strong senior leadership will help them showcase how good they are against the rest of the league.