Team Overview: Bill O'Neill is in that elite group of coaches with over 400 career wins — all at Salem State. O'Neill like the looks of his returning players and is curious about the mix of some of the new recruits coming in: "You just don't know what you have before you get on the ice and see how the pieces fit. I think we will be OK offensively with some of our returning guys from last year and hopefully some of the new guys with junior experience will be able to help out.
O'Neill's son, senior Andrew O'Neill looks to add to his totals from last year (8-11-19) and support fellow senior Sean Ferguson (17-9-26) in leading the Vikings' offense.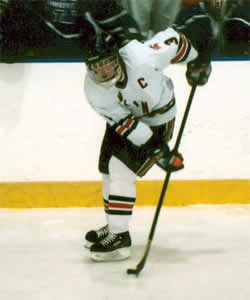 If there is an area of interest for Salem State, it is what will happen in goal. Brian Ex, a transfer student from Canisius looks to compete with senior Michael Ronan (12 GP — 3.22 GAA .917 SP) and sophomore Troy Ciernia (4 GP — 2.67 GAA .909 SP) for the starting job and playing time this season.
Special Teams: At slightly better than 25 percent efficiency on the power play, the Vikings would certainly like to add to their 102 total goals from last season. Even more importantly, Coach O'Neill's squad will need to cut down on the 34 goals given up while playing shorthanded as they represented almost forty percent of the total goals surrendered last season.
Schedule: The first week in December finds the Vikings hosting three of four games against quality opponents including Williams, Middlebury and Southern Maine following a mid-week trip to play against a perennial ECAC Northeast power Wentworth.
Summary: Like most teams that look to be short on experience, the early season schedule and how quickly things come together will greatly impact the Vikings' chances for success in the league. Improved specialty teams and solid goaltending will be important against several quality opponents to start the season.