Team Overview: "We basically won with really good team defense and exceptional goaltending," said Middlebury coach Bill Beaney. "In fact we were a little challenged offensively which we would like to change this year." Hard to believe a team that scored 137 goals last season was challenged offensively especially with junior Mickey Gilchrist (24-26-50) and sophomore Jamie McKenna (17-23-40) leading the scoring parade for the Panthers. Gilchrist becomes only the second junior to wear the "C" in the Beaney era with the last being Tom Humphries back in the 1991 season.
"Mickey is a special kind of player," said Beaney. We think we have brought in some new players that will help us offensively this year including freshman James Sullivan and junior transfer Casey Ftorek."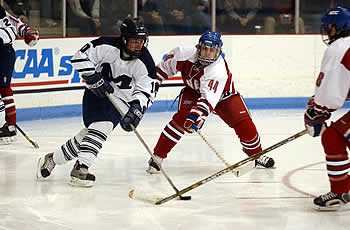 While the Panthers may do some things a little differently this season, don't expect the backbone of the team's long-standing success to change very much. The defense will still be strong and goaltenders Ross Cherry and Doug Raeder return make life difficult for opposing teams who scored only a total of 44 goals against the Panthers in 30 games last season.
Special Teams: The Panthers actually scored as many power play goals last season as they gave up for the whole season to opponents. With some new weapons in the arsenal, the Panthers figure to be potent again. Of the 44 goals surrendered all last season 23 came while Middlebury was shorthanded — they don't give up much and if they get a little tighter on the penalty kill it really could cause some problems for the opposition.
Schedule: The Primelink Tournament in November includes the first of two meetings with rival Plattsburgh and their new Swedish goalie sensation Karl Helgesson. The last time Plattsburgh had a Swedish goaltender (Niklas Sundstrom) provided the only occasions where the Panthers have not made the Frozen Four in recent history — no superstition here but it should be a fun match-up based on the past rivalry.
Summary: There's a reason, actually several why the Panthers keep winning — defense, goaltending, timely scoring, great special teams and an attitude about winning. A chance to do something special this year is not lost on this team. Look for the Panthers to play with purpose right into March.