With every NCHA team finally hitting the ice last weekend some of the preseason questions surrounding the league are slowly beginning to be answered. The first of which is: Is the league really as deep as many are making it out to be?
As mentioned last week, the NCHA has dominated the MIAC for the past two seasons. If last weekend is indicative of how the two will stack up this time around, expect the NCHA to make it three in a row. After one weekend of NCHA-MIAC Interlock the NCHA finds itself on the winning side of a 12-3-1 record, with every team in the league picking up at least one victory.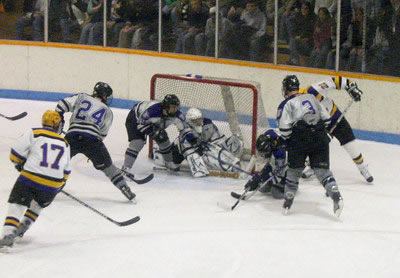 Many pundits are labeling Bethel, St. John's and St. Thomas as the top three teams in the MIAC. In results that speak kindly on behalf of the NCHA, all three were resigned to go home with a loss last week as UW-Superior, St. Norbert and UW-Stevens Point got the better of them respectively. Those same MIAC representatives were also the only three to pick up a win as Bethel beat St. Scholastica, St. John's beat Lake Forest and St. Thomas edged UW-Eau Claire.
Voters nationwide took notice of last weekend's results as well, placing four NCHA teams in the top nine of the USCHO.com Division III poll. St. Norbert at #2, UW-Superior at #6 and UW-River Falls at #7 are mainstays in the poll, but UW-Stevens Point finds itself at #9 after not receiving a single vote in the preseason poll. This marks the first time the Pointers have cracked the top fifteen since Nov. 25, 2002 and the first time they have been ranked as high as #9 since Feb. 6, 2001.
The Games of the (past) Week
With the NCHA garnering a lot of attention last weekend, it cannot be forgotten that the MCHA league schedule kicked off with a series between perhaps its top two teams, Marian and MSOE.
League favorite MSOE came out of the weekend with three points, but they didn't come as easily as many expected.
Playing in the hostile Kern Center didn't hamper Marian on Friday, as early in the second period they found themselves with a 3-0 lead on goals from Michael Herbert, James Goodfellow and Kyle Jones.
The Raiders did not panic, however, and by the time the second period ended, Jason Woll and Michael Duta goals had cut the lead to 3-2.
Having gained the momentum, the Raiders tied the game early in the 3rd period on a Nick Bilpush goal. From there on out it was all goaltending, as despite facing 16 shots in the period Marian goalie Jason Jadczak would only see the Bilpush goal get past him. Despite not getting a shot on net in overtime, MSOE was able to escape with a tie thanks to goaltender Matt Burzon, who turned away all six Sabre overtime shots.
After picking up the road point Marian looked to capitalize at home on Saturday but this time it was the Raiders who would jump out to the 3-0 lead. A dominant first period performance in which the Raiders outshot Marian 14-2 and notched two goals from R.G. Flath and one from Blair Hanberg would put the Sabres in a hole they were unable to climb out of.
Second period goals from Billy Schill and Kyle Rasmussen would bring the Sabres to within one, but from there on out Burzon would shut them down.
Hanberg's second goal of the night would be the final nail in Marian's coffin as MSOE held on to win 4-2.
No one is surprised that MSOE came out of the weekend atop the MCHA standings, but the rest of the league should be encouraged by Marian's performance. With Finlandia, UM-Crookston, Northland and Lawrence all entering league play with improved clubs, Marian's performance may be a sign the MCHA won't be the runaway many thought it would be.
The Blugolds?
Heading into the season, a lot of talk around the league was focused on how improved UW-Eau Claire would be under second year head coach Luke Strand. Despite coming off a two-win season last year the Blugolds have thus far done their part to make the rest of the coaches in the league look like geniuses.
Following a surprising 3-2 win at UW-River Falls in their opening game, the Blugolds followed up with a tight loss to St. Thomas before getting in on the MIAC bashing and defeating St. Mary's on Saturday. The win leaves UW-Eau Claire with a 2-1 record — thereby matching their win total from all of last season.
Leading the way so far has been sophomore goaltender Ryan Mensing. A transfer from Division I Western Michigan, Mensing has posted a goals-against-average of 3.00 and a .920 save percentage while seeing exclusive time in the Blugold net. After stopping 42 shots without allowing an even-strength goal in their victory over UW-River Falls, Mensing was recognized as the NCHA Player of the Week.
Mensing isn't the only newcomer who has contributed to the Blugold improvement. Junior forward Sean Garrity (3-2-5), a transfer from Division I St. Cloud State, has led the way thus far. A pair of sophomore transfers in forward Jesse Vesel (0-3-0) and defenseman Greg Peterson (1-3-1) as well as sophomore forward Ben Hendrick (3-1-4) are at the top of a group of first-year players who have led a surprisingly potent attack, although Coach Strand did expect to see some early progress this year.
"I think our biggest difference from last season is personnel," said Strand. "It was a pretty talented class that came in. We have added depth. We didn't have any last year. We needed an overhaul."
He added, "A lot of this year's class are guys I have a history with, so they were not necessarily blind coming in. I think they were real comfortable coming and we were able to sell them on the idea of opportunity."
Strand is also quick to point out that the new faces are only a part of what is helping turn the program around.
"We have three senior captains," he said. "As far as leadership I think we are in good shape. Also give the guys who did return some credit. They chose to come back to a staff with expectations. Last season that was our biggest challenge: to try to meet expectations day to day. With the attitude of the guys who came back and the new guys knowing what to expect we are in good shape."
According to Strand, although it's nice the Blugolds have already matched their win total from the previous season, the mark in the win column isn't the only benefit for a program trying to get fully pointed in the right direction.
"When you get a win you get to see there is another side of victory," he said. "Even though we beat St. Mary's there were maybe more things we did wrong in the game compared to the St. Thomas game, where there might have been some more successful things in there. It shows our guys that if they stick together and try to improve internally, we can use it as a springboard to bigger things. If we can improve as much this year as we did last year, we could have the chance to play for a while."
To be fair, the Blugolds are only three games into the season and have yet to face the gauntlet that is the NCHA regular season schedule. Still, two wins over quality opponents in the first three games is a marked improvement for a team that a year ago didn't get their first win until early January. Stay tuned.
This Week in the NCHA
Despite last weekend's trip to the woodshed for the MIAC, the season is young and NCHA teams cannot afford to take anything for granted. With the Interlock spawning another mess of marquee matchups involving teams who expect to be in the hunt for NCAA tournament bids, any game this week once again has the potential to loom large come tournament selection time.
Increasing the challenge for the NCHA is that opposed to last weekend where NCHA teams hosted a majority of the games, this week they will only host five.
With this being the final weekend of Interlock games until January, the NCHA will look to continue the dominant start they established last week. With no NCHA team coming out of last weekend with a losing record, a repeat performance would send all eight NCHA clubs into the league schedule with a wealth of momentum. Easier said than done however, and there's only one way to find out if it will happen. Let's get it on.
This Week's Full NCHA Schedule
Friday, November 10
St. Scholastica at St. Olaf
UW-Superior at Gustavus Adolphus
UW-River Falls at Augsburg
UW-Stout at St. John's
Bethel at UW-Eau Claire
Hamline at UW-Stevens Point
St. Norbert at St. Thomas
Lake Forest at St. Mary's
Saturday, November 11
St. Scholastica at Gustavus Adolphus
UW-Superior at St. Olaf
St. John's at UW-River Falls
UW-Stout at Augsburg
Hamline at UW-Eau Claire
Bethel at UW-Stevens Point
St. Norbert at St. Mary's
Lake Forest at St. Thomas
This Week in the MCHA
By claiming three points against Marian in the only MCHA series last weekend, MSOE is in first place — exactly where everyone expects them to be. The 20 game MCHA schedule is a grueling one however, and the rest of the league finally gets underway this weekend.
As teams spend the first half of the season vying for position and trying to set up their second-half runs, the most notable series this weekend will be played between Marian and Finlandia, last season's second and third place finishers, with the Lions hosting both games.
As Close As It Gets
Though only Finlandia's third season in the MCHA, they have already established a bit of a competitive rivalry with Marian. In their eight previous regular season meetings, neither team has won two games in a row. The two split last season's series two games apiece but Marian got the last laugh, knocking the Lions out of the MCHA playoffs in overtime.
In fact, Marian has knocked out Finlandia out of the playoffs in heartbreaking fashion for two consecutive years. In 2004-05 the series went to a mini-game with the Sabres coming out on top 3-0.
It makes sense these two would be competitive as they really are almost mirror images of each other. Both are young but experienced, and have improved significantly albeit at about the same rate, over the past few seasons.
Marian faced a stern test last week but gave MSOE all they could handle. Still looking for their first win of the season, the Sabres are forced to enter the Lions' den and face the team who dogged them in the standings for all of last season.
More Similarities
Another MCHA series also features two teams who bear striking resemblances to each other as Lawrence will play host to Northland. Both enter the weekend winless on the season, as Lawrence fell to two NCHA opponents two weeks ago while Northland was on the short end of a 3-2 score against Concordia-Minn. last weekend.
This series is almost a microcosm of a league in which there are so many unknowns. Both teams have young coaches, both have seen major roster turnover in the past year or two, both have less than stellar traditions and both have recently made a major commitment to establishing a winning program.
As far as their recent head-to-head history, Lawrence has had the upper hand. The Vikings won all four meetings last season, outscoring the Lumberjacks 20-11. Within those numbers is a pair of Lawrence one-goal victories late in the season after scoring 9-4 and 9-6 victories over the Lumberjacks earlier in the season. If that pattern holds expect two very close games from two more teams in very similar positions.
Not So Similar
The final series of the weekend finds MSOE hosting UM-Crookston. The Raiders owned the Golden Eagles last season, outscoring them 32-11 in four meetings, including 11-2 and 9-2 drubbings in their second series of the season.
Crookston enters the game 0-1 following an 8-3 loss to Concordia-Minn. last weekend, while MSOE is surprisingly still looking to get their first home win of the season.
Expect them to get it this weekend as despite Crookston's roster overhaul this season these are two teams in completely different positions right now. This will certainly be a good measuring stick for the new-look Golden Eagles, but if MSOE shows up and plays the way they are capable of it could be a long weekend for Crookston.
This Week's Full MCHA Schedule
Fri, Nov. 10
UM-Crookston @ MSOE
Northland @ Lawrence
Sat, Nov. 11
UM-Crookston @ MSOE
Northland @ Lawrence
Marian @ Finlandia
Sun, Nov. 12
Marian @ Finlandia
Five Brainbusters of the Week
After last week in which I posted a perfect 5-0 record and sent the coin packing, I feel it's time for some real competition. As I did last week, I'll give a brief preview of five games I find to be especially intriguing or competitive and once again predict the winners. If you want to get in on the action send me an e-mail at [email protected] I'll go up against one person per week and if they win or tie and they stay for the following week. If not, the next contestant is up. I figure we might as well have a little fun while we're here.
I apologize to all Western Fans for hand-picking an Easterner this week, but I'll be taking on Scott Bridges, an Oswego St. and UMass Dartmouth fan.
Friday, Nov. 10: St. Scholastica (1-1-0) @ #26 St. Olaf (0-2-0)
With both teams coming of disappointing weekends neither is going to welcome another loss. St. Scholastica is still riding very high expectations but faces a tough test on the road at a very difficult place to play. St. Olaf won last season's meeting 5-2 but throw it out the window as both teams will be looking at this as a must-win.
I say: St. Olaf; Scott says: St. Scholastica
Friday, Nov. 10: #2 St. Norbert (4-0-1) @ #11 St. Thomas (1-1-0)
Always one of the premier games in the West Region. St. Thomas has had some recent success against St. Norbert going 2-2, including an NCAA Quarterfinal win at St. Norbert in 2005, over the past three seasons. The Green Knights appeared looked to get their offense on track last weekend but the Tommies will be revved up coming off a disappointing opening weekend.
I say: St. Norbert; Scott says: St. Norbert
Saturday, Nov. 11: #15 Bethel (1-1-0) @ #9 UW-Stevens Point (2-0-0)
Following a victory over St. Thomas, the Pointers will look to take down another tough MIAC team in Bethel. Playing Hamline the night before, the Pointers could very well enter the game looking to open the season 4-0 which would be their best start in years. Interestingly enough, the Pointers have a 3-7-1 all-time record against Bethel — their worst record against any team currently playing in Division III.
I say: UW-Stevens Point; Scott says: UW-Stevens Point
Saturday, Nov. 11: #13 St. John's (1-1-0) @ #7 UW-River Falls (3-1-0)
After dropping their season opener, UW-River Falls has been perfect. St. John's loss may be deceiving as it came at St. Norbert where hardly anybody wins. After not meeting for three years, the two played to a 2-2 tie last season. An equally competitive game can be expected this year from two teams who expect to contend for their respective conference titles.
I say: UW-River Falls; Scott says: St. John's
Nov. 11 & Nov. 12: Marian (0-4-1) @ Finlandia (0-0-0) series
As previously mentioned, these two have a history of back and forth affairs. Tough call here in a series in which anything could happen.
I Say: Split; Scott Says: Marian sweep