Meltdown
Plattsburgh has never finished below .500 in the SUNYAC. Not once. The closest they have come was two years ago when they ended up 7-7. Many of the Cardinals' faithful must be wondering if this is the year a non-winning conference record finally occurs. Recently, they don't seem to be skating on solid ice.
In the past two weekends, Plattsburgh has garnered just a single point. They are now 1-3-1 in conference play.
"It's hard to figure out," Plattsburgh coach Bob Emery admitted. "You look at the box scores and watch the video. We're not really getting outplayed. We have been on the road a long time, but that's just an excuse. Great teams find a way to win. We're not finding ways to win right now. We're not getting the timely goals and timely saves."
That was evident this past weekend in their game against Brockport when the Cardinals took a 2-0 lead including a shorthanded goal, but were unable to put the Golden Eagles away. Brockport came back to score two power play goals to tie it. Plattsburgh again took the lead, but again they couldn't hold it thanks to a fluke goal where the puck was stuck unknowingly in a Plattsburgh's defender's shirt and fell out into his own goal. That goal came with 1:33 left in the regulation. Even outshooting Brockport, 4-0, in the extra period didn't make a difference.
"We've had a hard time when we lose the momentum, getting it back," Emery said. "We get down on ourselves, the guys try to do too much on their own, and we lose confidence."
That was evident in the Geneseo game. Plattsburgh took the early 1-0 lead, but then Geneseo rolled with four unanswered goals, the last an empty netter, to win 4-1.
It isn't time to hit the panic button, yet. Plattsburgh has come out of slumps before, and they know when to peak at the right time. Plus, like Emery states, it's not like they are being outplayed in various facets of the game. Anyone thinking the Cardinals are down and out, do so on their own peril. However, they can't afford anymore poor weekends, or they will face their first conference losing record.
Another team that is looking for solid ice after last weekend is Fredonia. Actually, the Blue Devils are just looking for a goal. They scored zero over the weekend.
"We're just not scoring goals," Fredonia coach Jeff Meredith stated the obvious. "It's our inability to get the puck to the net in Grade A situations. We forget quickly how we generate scoring chances. We're passing up opportunities."
Despite letting up eleven goals over the weekend, Meredith is quick to not blame the goaltending for Fredonia's woes.
"Our goaltending is not my issue," he said. "You have to throw the highs and lows out and look at the real issues. He [Pat Street] gave up two goals to Cortland earlier in the year and we lost because we only scored once. He gave up two goals to St. Norbert, and we tied."
A lot of coaches will tell you that their goal is to let up only three goals in a game, and let the offense do the rest.
"Three is the magic number," Meredith said. "If we get three, we're getting a point. If we don't get three, we're not getting a point."
To state the obvious — if you score zero goals, you are going to get zero points.
Hiroko — Sayonara, okara-o-daijini
Three years ago, a trio of Geneseo students set out to create the proper atmosphere at Ice Knights hockey games. Justin Swackhamer, Hiroko Yuki, and Erin Caldwell achieved their goal. And then some.
Going to a hockey game at Geneseo is now a must do on a Friday and Saturday night as lively crowds and a pep band pack the Ira S. Wilson Ice Arena. So much so that the basketball team struggles to get any sort of crowd. Some will say that having a winning team is the real reason, but ask any of the players and coaches, and they will say their winning is a direct result of the strong fan support. On the other hand, ask the three students, and they will say the opposite.
All modesty aside, whether it is a chicken and egg conundrum or not, they certainly go hand in hand. One could not do it without the other. College sports is like that, which is what makes it so unique and enjoyable. Mutual respect is very high between the hockey team and the students who resurrected fan support.
During the first intermission in their game against Potsdam, the team stayed out on the ice to present Hiroko Yuki with an official Geneseo hockey jersey. Yuki, who graduated last May, has decided to return to her native Japan, and the team wanted to thank her for all she did. They all seemed genuinely happy to be recognizing her.
Yuki wasn't just someone who became a fan of hockey when she came to America. She became a student of the game, learning the rules, strategy, and nuances of the sport. She wrote about the game, covering the Ice Knights for the school newspaper, The Lamron. The first time I met her, she was wearing a New Jersey Devils uniform. It wasn't just college hockey she enjoyed.
Thanks to the Internet, even half a world away, Yuki will be able to follow her beloved Ice Knights. I can picture her wearing that Geneseo jersey as she tunes into the radio broadcasts on the web, reads this column and game recaps on USCHO, and exchanges e-mail with her fellow fans.
She did tell me she is going to miss hockey, as hockey in Japan is boring. (I saw it once on TV when I was in Tokyo, and I agree.) She will also, of course, be missed by the Geneseo hockey community and her many friends.
It goes hand in hand. I wonder who is going to miss whom the most.
SUNYAC Short Shots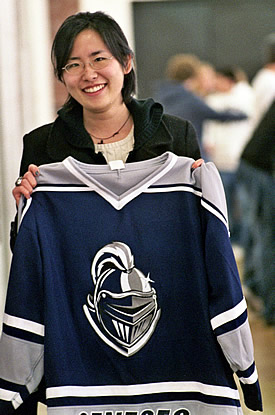 D'Arcy Thomas scored two goals in 32 seconds, Richard Curtis also got two goals, and Jason Hill got four assists in Buffalo State's 6-3 win over Cortland … Oswego's Brendan McLaughlin got two goals and four assists, Ryan Ellis got two goals and two assists, and Ryan Scott made 19 saves in an 8-0 whitewashing of Fredonia … Jason Dolgy scored with 1:18 left in the game for Brockport to beat Potsdam, 4-3 … Geneseo's Mitch Stephens got four assists against Plattsburgh in a 4-1 win … All of the goals in Oswego's 3-1 victory over Buffalo State came in the first period as Oswego outshot the Bengals in that period, 21-6 and McLaughlin scored another two goals … Cortland's Ben Binga made 29 saves for the 3-0 shutout over Fredonia … Sebastien Panetta scored the third period winning goal in Geneseo's 3-2 win over Potsdam … Six different Morrisville players scored in their 6-3 win over Plymouth State … Travis Moore made 39 saves in Morrisville's 3-0 shutout over Plymouth State in a game that took only 1:56 to play.
Game of the Week
This weekend the travel partners pair off, except for Potsdam and Plattsburgh who already played each other earlier. In fact, if we picked a non-conference game of the week, it would no doubt be Elmira at Plattsburgh for the history and rivalry alone. On top of that, these two storied programs are struggling, and a win in this game will certainly help boost their confidence.
"They have everything to gain and nothing to lose," Emery said of Elmira. "They are going to be playing their best. We're going to have to play our best hockey to win. We can't assume because we are back home after being on the road that we are going to win. It's nice to be back home, and we have great fans, but it's not automatic."
The game to pick is a toss up between Brockport at Geneseo and Fredonia at Buffalo State.
The first choice is a Brockport-Geneseo game that means something for the first time in many years. Brockport is one point behind the Ice Knights. A win, and suddenly Brockport is a team to watch the rest of the year. Meanwhile, Geneseo wants to keep pace with Oswego before the SUNYAC becomes a runaway.
"They're a team without question is going to try to outwork you every night," Geneseo coach Chris Schultz said of Brockport. "We're going to have some practice this week where there is going to be a lot of battling, a lot of corner work, and physical play. At the same time, we are going to condition the heck out of them, so they are ready for a hard working team."
The second choice, and the game I am picking, is the one in Buffalo. These two teams may be lower in the standings, but it means the level of desperation is higher. Buffalo State does not want to fall back any further after the success of last year, and the last thing Fredonia wants is to continue dropping through the standings.
"I think we're going to be a better team on Friday. And I emphasize the team part," Meredith said as he plans on sitting out some players who have been making numerous mental errors.
Of course, scoring goals is going to be the key for the Blue Devils. "Unless we get the puck to the net, we're not going to generate chances," Meredith said.
It is also another road game for Fredonia. My colleague, Chris Lerch, pointed out a very interesting stat on his blog. Fredonia has lost one game in the last 26 home contests (and that was their recent game with Potsdam) while during the same period of time they are 10-15-4 on the road.
Since we will be taking the Thanksgiving week off, I'll also pick the top holiday tournament which is a no brainer — the Primelink Tournament being hosted by Norwich this year. It will be the last time two SUNYAC teams will compete in what is consistently one of the top tournaments in the country.
On The Periphery
Being a college sports fan can be trying at times. What with the recruiting scandals, faking grades, and violence amongst some players or the arguments about the age of hockey freshmen, whether private schools have a recruiting advantage over public schools, and the debate over aid to foreign students, it can all get depressing at times.
Then, along comes a game like last week's Rutgers-Louisville football game. Even if you are not a college football or a fan of either Rutgers or Louisville, you could not help but get wrapped up in the historical and emotional significance of that contest (like one commentator wrote, it was a game 137 years in the making).
Even New York City, a decidedly pro sports town which shows less interest in college sports than any place in America (the city with the lowest ratings for last year's USC-Notre Dame game was NYC) got wrapped up in the hype. The Empire State Building was lit up in scarlet red, pregame coverage was everywhere, and afterwards the back pages of all the tabloids, usually reserved for the latest soap opera of the local pro sports team, had nothing but Rutgers.
The game itself was a classic. The clock apparently striking midnight for the Cinderella team, but then an improbable second half comeback with a second chance for the game winning field goal. The show Friday Night Lights could not have scripted it better.
After a game like that, you realize that all those problems that inflict college sports, though not to be minimized, are the exception rather than the rule. The exceptions make for a good story. The norm doesn't.
If last week's Rutgers-Louisville football game didn't restore your faith in college sports, nothing will.