As the line from Wayne's World goes — Game On!
It's opening night on Friday for the last two leagues to start the 2006-2007 season and the action should be exciting from the first games forward in the interlocking schedule between the two conferences.
At this point after about two weeks of practices, coaches have two common themes — the players are sick of playing each other and they really don't know what they have until they see some real competition.
"I know we have worked really hard everyday in practice," commented new UMass-Boston head coach Peter Belisle. "But really the kids are tired of playing against each other and we really need to see how we do against other teams right now. We'll be skating five or six freshmen including our starting goalie so who knows what kind of jitters we'll have playing teams like Bowdoin and Colby. I am really not sure who will be more nervous, me or the players."
Belisle's comments are not unique as many of the teams with young rosters have voiced the same sentiments moving into week one of the season.
"There's definitely a lot of excitement heading into the season and the butterflies the players and coaches have probably offset that adrenaline rush that has the teams all set to play at full speed," agreed Babson coach Jamie Rice." At this stage your excited but also a bit confused as to what you are going to be as a team."
There is a full slate of games to open the season and a couple of the first weekend match-ups provide an interesting look at some of the potential top teams and new facility highlighting the week one match-ups. It's definitely — Game On!
Bantams New Home Opens
Talk about some anticipation — about 35 years worth for Trinity head Coach John Dunham, who sees this season open with the team playing its games at the new Community Sports Complex on campus.
It's a great thing for the program and for the community and it's something that the players who have come through here before can all be proud to have been a part of the tradition that has lead to this facility," stated a very proud Dunham. "It's a great building and we'll have a big crowd to support us."
Like so many teams in the league this Bantam team is going to be pretty young. "We will have three to five freshmen playing this weekend and a number of sophomores that didn't see a lot of game time last season, probably nine or so freshmen and sophomores total in the line-up," Dunham noted. "At this point there is a lot of unproven talent so I really have no idea what to expect. We'll definitely let the emotion play into it with the opening of the new arena. There will be a good crowd and some former players back for sure and this team will not want to be the team to lose on opening night in the new building."
While a decision on the starting goaltending hadn't been reached at the time of this column, whoever mans the net will be playing behind four newcomers on the blue line which adds to mystery of how they will react to the pressure of league competition.
"No doubt we will be a better hockey team in February than we will be Friday night," Dunham remarked. "We're gong to let them play and see what happens."
As for the new arena, the CSC is a facility that involves Trinity and the local community. Associate head coach Dave Cataruzolo now has his office in the new building and while he is getting accustomed to his expansive surroundings, he's very excited about the programs that the facility will offer for local residents and students alike.
"We will have some learn-to-skate programs that the men's and women's teams will be involved with here at the CSC along with other activities outside of hockey and focused on recreation," said Cataruzolo. "We left a lot of success over at the Kingswood-Oxford rink and hope to establish some new traditions and success here at this rink. While we have always drawn pretty well for crowds, no doubt this is a lot more convenient for the student fans and local residents to participate with the location right on campus. It's really a great thing to have watched this thing happen over the course of the last year and the players are definitely excited about playing here."
Four points are on the line this weekend against key NESCAC foes in Hamilton and Amherst. While it's the very start of the season, somehow those points may mean something in the battle for playoff position in February so look for Trinity to try to establish a winning tradition at home this weekend.
Cardinals Looking To Fly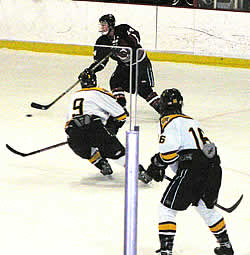 Trinity's travel partner hosts the other half of the pairing on Friday night as Wesleyan opens its season with high hopes against Amherst. No doubt the Cardinals will be strong on defense boasting outstanding goaltending from last year's record performance from Dave Scardella. The key for the Cardinals is going to be scoring goals and if some of the newcomers can support the efforts of co-captains Will Bennett and Ryan Hendrickson, Wesleyan may send an early season message to the rest of the league that they are for real.
"We have had a couple of good weeks of practice," said coach Chris Potter. "We're looking for some offense from our young guys no doubt. Out first couple of years we built the defense up and this year we focused on bringing in some scoring so hopefully that will work out for us."
Freshman forwards Jeff Beck, Ryan Zemel, Sam Robinson and Woody Redpath all figure to be a part of the improved offense but this line-up has much better depth than in recent past seasons. Look for the Cardinals to still play things tight and try to cash in on being more opportunistic with their scoring chances and an improved power play.
"We definitely have some guys that can make our special teams better," said Potter. "It's an area that we hope to be better and while we look good in practice you really need to see it against another team to know how effective or how much better we will actually be."
With a lot of teams apparently in the same class as to talent and youth, these conference match-ups will be an important barometer in creating the expectations for the rest of the season. Wesleyan isn't going to sneak up on anyone this season and they aren't likely to beat themselves so look for a good opening weekend in Middletown.
Game of the Week
So what's the thriller on opening night between the two conferences? It would be tough to argue the Babson at Colby match-up on Friday night in Waterville, Maine.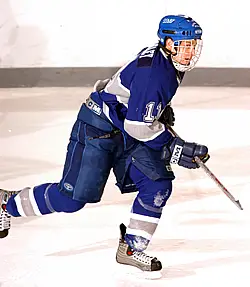 "It's going to be a great test for us," said Babson's Rice. "Playing Colby and Bowdoin (Saturday's opponent) are long-term rivals with Babson and they are tough places to come away with W's. They waxed us at our place last season (4-1 win over Babson) and even though we don't pick the schedule it's great to get right into it against the iron of the league right away."
Babson looks to be young as well with eleven freshmen and a total of nineteen freshmen and sophomores on the roster. "None of these guys have played at Colby or Bowdoin so it will be a new experience. We have the chance to go on the road and get away from all of the distractions on campus and come together as a team to start the season," Rice said. "I am sure we will have some jitters but that's a good level of excitement to have. We're all anxious to get started so let's get it going — we only have 25 games so they are all important."
Babson will hope to be able to contain the high-flying duo of TJ Kelley and Josh Reber who were the top two scorers for the White Mules last season. It's a baptism of fire for the young Beaver squad who should be happy if they can come away from the trip to Maine with a split.
Something Old, Something New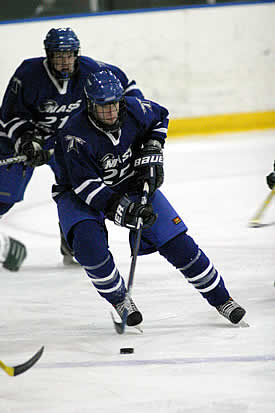 In his last collegiate game as a player, Peter Belisle ended his playing career at UConn in the ECAC playoffs playing at Bowdoin. In his first game as the head Coach of the UMass-Boston hockey team, Belisle returns to open the season at Bowdoin on Friday night.
"Yeah, it's a little ironic," noted the new Beacons head man. "It's definitely going to be a challenge to start the season against two teams with the talent and history of a Bowdoin and a Colby. We have practiced well and look to be making progress in all areas of the game and the kids feel better about where we are as a team coming into this season as compared with last year. Like everyone else we need to play someone with different colored shirts in more than a scrimmage to see how our players react."
In addition to a first line comprised entirely of freshmen, Ryan Donovan has earned the start as the goaltender opening night after some good competition in the first two weeks of practice. "He's earned the start," said Belisle. "No doubt we are going to need excellent goaltending to compete in this league and Ryan can give us that. If we can get some offense going and play our special teams like we have in practice, we can surprise some teams. Our captain Andrew Ward has done a great job with this young group of players and they are really coming together as a team. I just hope that I can get some sleep before Friday night — I am so excited about getting started and you can see it in the players and around campus. It's great!"
Fan of the Week
Yes, I know you are out there. Some of the most passionate hockey fans in the country can be found at D-II/D-III rinks all over New England. Nothing like an excitable student body to cheer your team on to victory against dreaded arch-rivals each weekend now through the end of February — and for some beyond into March.
Do you wear your hockey team's school colors everywhere? Are you a face or body painter? Do you lead the student body section in some well choreographed songs, cheers or traditional goalie slamming activities? If you answered yes to any of these questions you may be eligible to appear in this column as the featured fan of the week. Just send a jpg photo to [email protected] along with a 25-word description as to why you should be selected as the fan or fans of the week. After all, the whole college hockey experience isn't just about what goes on when the players hit the ice — it's about the fans that keep the game exciting and motivate the teams to play at their best. Think you got what it takes to make it in the Fan hall of Fame? Send me an e-mail and check in future weekly columns to see if you made the cut!
It's opening night — Drop the puck!