Return to the Ice
Just about this time last year in Utica, Jared Allison was forced to hang up his skates for good due to a back injury. In only the first eight games that year, Allison notched four goals and two assists and was near the top of the Pioneers team statistically. The heart and desire were there, but Allison's body had given out to the wear and tear of the game.
Skip forward eleven months to the middle of October, 2006. Utica is in Oswego to help open the Lakers impressive new rink. Part of the opening night hoopla is a live television broadcast of the game. Allison watches the game, which Utica lost 4-3, and just can't resist the Siren Song of the game. He knew he had to play hockey again.
"He walked into our office after seeing our game at Oswego on tv and said 'I think I can play,'" said Utica coach Gary Heenan. "He hadn't been on skates for eleven months."
As a coach, what do you do? Do you take back a player who you know has a great scoring touch, is a good kid, and a good teammate? Do you risk messing up the current chemistry of your team? Is it worth the potential health risk to the player?
"As a coach, you face a decision because he hasn't done any drylands or team workouts during the summer," said Heenan. "When he walks in your office, nine out of ten times you say 'we are all set and like the direction we are going in.' But knowing him and the type of athlete and kid that he is, you have to open your arms up for him. And the guys have obviously done that."
With Allison's past problems, the first step to getting back on the ice was to get clearance from both the doctors and the NCAA. Allison had to pass physicals from both his personal doctor and from a battery of Utica team doctors and trainers. Another hurdle was to get approval from the NCAA of Allison's eligibility, a process complicated by the fact that Allison took a medical redshirt last season.
"It took us a while to get him cleared, obviously," said Heenan. "So far, so good. We have our fingers crossed."
So far, so good indeed. Allison scored a goal and added five assists in his first two games back on the ice two weeks ago. That vaulted him in to a tie for leading the team in points.
While the offensive output and leadership are welcome additions to the Utica team, it is natural for everyone to be a little nervous every time Jared Allison steps on the ice. Hopefully the personal rewards for him turn out to be greater than the risk.
Short Bench
While Manhattanville continued its unbeaten streak last Sunday by dropping Williams 5-2, the real story was in the Valiants locker room. Valiants head coach Keith Levinthal suspended sixteen players for violating team rules prior to the game.
"It was a minor thing," said Levinthal. "We have a young team. The last couple of years we have had a good culture and a lot of veteran guys. I have basically put my foot down on a tiny little thing that I had no tolerance for. With a young team, we are more concerned with making sure the culture and the program remain where it should than we are about a hockey game at this point."
Thirteen of the players served rotating one period suspensions during the game at Williams. For most of the contest, Manhattanville played with nine forwards and four defenseman, continually jumbling the lines depending on who was in the doghouse during that period.
"It was an interesting game for us," said Levinthal. "It was not how we drew it up, and we really didn't get into a rhythm until the third period. We battled through and overcame the adversity that we put on ourselves."
Three other players are now in the midst of serving multiple game suspensions. Brendan McIntyre is sitting three games, while A.J. Mikkelsen and Arlen Marshall are out two games each.
The Place To Be Seen
When Utica College started a hockey team several years ago, coach Gary Heenan made a point of getting the community involved. He pushed his players to reach out and participate in various charitable events within the city and Heenan personally made contact with businessmen and other community leaders.
"The story just gets better and better," said Heenan. "Early success helps in this town. They want to support a winner and have always done that with the pro teams that they have had. The number of companies that want to get involved is incredible."
Slowly but surely, the community has responded and this year Utica is near the top of the charts in attendance at games. The Pioneers are averaging almost 2,600 fans through the Aud turnstiles per game in the three home contests so far. The high was an opening night crowd that topped three thousand to see Hobart.
With the big crowds, the Aud is becoming the place to be on game night.
"As someone said to me, it is the thing to do in Utica now whether you like hockey or not," said Heenan. "You need to be seen at the Utica College hockey game, and that was a business owner saying that. It is a social atmosphere. They are educated fans."
This weekend could see even larger crowds as Manhattanville comes to town. The games against the Valiants have traditionally been well attended, and this week should see a packed house.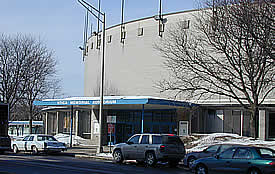 "The buzz going on here for this weekend is astounding," said Heenan. "Traditionally, our biggest attendance has been Manhattanville. Our goal this year was to be No. 1 in the country in attendance and we are certainly on track for that."
The community support, both by attending games and otherwise, will help to strengthen Utica's bid during the next selection round for hosting the Division III playoffs.
"We will obviously reapply [to host]," said Heenan. "We have the community support from a formal standpoint and have people who will be willing to help us. This community would certainly support the event."
Game of the Week
All eyes will be on the Utica Aud this weekend as the No. 9 Utica Pioneers try to sully the unbeaten record of No.3 ranked Manhattanville. The two teams are tied for the league lead, both with identical 3-0-1 league records. Not only are league bragging rights on the line, but also NCAA playoff bid ramifications could be determined by these pair of games.
"There is a lot going into it," said Heenan. "It is a huge contest. [The games] have always been hard hitting, physical, entertaining hockey games in terms of a pure hockey standpoint. There has never been any chippyness around the games. They really are great games."
While Utica will be playing in the friendly confines of a packed Aud, Manhattanville will be trying to steal points from the Pioneers while on the road.
"Those games are going to be very big challenges for us," said Levinthal. "Getting road wins in this league are really tough. Our games historically with Utica have been hard fought, very low scoring, very few mistakes, and one play here or there can win the game. My guess is that these games will be the same. We will certainly have to be at our best if we want to come out of this weekend with a couple of points."