Greg Gardner has come full circle at Niagara University.
The former goalie was part of the first senior class on Monteagle Ridge back in 2000 and is now back on campus as an assistant coach.
It's his first-ever coaching gig at any level, but he seems to be a natural. And he likes his job, too.
"I'm really enjoying this," said Gardner. "Last year, I had several offers to stay in Europe and play for teams in Austria, Italy and Germany, but when Albie (O'Connell) left to go be an assistant at Holy Cross, (NU head coach) Dave (Burkholder) and (assistant coach) Jerry (Forton) offered me the job."
One of his duties is obviously working with the trio of Purple Eagle goaltenders and in that realm, Gardner came in knowing two of them in senior Allen Barton and sophomore Juliano Pagliero, both of whom have worked Gardner's summer hockey school in the past.
Gardner, now 31, played the past two years overseas, but it was Gardner's initial work in juniors that got NU noticed in the first place 10 years ago.
"It was the spring of 1996 and we were in the (Ontario) Provincial League finals," said Gardner, who played with the Thornhill Islanders. "(Former head coach) Blaise (McDonald) and Burky told me they were starting a new Division I team at Niagara and asked me to be one of the first recruits.
"There was no rink, no jerseys, no anything. Blaise told me that the project of starting a new team was like a project in your backyard. You feel a sense of pride because you get dirty and you do it all yourself and don't leave it for someone else. He asked if I would help him out and I liked how that sounded."
The first couple years were rough at times, said Gardner, but of the 26 players who came to Niagara that fall, 15 stayed all four years and graduated in 2000.
In March of 2000, NU made the NCAA tournament with an at-large bid after winning the CHA tournament (no autobid in those days) and drew New Hampshire in their first game. UNH was favored, but Niagara was determined to pull the upset.
And they did just that with a 4-1 win in Minneapolis.
"People were still skeptical of us, even after we got the at-large bid," said Gardner, who went 29-8-4 that year. "But no one really knew us and there was no doubt in my mind we could beat UNH (and goalie Ty Conklin). I stopped an early breakaway and then we scored on a nice tip and went from there. We were something like 25-1 that year when we scored first. That win put us on the map."
The next evening, NU's Cinderella run ended with a 4-1 loss to North Dakota, but started a new chapter in Gardner's career, a run at Niagara that saw him post an NCAA record 12 shutouts during the 1999-00 season as well as an NCAA single-season record 1.53 goals-against average.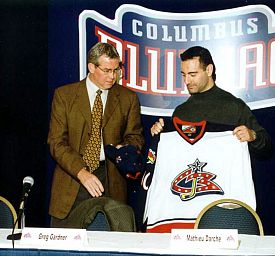 Over the course of his senior season, Gardner knew NHL scouts were eyeballing him and that came to a head that summer when the Columbus Blue Jackets made him their first official signee.
"St. Louis, Minnesota and Columbus had shown serious interest," remembered Gardner. "But under the CBA, being that I was 24, I could only sign a one-year contract, plus one. Columbus offered the best opportunity and I took it."
Once training camp arrived, things had changed in Gardner's personal life and that potentially affected his NHL hopes. He did, however, play in two exhibition games, beating Nashville, 2-1, and losing to Buffalo, 2-1.
"My dad died in 2000," said Gardner. "And that whole season (2000-01), I just wasn't myself. I played in the AHL that year with Syracuse and also played in the ECHL with Dayton. The next year, I again played in Dayton and Syracuse, but Columbus had drafted Pascal Leclaire in the first round in 2001."
Gardner headed to the ECHL's Mississippi Sea Wolves for two years and found the experience eye-opening. He won 30 games in 2004 and 32 in 2003.
"Being a Canadian (from Mississauga, Ontario) living in the south where I could wear shorts to the rink in November was something I definitely wasn't used to," laughed Gardner. "But the fans there were great. They had all the support you could ask for."
Then two years ago, Gardner had a free-agent tryout with Buffalo and had hopes of being the No. 3 goalie behind Mika Noronen and Martin Biron with a chance to move up if Noronen was dealt.
"Mika stayed for two more years," said Gardner. "I had no chance."
Gardner said that with his future a bit cloudy, he started asking around about what European culture was like and what the hockey side of Europe could offer.
He settled on a team in Germany, Bremerhaven REV.
"It worked out great," Gardner said. "It's a whole different world over there, literally. Last year, we finished first and I was named top goalie, so that was a nice little way to cap my career."
Now a married man for two years to his wife, Laura, whom he met while a student at Niagara, and father to their two-year-old daughter, Ava, the Gardner clan resides in Amherst, N.Y., in the same house the family lived in prior to Gardner accepting the coaching position.
The circle is complete. But another ring — symbolic of a championship — wouldn't hurt.
Robert Morris Pulls Huge Upset at Notre Dame
All the buzz last weekend was about Robert Morris' game against Notre Dame at Mellon Arena. Little did anyone know that the buzz would continue on over to South Bend on Sunday.
The Colonials pulled off the biggest upset in Robert Morris athletics history, upending second-ranked Notre Dame, 4-2, on the road Sunday afternoon. RMU rallied from a 2-0 deficit to post its first victory over a ranked squad and improve to 7-10-1 on the season.
"This is the biggest win in program history," said Robert Morris head coach Derek Schooley. "To be able to go into the No. 2 team in the nation's building — where they are undefeated — and knock them off is very exciting for our program. I'm very proud and excited for our players. I couldn't be happier about the way our guys competed. I'm very proud of our team right now."
The only other win that a Colonial team has posted over a ranked opponent in recent history came this past fall when the football team beat Central Connecticut State in overtime, 23-17. The Blue Devils came into that game ranked 19th in I-AA by The Sports Network.
Senior goaltender Joe Tuset, making just his fourth start of the season and seventh of his career, posted 34 saves in the victory to improve to 2-2 this season.
Junior defenseman Jeff Gilbert, junior David Boguslawski and sophomore Jason Towsley scored for the Colonials.
"Things probably started going wrong the minute we left Pittsburgh (on Friday night)," said Notre Dame head coach Jeff Jackson. "We just weren't ready and I take full responsibility for that. Obviously, I'm disappointed with the way we played. I think we thought we could turn it on at any time and I told them that they were putting themselves in jeopardy of letting something else take over. That's how these things happen. Robert Morris played hard so give them credit. Their goalie played well, they blocked a lot of shots. It's a great victory for Robert Morris."
"We're not happy and we shouldn't be because clearly they wanted it more tonight than we did," said Irish forward Mark Van Guilder. "It doesn't matter about rankings or talent or anything when one team works harder than the other they are usually going to win and that's what happened today."
On Friday as part of the Pittsburgh College Hockey Showcase, Notre Dame beat Robert Morris, 6-2. The Colonials played in front their largest-ever home crowd and the second-largest crowd to witness a RMU home event as 3,420 fans filed into Mellon Arena for the game.
Ross Officially Announces '06-07 Is His Last
Alabama-Huntsville head coach Doug Ross made it official last week that he has decided to retire after 25 years as the Chargers' bench boss, at the end of this season.
Ross had hinted at retirement at the start of the season.
"I have coached ice hockey for more than 30 years and I am very proud of my work here at UAH for the past 25 years," said Ross. "I'm proud of all of the accomplishments of the hockey team and will always remain supportive of the university mission and athletics department's goals.
"Many of our hockey graduates live in Huntsville and are very productive in the community. They have been great ambassadors for UAH and the state of Alabama throughout the years competing against the top NCAA teams in the nation and that is something I am extremely proud of."
Ross helped start the youth termite program in the Rocket City and has led numerous youth camps and clinics, including those for the Huntsville Hockey Amateur Hockey Association (HAHA).
The dean of coaches in College Hockey America, Ross' legacy began in 1982, taking over the reins of the program from Joe Ritch. Ross led UAH to back-to-back club national championships in 1983 and 1984 and his squads in the mid-'90s ranked among the best in the nation as UAH won national titles in 1996 and 1998 and finished second in 1994 and 1997.
Since the 1998-1999 season, when UAH went Division I, the Chargers have won two CHA regular-season championships under Ross, who also coached his son, Jared, from 2001-05.
"During my career, I have placed an emphasis on loyalty, trust, team spirit and friendship and provided continuity," noted Ross. "I am 100 percent a UAH Charger and will continue to be a huge fan and supporter of the program."
A national search for the third coach in the history of the program is expected to begin right away by a search committee comprised of UAH staff, community members and members of the local hockey community.
A Web page has been established at www.uah.edu/Athletics/hockey/tribute.shtml for fans' comments and well-wishes. UAH plans on publishing them either in the final game-day program or in a booklet by themselves if they get enough responses.
UAH Alum Munroe Dresses For NHL Games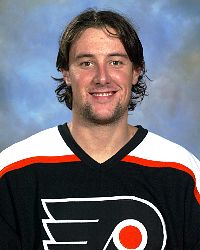 Following his standout career at Alabama-Huntsville, former goalie Scott Munroe has become the first former Charger to dress in an NHL game after serving as the backup netminder for the Philadelphia Flyers in three contests recently.
"It's been very exciting, especially being on the road and seeing all the different rinks," remarked Munroe. "It was also exciting to play against Tampa Bay and Carolina, the last two Stanley Cup champions. Just to look across the red line in warm-ups and see the guys who last year I was watching on television is just very exciting and a real honor."
The former Charger was called up from the Philadelphia Phantoms of the AHL last month after seeing action in 16 games and posting a 3.03 goals-against average and a .909 save percentage. Munroe spent time with the Flyers during the 2006 playoffs as Philadelphia's third goaltender, but did not dress.
A 2006 graduate of UAH, Munroe played four seasons with the Chargers, amassing a record of 49-35-8 with a .918 save percentage and a 2.76 goals-against average. He proved to be UAH's ironman in the 2005-06 season, breaking single-season records for games and minutes played, shots faced and saves.
Bemidji State Frosh Lehrke Coming Around
After scoring two goals last Friday against Wayne State, Bemidji State freshman Tyler Lehrke looks to be adjusting well to the college game.
Playing on a line with junior Matt Pope and classmate Joey Moggach, Lehrke is emerging with the Beavers.
"There's a huge learning curve for freshmen," Serratore said in the Bemidji Pioneer. "But after the holidays freshmen are no longer freshmen. We have big expectations for our young players here. That line has size, speed and great hockey sense."
Lehrke, from Park Rapids, Minn., committed to Bemidji two years ago, but before that had other ambitions.
"As soon as I committed to BSU in my senior year I stopped being a Gopher fan," Lehrke told the Pioneer. "I started coming up to games here and I was excited to come and play here. I struggled right off the bat this year. It was tough. But I just kept working hard and good things started to happen."
The win Friday also gave BSU head coach Tom Serratore his 100th career win.
"It's really hard to believe I've been coaching for six years," Serratore added in the Pioneer. "It's a benchmark win. It feels good."
The series sweep continues BSU's historic domination of Wayne State, as the Beavers improved to 21-6-4 all-time in the series. BSU, now ranked No. 16, has not lost a game to WSU in Bemidji since Nov. 16, 2002.
Wayne State a 'Pain' at Bemidji State
Wayne State was swept at then-No. 18 Bemidji State over the weekend, losing on Friday, 3-2, and Saturday, 7-5.
The Warriors built a 5-3 lead midway through the second period Saturday, but the Beavers stormed back with four unanswered goals, including Shane Holman's game-winner with 1:15 remaining.
WSU senior goalie Will Hooper took both losses and is now 1-11-0.
"They're a pain to play against," Serratore said of the Warriors in the Pioneer. "It's hard to sustain anything against them."
After a nonconference series this weekend with Ferris State, the Warriors get back to CHA play with Robert Morris coming to town next weekend.
Purple Eagles Continue To Win
Niagara took two wins last weekend in road contests at Colgate and RIT.
Friday at Colgate, NU's 3-2 win gave head coach Dave Burkholder his 100th career victory.
"It's an honor," Burkholder said. "It just shows that I was surrounded by dedicated young men and great coaches."
Saturday against Burkholder's alma mater, the Purple Eagles won their fifth straight, 5-3 at RIT.
Senior goaltender Allen Barton made a career-high 38 saves in front of his hometown crowd to improve to 4-0-1. Senior captain Sean Bentivoglio and junior Matt Caruana combined on a pair of shorthanded goals, including the game-winner 20 seconds into the final period. The penalty-killing unit held RIT scoreless on three chances.
"Our penalty kill won the game for us tonight," said Burkholder. "The shorthanded goals were key, but, as always, the most important player on the penalty kill is the goalie, and Allen was tremendous."
This weekend at Denver, No. 17 NU will look to improve on their record when playing as a ranked team. All-time, Niagara is 17-4-3 when ranked, including 2-0-0 this year.